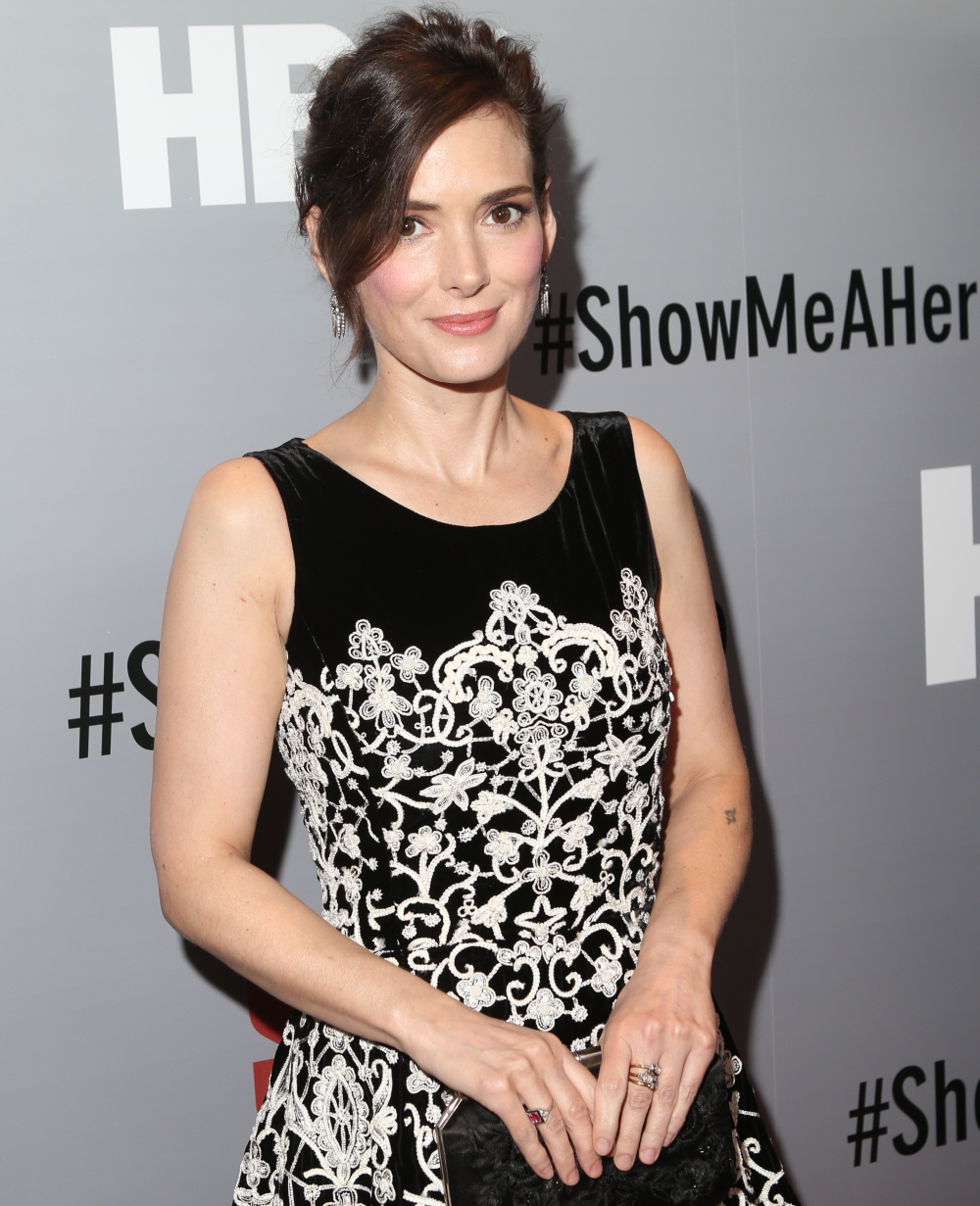 Winona Ryder has a new Netflix thriller out called Stranger Things. Winona has been attempting a "comeback" for more than a decade now, which is too bad because despite her personal problems, she was always an underrated actress and she didn't deserve to have her career gut-punched like it was in the early 2000s. Also, here's a true story: I was always more into Winona than Johnny Depp when they were together. Like, Winona was always the one I adored, and I didn't really care about her thing with Depp. But when they were together, they were magical and tabloid-baity. They were messy and beautiful and crazy and very, very '90s. Anyway, Winona has a new interview with Time Magazine and she was asked her thoughts about Amber Heard's domestic abuse allegations against Depp. Vanessa Paradis already gave Depp a character reference, but Kate Moss still hasn't said anything, and now they're asking Winona. Here's everything she said about Depp to Time:
Time: My editor would kill me if I had you here and didn't ask you about the recent allegations of domestic abuse against Johnny Depp.

Winona Ryder: Look, I mean, obviously I can only speak from my own experience. It's very tricky because if it were any other type of scandal, like cheating, you could be like, 'None of my business. No comment. Not appropriate for me.' But I think because what is being said is so horrific and such a global issue for millions of women, obviously, that I understand why people feel it is their business. I get it. And I get why you would ask.

I can only speak from my own experience, which was wildly different than what is being said. I mean, he was never, never that way towards me. Never abusive at all towards me. I only know him as a really good, loving, caring guy who is very, very protective of the people that he loves. It's hard because I feel like—that's my experience. And it's been a very long time.

I don't know how you feel about it, but it's like anybody who says anything about it is a victim-blamer. I wasn't there. I don't know what happened. I'm not calling anyone a liar. I'm just saying, it's difficult and upsetting for me to wrap my head around it. Look, it was a long time ago, but we were together for four years, and it was a big relationship for me. And we have a lot of mutual friends. I just never heard anything like that about him. But, again, I feel like even saying that, I'm going to get death threats or something. I'm not on social media, so maybe I will be spared.

But yes, it's really hard. I don't know what your love history is, but imagine someone you were in a relationship with was accused of this. I get that there are patterns of abuse. I get why you're asking me. But it's weird because imagine if someone you dated when you were—I was 17 when I met him—was accused of that. It's just shocking. I have never seen him be violent toward a person before. It's just hard to picture. The only word I can come up with is unimaginable. You know with certain people you hear something and go, "I can see that." But this isn't that. So anyway this is the first time I've said anything so I don't know. I can only offer my own experience. It's such a serious, horrible thing to be accused of.

It's almost as if your brother or someone you just never—so, you know, there's a part of me that is thinking, 'Is it even appropriate for me to say anything?' But because of the seriousness of it, it's been brought into a thing where it's trickier for me to say, 'None of my business.' But that's all I have to offer is my own experience, which was a very, very long time ago.
I don't think anyone is going to come after Winona for what she said? I think it was smart for Time Magazine to give her the space to say what she wanted to say, in context, and we can judge her words from that. She's saying that she has a problem believing that Depp is an abusive person, but she also says that she can only speak to her experience and her experience is from two decades ago. The problem with Vanessa Paradis' statement was that Vanessa extrapolated "he never hit me, therefor he's not capable of hitting anyone." Which is not something she could ever know. And Winona isn't saying that.
Photos courtesy of WENN, Getty.