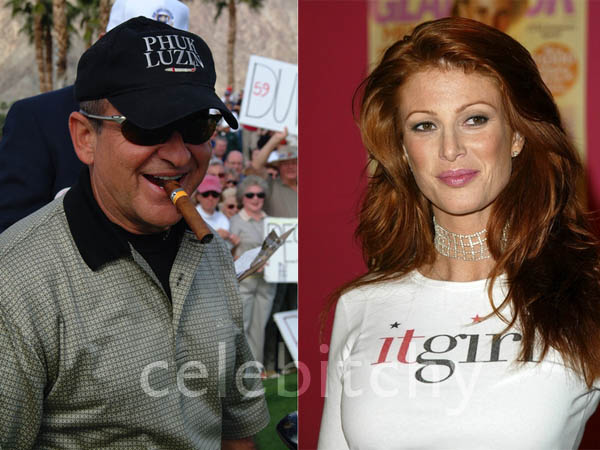 Angie Everhart, the tall red-headed model best known for being a Sports Illustrated swimsuit model and appearing in some B action movies I guess, is now inexplicably engaged to Joe Pesci. She also was engaged briefly to Sylvester Stallone, and dated Prince Albert of Monaco and Howard Stern. She called Howard Stern the "best sex she's ever had." I know her from a couple episodes of "Celebrity Mole" I watched in 2004, also starring a pre-DUI Tracey Gold and Dennis Rodman. [Details from Wikipedia]
Everhart's last relationship was with the Duke of York Prince Andrew, Sarah Ferguson's ex, and there was even some speculation that she could be the next Duchess of York. That relationship must be over now because the 5'10" tall Angie, 37, and 64 year-old 5'4″ Pesci are said to be engaged after being friends for seven years.
[Joe and Angie] were on a weekend getaway in Atlantic City in early July when the goodfella gave her the thrill of her life. He proposed by getting on one knee – and placing a stunning 8-carat diamond ring on her finger.

Now the couple is looking forward to a spring wedding. "Love blossomed after a seven-year friendship, and finally Joe said: 'What are we waitin' on? Let's do it!" an insider told the Enquirer.
[From The National Enquirer print edition, August 6, 2007]
This will be the fourth marriage for Pesci, and the second for Everhart.
The Enquirer says that Angie and Joe have a lot of fun together and enjoy golfing and just hanging out. Angie is said to have helped Joe get through a rough time when his third wife was accused and eventually acquitted of attempted murder of the guy she married after she split with Joe. They are said to be planning a spring wedding.
These two do not look like they belong together, but there's something acceptable in our society about an older unattractive dude with a hot younger woman. It all has to do with fertility and access to resources or something. When you see the occasional older woman with a younger guy, like Ashton and Demi or Halle and Gabriel, the age difference isn't that great and the woman is invariably gorgeous. To balance out the equation, you would need to see a little old lady with a hot younger guy, like Dr. Ruth and Leonardo DiCaprio or Rhea Perlman and Keanu Reeves. That's never going to happen, so instead you get old dudes that look like they hit the jackpot, and younger women who feel the same.