Christie Brinkley, 62, has an extensive interview in People Magazine, to promote her new prosecco. (Also you probably remember she also took the opportunity to promote the wine during a Facebook tirade against a woman she claims was peeing on her property.) Unlike past interviews, when Christie has attributed her freshly altered face to facials, "noninvasive" procedures, exercise and happiness, she's now copping to getting "a little bit of filler." She's previously admitted to "trying" Botox once in her forehead, although she doesn't mention that to People this time and just says she doesn't do Botox. However in another interview, late last year, Christie also admitted to getting Botox in her neck, to doing fillers in "super-tiny doses" and to getting laser resurfacing. So she doesn't exactly have her story straight about what she's had done. She looks incredible, there's no doubt about that, but I don't think any of those treatments can explain how the shape of her eyes completely changed. (See photos below. Doctors are divided on the issue of how much fillers and Botox can change eye shape though.) For those of you wondering why we're analyzing her statements on what she has or hasn't done – she has a book called Timeless Beauty and she's shilling a skincare line.
Christie also talks about her relationship with John Cougar Mellencamp, which we first heard about last September. It sounds like they aren't that serious, or maybe she's trying to play it cool. I do like what she says about how it's nice to date someone her own age.
On her 2006 divorce
"I went through a lot. But you have to stay strong for your kids. You can be in absolute agony, but when you see your kids, you have to be like 'Hey, guys!'"

On her relationship with ex Billy Joel
"He just sent me a video of him with his new baby, and she's so adorable. It's really nice that we get along so well. That's what you want in a relationship. It's somebody that's been a big part of your life. That's the way it should be."

On her relationship with John Cougar Mellencamp
You never really know what's going to happen. John and I are two people that have very full lives. We're just trying to enjoy each other when we can see each other and try not to put too much [pressure] on it."

On meeting JCM, he asked a friend for her number
"It's always nice to hear that someone's interested. I thought, 'Oh my gosh, we're really opposites. He's kind of a throwback from another time, like a silent cowboy. But then we talked and realized that we do have a lot of shared interests.""

On how it's nice they're the same age
"I know guys that go out with girls that are so, so young. They'll throw some reference out, and they're like, 'What's that?' When it comes to relationships, there is something nice about just being the same age."

On what she's had done
"I grew up in Malibu then my real job of modeling took me to beaches all over the world and under the sun. I really am aware of all the sun exposure I've had in my life and I'm interested in things that they can do to [reverse the sun's effects]…" she'll get Clear and Brilliant laser treatments and "occasionally I'll do a little bit of filler" (though not Botox)
[From People Magazine, print edition and online]
I love how preternaturally young looking women will only admit to occasional injectables, but obviously she's had great work, whatever it is. On People online, Christie also shills for her skincare system, because of course she does, and she attributes her youthful look to eating a vegan diet (except for mozzarella cheese for some reason) and exercise.
As for what she says about guys her age dating very young women, it's sad. I assume she's talking about women in their 20s. That's who she's competing with and it explains a lot.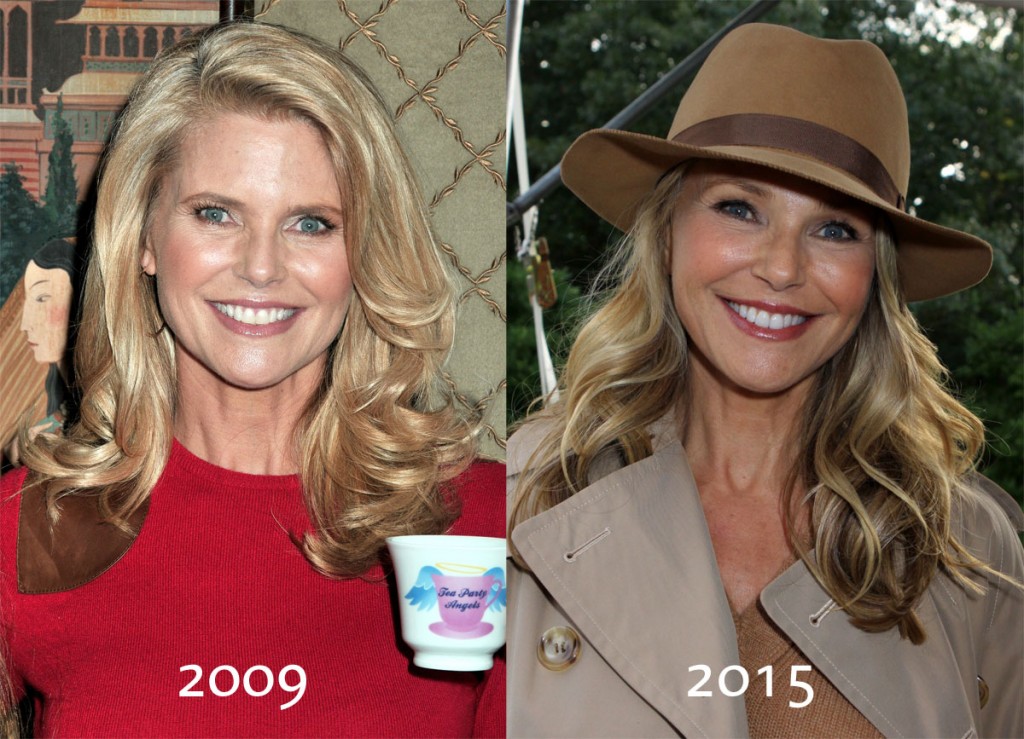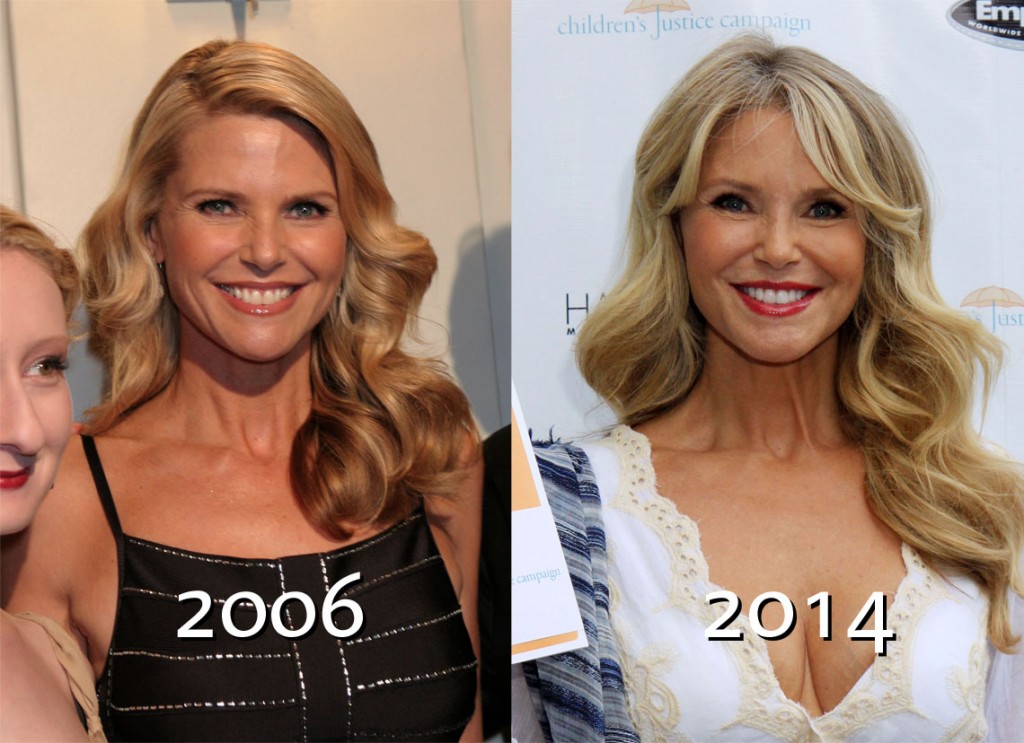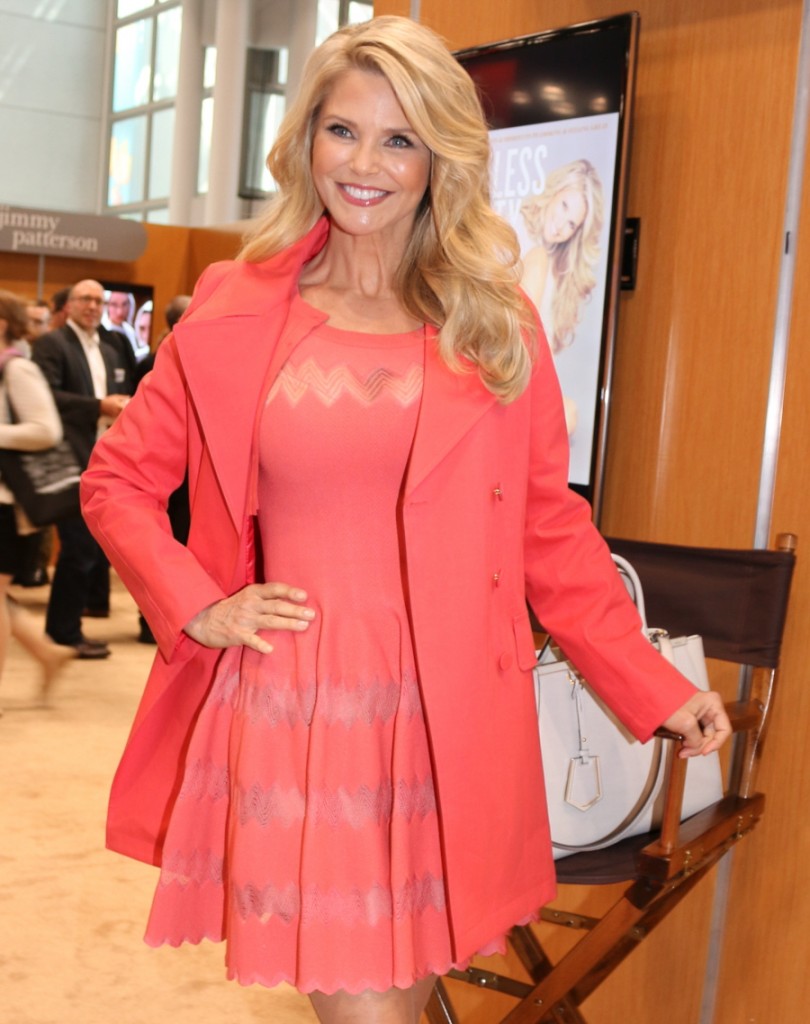 photo credit: WENN and Getty