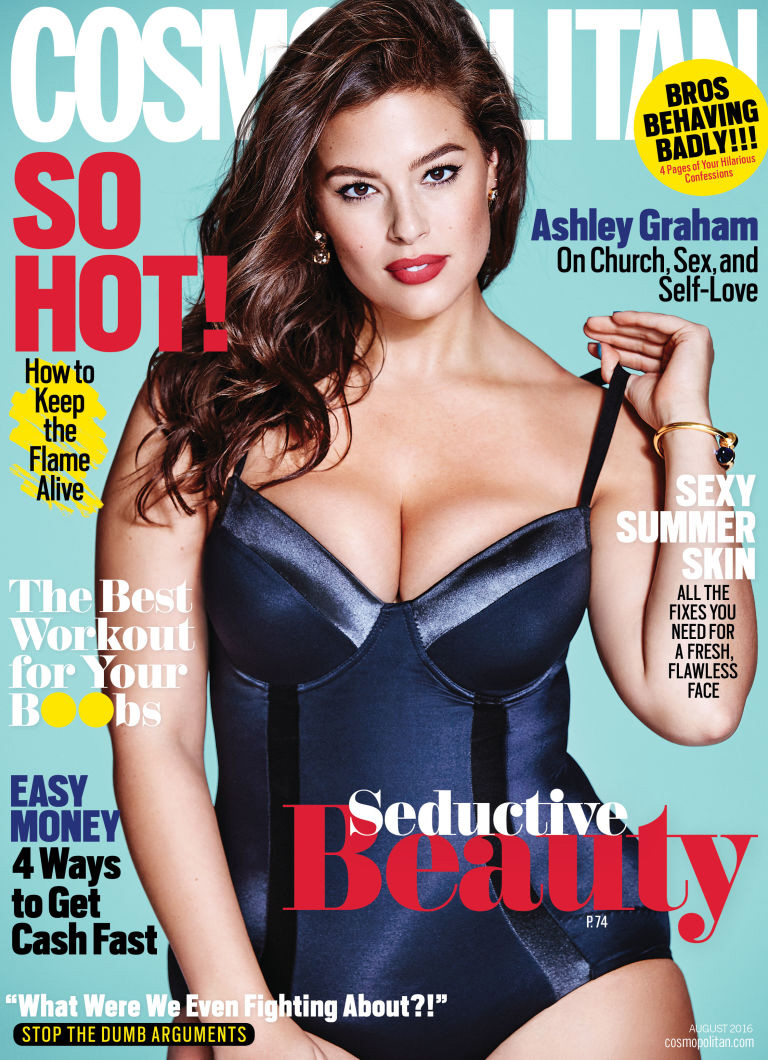 To all of those people who said that Ashley Graham looks like Eva Mendes: I really see it. They could be sisters! Ashley covers the August issue of Cosmopolitan, and what's great about it is that… it's normal. Cosmopolitan isn't even making a big deal about putting a plus-sized model on their cover. It's great! And like every interview Ashley has given this year, I'm really enjoying what she has to say. Ashley talks about being married to a black man and the public reaction to that. She talks about coming to terms with the fact that she had an abusive, alcoholic boyfriend.
Ashley also has some shade for Amy Schumer in this piece. Some background: back in April, Glamour Magazine put out a supplemental sponsored by Lane Bryant, the plus-sized womenswear company. Ashley was the cover girl for the supplemental, which focused on "beautiful at any size," specially beauty and fashion for women above a size 12. Amy Schumer's name appeared on the cover of the supplemental, and Schumer was SO pissed about it, which seemed utterly bizarre. Glamour didn't even call her "plus-sized," and Schumer's hissy fit seemed to contradict her comedy brand, which is that she's normal sized in America but "big" in Hollywood. Schumer did not come across well, and I'm glad Ashley Graham is saying something about her. Some highlights from Cosmo:
On Amy Schumer taking Glamour to task for implying she is plus-size: "I can see both sides, but Amy talks about being a big girl in the industry. You thrive on being a big girl, but when you're grouped in with us, you're not happy about it? That, to me, felt like a double standard."

On calling herself a model and not a plus-size model: "Just because I'm not calling myself plus-size doesn't mean I'm not representing a woman who is … I'm giving curvy women a seat at a table that we've never been invited to before —a table with high-end fashion people who have never considered us beautiful."

On the trolls who remark on her interracial relationship with husband Justin Ervin: "One comment on Instagram was 'I knew a girl her size could only be with a black guy.' I think that's so ugly. But we talk about the fact that I'm white and he's black all the time. I've seen how racist America is. It's opened my eyes to how ignorant I have been, how white privilege has taken over a lot of my thoughts and actions because it's just something that I take for granted."

On a previous relationship with an alcoholic: "He was abusive in more than one way … He threw a couch on me. He came home drunk. I was sitting on it, and he flipped it upside down. I remember my elbow being jammed but thinking, He didn't hit me; he was just really angry, you know? You hear stories of women who say the exact same thing — I wasn't showing up with bruises, he wasn't beating me every day. Looking back, I should've left, but I was an insecure woman in a terrible relationship who did not know herself."
I've always believed that if I was ever in a situation where a man started to abuse me, I would walk. But as I get older, I realize that my ability – and the ability of so many women – to rationalize and excuse abusive behavior is something that I take for granted. I can understand that rationalization: he's not hitting me, he's throwing sh-t around. I'm not bruised, but I am terrified, but maybe he's just having a bad day. It sucks. As for what she says about being married to a black man… I like how she acknowledges her white privilege, and talks about how she's had to confront that privilege and deal with it head-on.
As for what she says about Amy Schumer… she hit the nail on the head. Schumer came across as hypocritical during that incident.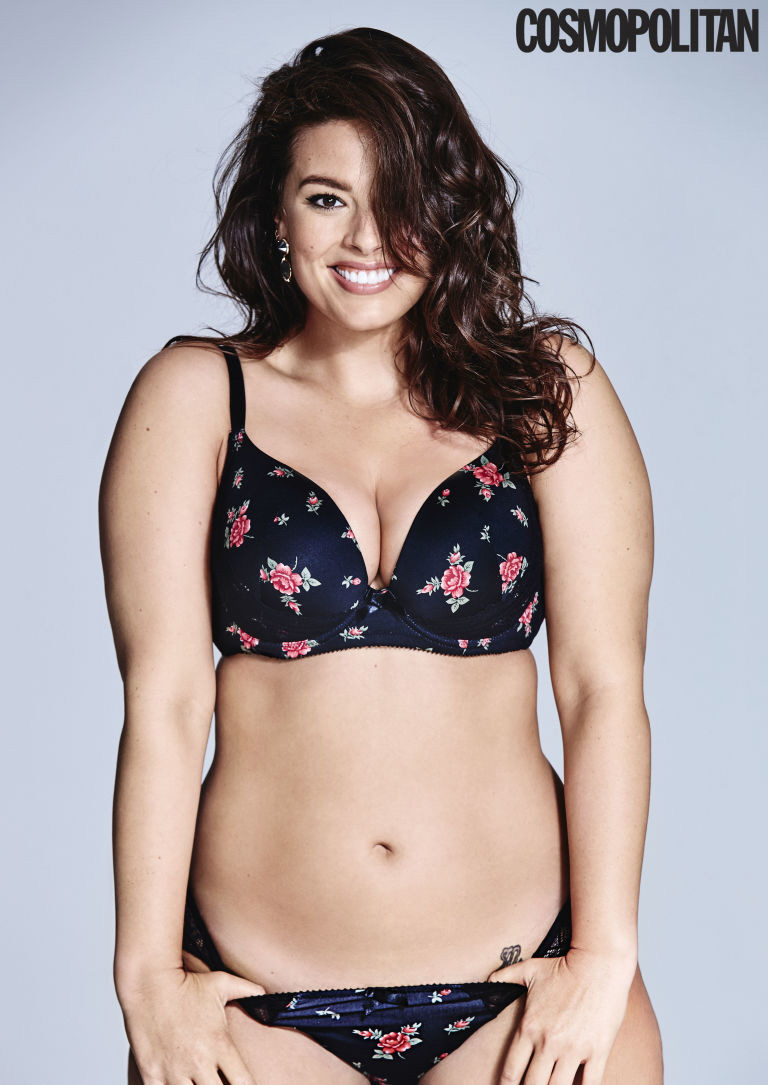 Photos courtesy of Cosmopolitan.