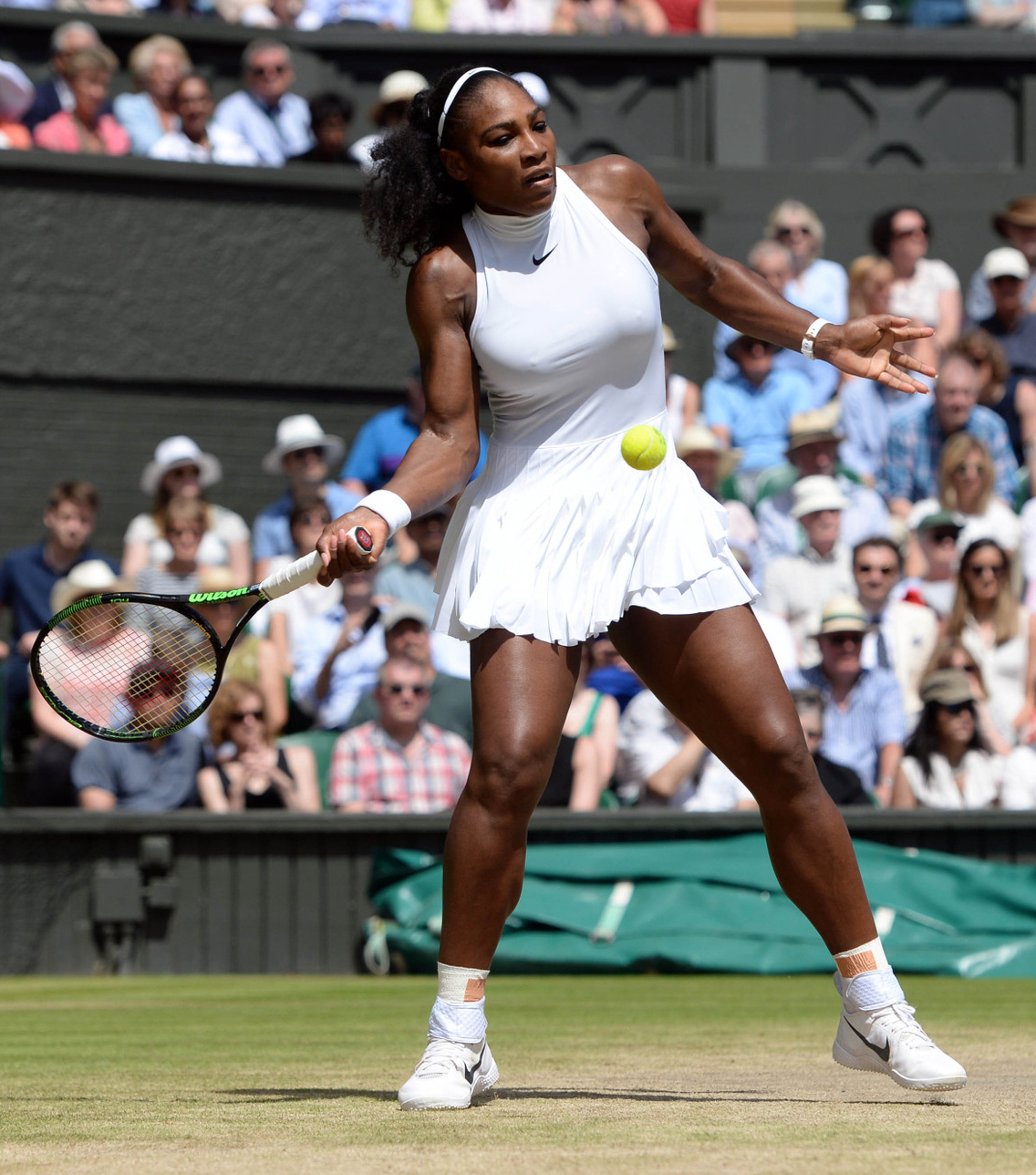 For those of us glued to our televisions and computers on Saturday, it felt like we were watching something incredibly historic. After failing to win the Australian Open and the French Open this year, Serena Williams was still searching, yearning for her 22nd major title, just looking to tie with Steffi Graff's record in the open era. And you could feel it in the air, especially as Serena advanced to the quarterfinals and then the semifinals. Could this be it? Would this be #22 for Serena the #GOAT (Greatest of All Time)? And it was. Serena defeated German Angelique Kerber in two straight sets. Serena won her seventh Wimbledon singles title, her 22nd major singles title. History. Magic. Amazingness. #GOAT
What was also amazing is that just a handful of hours later, Serena was back on Center Court with her sister Venus for the doubles championship against Timea Babos and Yaroslava Shvedova. And once again, Venus and Serena won in two straight sets. This was their sixth doubles win at Wimbledon and their 14th Grand Slam double win. They're going to be playing doubles at the Olympics too, and Serena really wants to win gold in singles too. And Serena now has her eye on winning the US Open this year after falling apart in the final of last year's US Open.
Try to watch this and not be inspired. The BBC did a special tribute to Serena before her final matches, and the video is overlaid with Serena reciting "Still I Rise" by Maya Angelou.
Serena Williams Still I Rise #JusticeIn5Wordshttps://t.co/W0mJwT9DIm

— Logical Campaign (@LogicalCampaign) July 9, 2016
And if that wasn't enough, Serena talked about the political/racial topics with many of the reporters at Wimbledon. When asked about the deaths of Philando Castile and Alton Sterling at the hands of police, Serena told the NYT's Ben Rothenberg:
"I feel anyone in my color in particular is of concern. I do have nephews that I'm thinking, Do I have to call them and tell them, 'Don't go outside. If you get in your car, it might be the last time I see you.' That is something that I think is of great concern, because it will be devastating. They're very good kids. I don't think that the answer is to continue to shoot our young black men in the United States. It's just unfortunate. Or just black people in general. Also, obviously, violence is not the answer of solving it. The shooting in Dallas was very sad. No one deserves to lose their life, doesn't matter what color they are, where they're from. We're all human. We have to learn that we have to love one another. It's going to take a lot of education and a lot of work, I think, to get to that point. But I think, in general, the entire situation is extremely sad, especially for someone like me. It's something that is very painful to see happening.
Serena also spoke about not wanting to be called "one of the greatest female athletes in the world," saying that she would prefer to be called "one of the greatest athletes in the world." She told reporters: "I didn't come from any money or anything, but I did have a dream and I did have hope. That's really all you need. We shouldn't put any female athlete in a box. Why do we have to be limited to just female athletes? We all work really hard. We just want to be known as just athletes." I love her. #GOAT
Beyonce, Jay-Z, Ellen DeGeneres, Portia and tons of other celebrities came out to see Serena win too! The camera kept cutting away to Beyonce, everyone at Wimbledon was so happy that Bey came out!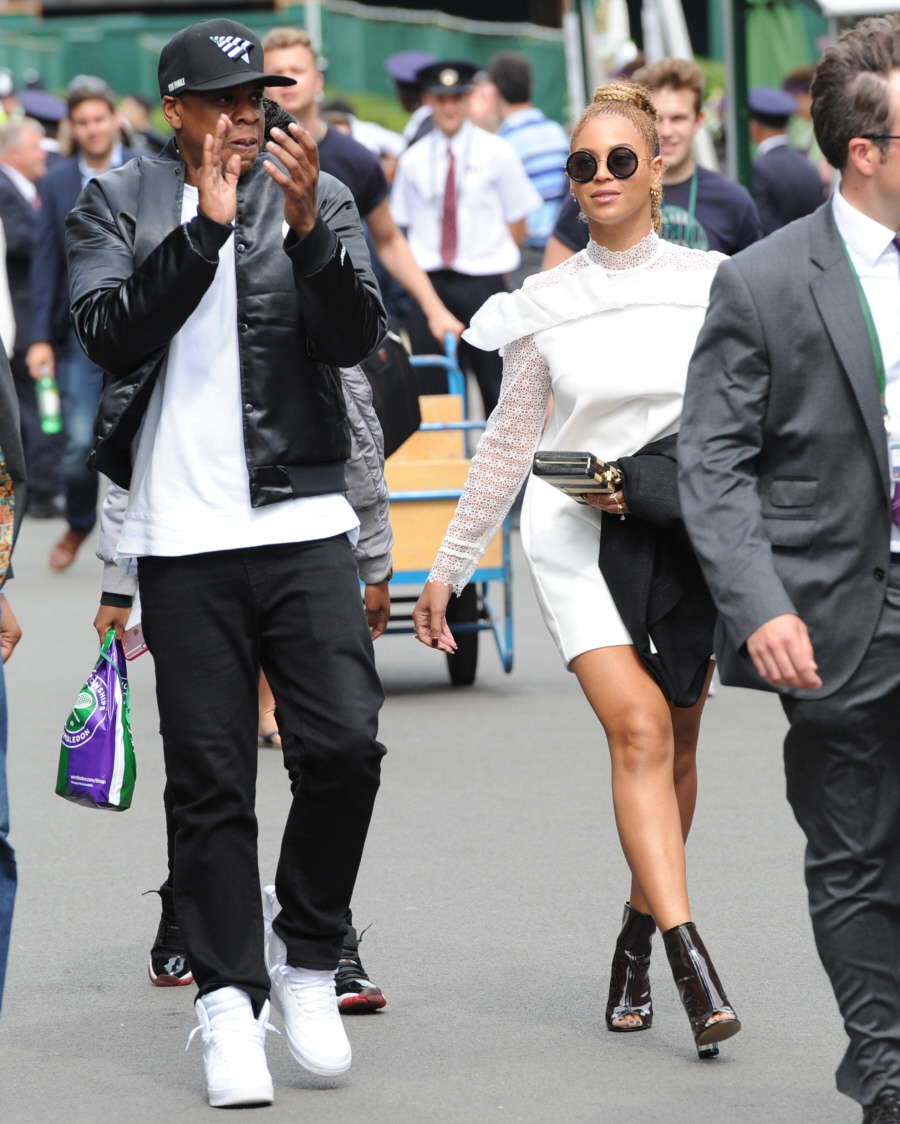 Photos courtesy of Getty, Fame/Flynet and Pacific Coast News.