It's only been about three weeks since Jenny Slate and Chris Evans made their relationship super-official by briefly walking her red carpet together. That was at the LA premiere of The Secret Life of Pets back in late June. And since then… there hasn't been a lot of gossip. It's not that nothing shady has happened, mind you. It's just that very few media outlets want to call out Slate and Evans for what is looking more and more like a months-long affair while she was very much married. The new issue of Star Magazine has a vague story about how some unnamed sources are sort of theorizing that yeah, Chris Evans and Jenny Slate were totally hooking up last year when they worked together.
Questions have arisen about whether Chris Evans played the villain by breaking up Jenny Slate's four-year marriage to Dean Fleischer-Camp. The news of Dean and Jenny's separation broke on May 4, then just one week later, Chris and Jenny confirmed they were a new couple. Then on May 20, Dean and Jenny simultaneously filed for divorce in Los Angeles Superior Court.

"It certainly has the appearance of Chris and Jenny's relationship having contributed to her marriage crumbling – and I'm sure Jenny would just like to sweep it under the rug," says one source.

Signs that the costars were getting cozy last year on the set of 'Gifted' were obvious from the start.

"Jenny's feelings for Chris seemed to evolve quickly to more than just platonic," claims a set insider. "Some people even said they felt bad for Jenny's husband the one time he visited the set. She didn't seem too enthusiastic about Dean being there, and he probably sensed the chemistry between his wife and Chris."

After filming wrapped up, Chris and Jenny still found time to be together. In March, they were spotted out to dinner with Chris's brother. In April, they did Anna Faris's podcast together.

A rep for Chris insists he and Jenny did not begin dating until April, after her and Dean's separation.

At the premiere of The Secret Life of Pets in June, Jenny and Chris tried to be more discreet. "Jenny and Chris walked the carpet together, but he fled the scene when she was being interviewed because it was obvious he did not want to answer questions about their relationship."

"Her friends are saying that Jenny and Dean's split was amicable, though I'm sure Dean was heartbroken to see her take up with Chris so quickly," says the source. "But maybe something good will come from all of this. Maybe Chris and Jenny were meant for each other – and if that's the case, who's to say they shouldn't be happy together?"
[From Star Magazine, print edition]
There's also a quote from an insider: "They make an unlikely couple. Chris is just a regular guy while Jenny is artsy and quirky." I do think that Slate's "quirky" vibe is working in her favor as far as press coverage goes. If she looked like a "bombshell," people would have more to say. But she seems like a quirky-but-wholesome girl-next-door type, and so everyone is just looking the other way when the stories crop up about how Captain America homewrecked his costar's marriage. I do enjoy that Star spoke to Chris's rep who "insists" that Jenny and Chris didn't start until April… except that Jenny and Dean didn't announce their split until May 4th.
.@JennySlate is officially red-carpet official with @ChrisEvans: https://t.co/iaij76vtIG pic.twitter.com/8gYzMeVvmQ

— Glamour (@glamourmag) June 26, 2016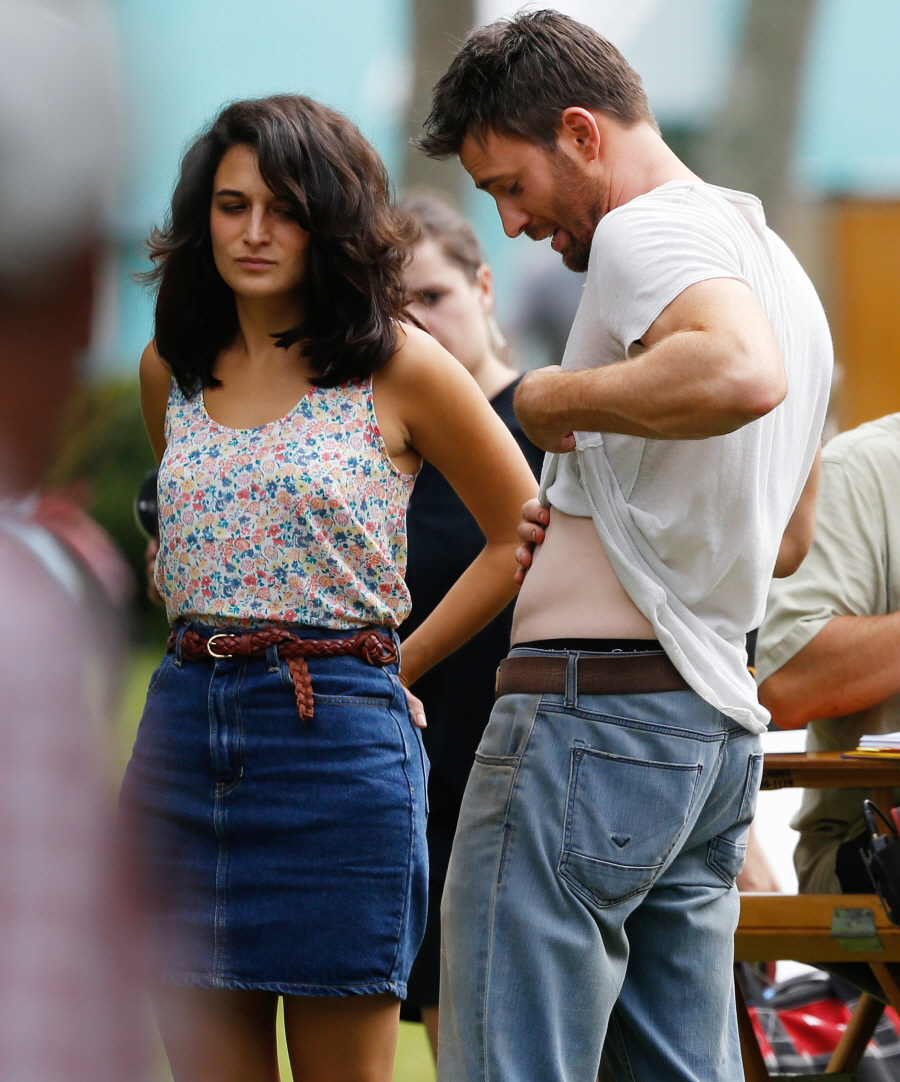 Photos courtesy of Fame/Flynet, Instagram, WENN.