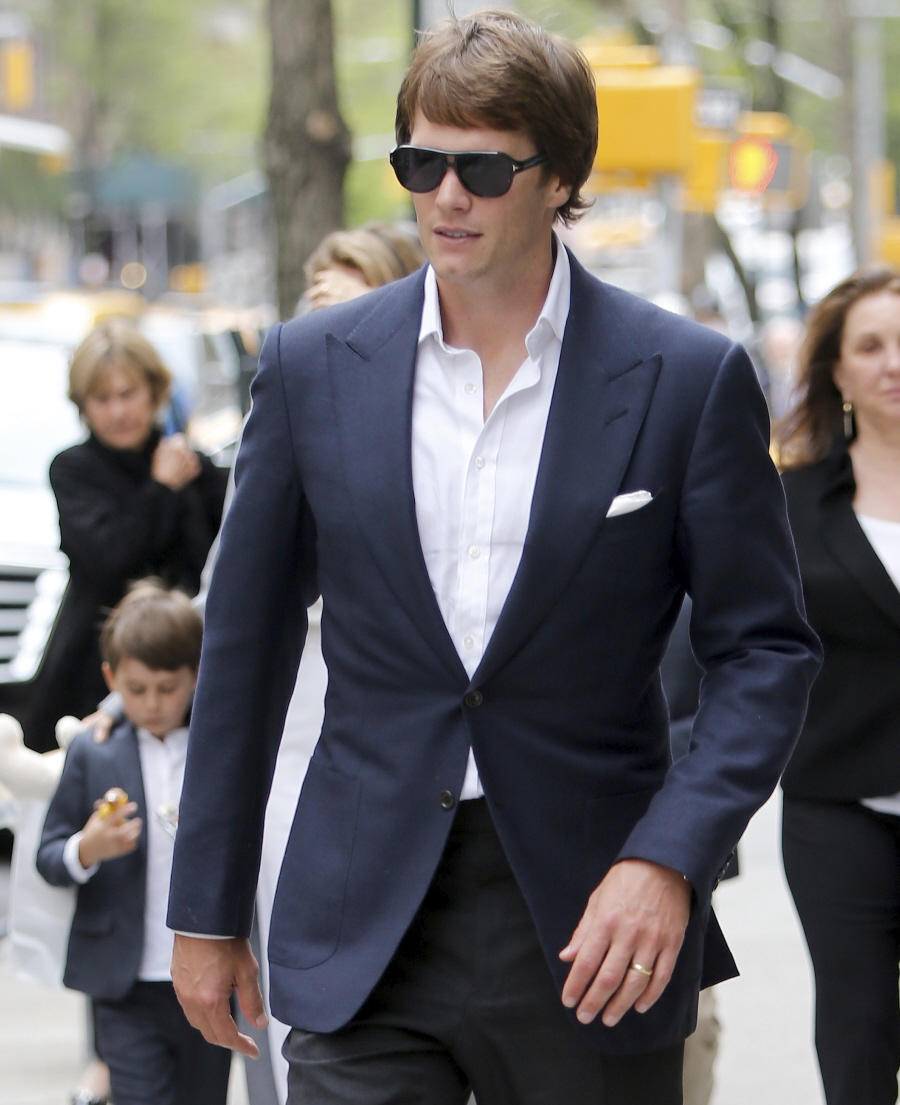 We haven't talked about Tom Brady in a while. It just got to the point where the back-and-forth about Deflategate was sort of boring, and as the case lingered, it seemed like a giant waste of time and money. So after Brady's four-game suspension was upheld back in April, he made some noise about pursuing more legal actions, then he backed out in June. Brady decided to just accept his four-game suspension, which sounds good to me (considering I always thought he was lying his face off). These days, sports writers are obsessing about how Tom is going to get his pre-season practice in. We'll see (if we care).
Meanwhile, as we've heard before, Tom and Gisele follow an incredibly restrictive elimination diet all of the time. It's not really vegan, because the meals involve "20% protein," often in the form of fish, duck or chicken. But Tom and Gisele – and their kids – don't eat carbs, dairy, sugar, or any kind of fun dessert at all. In a new interview, Tom and Gisele's private chef Allen Campbell talks more about all of the food Tom and Gisele refuse to eat. Some highlights:
Campbell's food philosophy: "My philosophy starts in my own life, and with my own lifestyle and eating habits. I make conscious decisions to buy local and organic, and to stay away from GMOs, and to think about the future of the planet and the future of humans. My philosophy is that a plant-based diet has the power to reverse and prevent disease."

His 80/20 diet for the Bundchen-Bradys: "So, 80 percent of what they eat is vegetables. [I buy] the freshest vegetables. If it's not organic, I don't use it. And whole grains: brown rice, quinoa, millet, beans. The other 20 percent is lean meats: grass-fed organic steak, duck every now and then, and chicken. As for fish, I mostly cook wild salmon. It's very different than a traditional American diet. But if you just eat sugar and carbs—which a lot of people do—your body is so acidic, and that causes disease. Tom recently outed Frosted Flakes and Coca-Cola on WEEI. I love that he did that. Sugar is the death of people.

What he'll never use: "No white sugar. No white flour. No MSG. I'll use raw olive oil, but I never cook with olive oil. I only cook with coconut oil. Fats like canola oil turn into trans fats. … I use Himalayan pink salt as the sodium. I never use iodized salt. [Tom] doesn't eat nightshades, because they're not anti-inflammatory. So no tomatoes, peppers, mushrooms, or eggplants. Tomatoes trickle in every now and then, but just maybe once a month. I'm very cautious about tomatoes. They cause inflammation. What else? No coffee. No caffeine. No fungus. No dairy. The kids eat fruit. Tom, not so much. He will eat bananas in a smoothie. But otherwise, he prefers not to eat fruits.

Do the kids partake in Tom & Gisele's diet too? "Yeah, I mean pretty much. Vivi was only nine months when I started, so I gave her first food. And 90 percent of the time they all eat the same thing. I cook for the kids, but Gisele makes Benny's lunch to take to school. She packs that herself."

Comfort food: "I'm all about serving meals in bowls. I've just did this quinoa dish with wilted greens. I use kale or Swiss chard or beet greens. I add garlic, toasted in coconut oil. And then some toasted almonds, or this cashew sauce with lime curry, lemongrass, and a little bit of ginger. That's just comfort food for them.
The idea of a big bowl of grass and ginger being considered "comfort food" is making me laugh and cringe at the same time. If you want to live this way (and you can afford it), God bless. But tomatoes aren't going to kill you. You won't die if you cook one meal in olive oil. And fruit is good for you. It feels like every year, the diets get more and more restrictive, and so-called professional chefs are feeling more like professional dieticians and doctors now. I'm not calling this kind of thing holier-than-thou quackery, but I do think it's more than possible that there's some Orthorexia Nervosa involved here. And those poor kids.
Photos courtesy of Getty, Fame/Flynet.