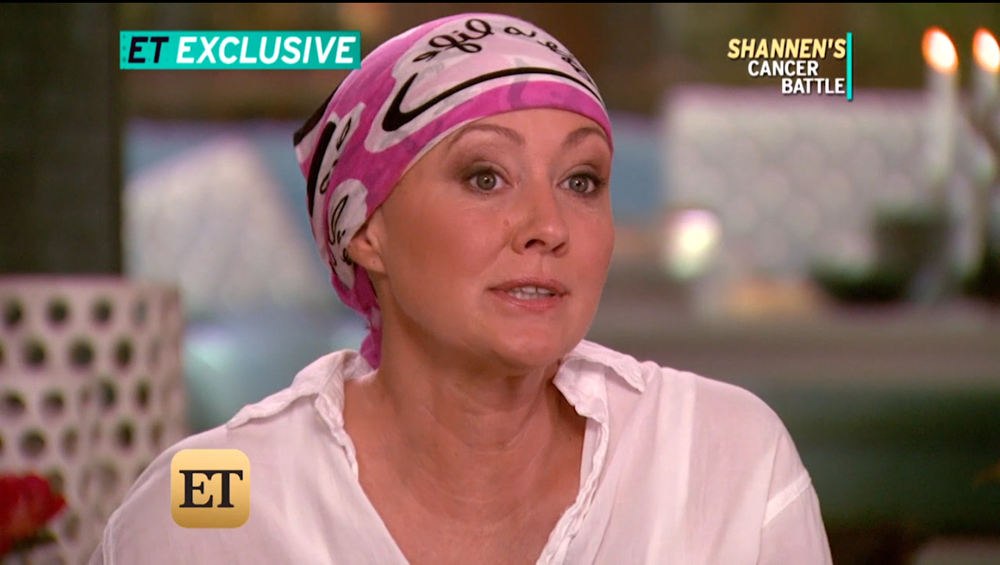 A couple of weeks ago, Shannen Doherty posted photos to Instagram documenting the process of shaving her head. Shannen has been battling breast cancer for over a year, having been diagnosed in March of 2015. After she posted the photos, many people become worried about her prognosis and are hoping that she's ok. Judging from her Instagram, she has friends and family around her as she goes through treatment. In an emotional new interview with Entertainment Tonight, Shannen revealed that her breast cancer has spread to her lymph nodes and said that she's going through chemotherapy followed by radiation.
On her prognosis and treatment
I had a single mastectomy in May. From one of the surgeries we discovered that some of the cancer cells might have actually gone out of the lymph nodes. So for that reason, we are doing chemo, and then after chemo, I'll do radiation.

She doesn't want to know her stage number
They do a stage once they take the tumor out. Once it starts spreading you're above stage 2. You're a stage 3, stage 4, whatever it is. My treatments are my treatments. There's nothing I can do to change it. [Whatever stage I am] there's nothing I can do to change that.

She found it in the shower but could not go to the doctor
I don't know if I knew something was wrong, but I felt something. I did not go into the doctor right away. I can't get into this because I'm in the middle of a lawsuit… I didn't have insurance.

She will have reconstruction and is working with Angelina Jolie's doctor
He didn't want me to wake up with absolutely nothing. It was very important to him that I didn't have that experience, so he put an expander in. So I have a tiny something there. It's cute and sometimes we fill it up and make it bigger, and sometimes we reduce it.
I didn't know that's how expanders worked, that they allowed you to pick your breast size. I looked through some forums on this and apparently you can experiment with different sizes so that you know how it will look when you do get reconstruction. When she was talking about this Shannen seemed a little brighter and happier, so it's reassuring to hear that women have this control over their bodies during such a tough time.
ET has more from the interview on their website, including the fact that Shannen's husband has been extremely supportive and that Diane Von Furstenberg, who is a cancer survivor, personally sent her scarves to wear. She also explained why she shaved her head, because her hair was coming out in clumps, and how difficult it's been to deal with the side effects of chemotherapy. Shannen said that she didn't want her story getting out from unflattering paparazzi photos and without her having a chance to tell people what was happening. "I wanted to put it out there the way it felt the best for me to put it out there." Keep fighting Shannen, we're rooting for you.