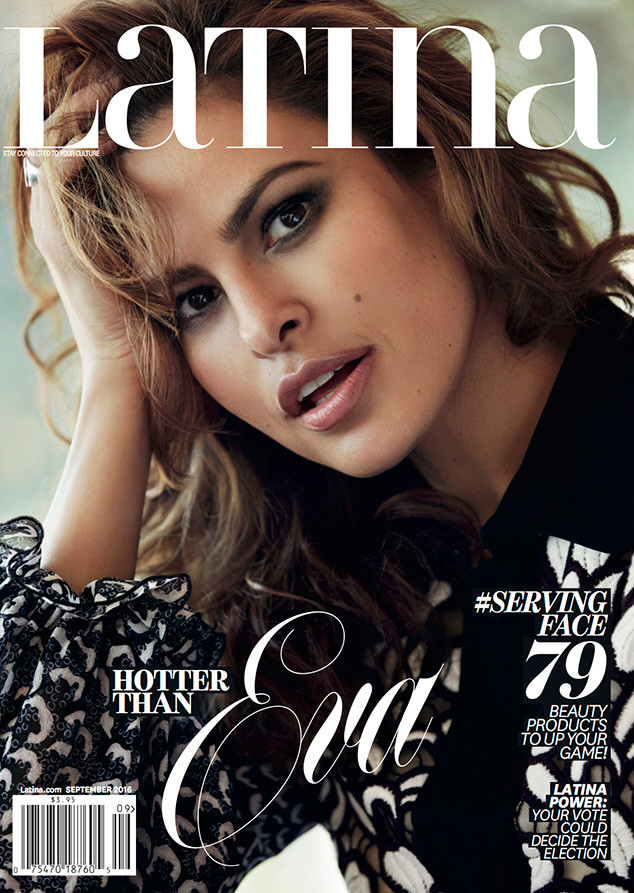 Eva Mendes speaks! Which is pretty rare these days. I used to think Eva was all hustle with her weekly pap strolls and Ryan Gosling name-drops. But things change and Eva really, really went underground. So underground that she successfully managed to hide two pregnancies almost completely. Photos of Eva are somewhat rare these days – she doesn't go to premieres because she hasn't made a movie in years, but she still has side projects, like her collaboration with NY & Co and more. Plus, she still gets pap'd once in a blue moon, and maybe once a year, she'll talk to a magazine. This year, that magazine is Latina Mag. You can read the full piece here, but just beware: the way the Latina site is set up, it's really annoying to try to read the full piece. Eva chats about her babies, about raising half-Cuban girls, and why both of her daughters have the name Amada.
How motherhood has changed her: "Well, I have two girls. That's a lot. It's early for me to make any big statement about having children. My older little girl is not yet 2 years old. My little one is still an infant, and right now it's really about surviving those nights and trying to enjoy this time as much as possible with them, and start the bond between Esmeralda and Amada. It's a really, really special time. I'm loving it."

If & when she'll return to acting: "I'm not sure, but it would definitely take something really special. I don't like saying "take me away," but essentially that's what work does. I think it can be very, very healthy if it's something that feels worthwhile. Right now I feel very fortunate to be home with my kids. I feel so lucky, and I'm just taking advantage of that.

Her Cuban father still doesn't speak English, despite living in LA: "Yeah, my father is like 70-something. It's not happening. It used to frustrate me, and now I think it's really cute… it's cool, exactly. That's a good sign of the times, isn't it? When I was younger, and me and my mom would go to the mall, she would be speaking in Spanish, and I'd be embarrassed. I was 12 or 13 years old at that time, and all I wanted to do was fit in. Anything that made me different, I didn't want to embrace, which is the opposite now. And hopefully as you get older, you realize that your quirks and what makes you different are the things to celebrate. Cut to now, I'm just like, Mami, como se hacen los frijoles así? I'm just so proud of my whole culture, of where I come from. I wish I'd had that insight when I was 13. I fought it for a while, for sure.

Infusing her home with Cuban influences: "We're constantly playing Cuban music. I speak to them in Spanish, and my mom speaks to Esmeralda in Spanish. Well, now she speaks to both of them in Spanish. Any time I have an opportunity to introduce her or them—I have to say "them" now, though my newborn just sleeps all the time—to my culture, whether it's through music, or through food, I do. That is a main priority, for sure.

Losing her brother Carlos & giving birth to Amada Lee: "Losing my brother brought our family closer, and we were already close to begin with. So to just see everybody be there for one another and show up, I feel so lucky to have them. And then they were there for me when Amada was born. We had a funeral service for him and that same week I had the baby. So it was really, really intense and obviously beyond heart-breaking, but also kind of beautiful. And being totally honest, I don't feel like I've really processed that yet.

Why both of her daughters have the name Amada: "My grandmother's name is Amada, and Esmeralda Amada is the name of our oldest. We had a few names picked out for our new baby, and when she was born, we didn't feel like those names were her. We came up with a few more, even that morning, and tried them out. We were like, "What about Viviana?" But we just kept going back to Amada. In true Latin fashion, we reuse names all the time. I used to know five sisters that were all Maria del Carmen, Maria Elena, Maria Liliana….I actually told Ryan, "This is common in Latin culture, so it wouldn't be crazy." So we went with Amada because it was something we kept going back to. And it was an emotional time with the passing of my brother. We thought how beautiful to go with what made us emotional and with what felt like her. When we looked at her, we thought, "Aww, Amadita." And my mom's name is Eva. We even thought about Eva III. And we were like, "You know what? Maybe that's a bit much."
I often get the feeling that Ryan Gosling is just surrounded by feminine energy – more specifically, Cuban-feminine energy – as soon as he walks into his house. Eva has made consistent references to how her mom and her sisters are always helping with the babies, so much so that I would bet that Eva, her mom and her sisters are constantly in Eva and Ryan's home. Plus, the two baby girls. But Ryan seems fine with it? He probably even likes it.
As for the name thing… I guess that makes sense. I'm fine with people reusing the same name for two kids, but I do wonder if Amada Lee is going to wonder why she couldn't have her own name separate from Esmeralda Amada.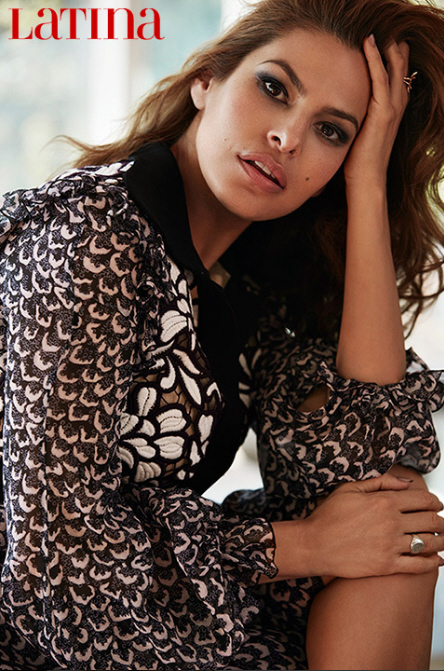 Photos courtesy of Latina Mag.