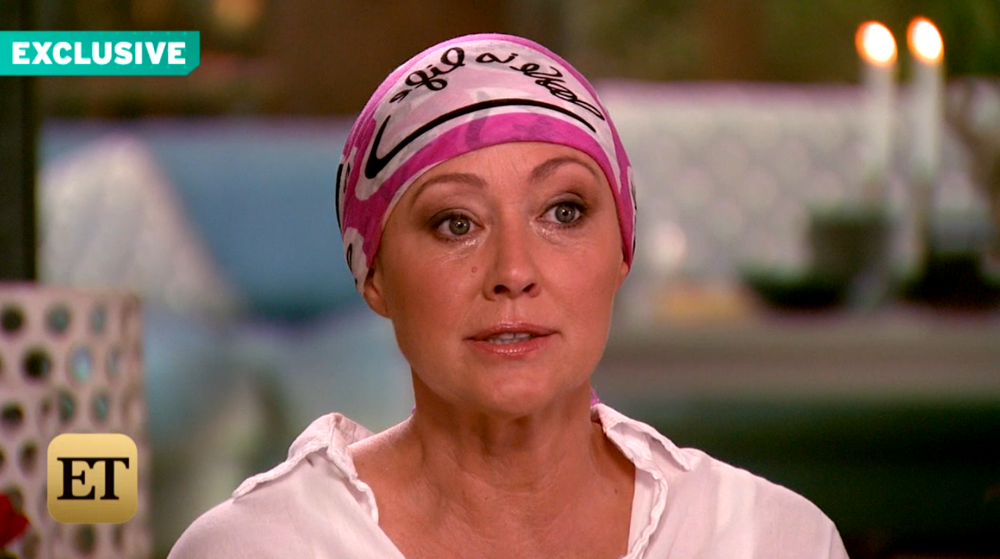 Yesterday we reported on part one of Shannen Doherty's interview with Entertainment Tonight, in which she revealed that her breast cancer had spread to her lymph nodes and possibly beyond (she was not certain about the extent of it but said that some was protruding from the lymph nodes which were removed). Shannen said that she did not want to know what stage cancer she had because she would follow her doctors' orders regardless. She is currently undergoing chemotherapy, which has made her very sick, and will next get radiation. She also said that she did not have the breast cancer gene, and that she felt a lump some time before she was able to get to the doctor because she did not have health insurance. (Shannen is currently suing her former manager for failing to pay her health insurance premiums, among other things, which lead to a delay in her diagnosis.) Before Shannen knew that she had cancer, her dog seemed to know. In part two of Shannen's interview, she talked about her sweet dog, a German Shepard named Bowie, who would sniff her right on the side were cancer was ultimately found. Shannen also said that her husband has been incredibly supportive.
On her dog, Bowie, smelling her cancer
She would obsessively sniff right here on my right side for a long time before. So, it made sense when I got diagnosed. When I got back from surgery, [Bowie] again was kind of right in this area," Doherty says, gesturing towards her right side. Then when I had my first chemo, she would sniff my entire body up and down. And she was always protective before, but she has become this crazy, protective dog. It's hard to get close to me when she's around.

On cancer making her marriage stronger
My marriage was always strong, but it's made my marriage a thousand times stronger. He's never missed a chemo. He's never missed a sick day.

How her husband reacted when he learned she had cancer
[He] hugged me and said, 'We are going to get through this. You are going to be OK. We are going to get through this, you're strong and you're powerful and you're not going anywhere. You have so much to do in your life. We are going to get through it as a family.'

Her mom is by her side too
She is so strong, and my mom is like a Steel Magnolia. She is a Southern girl and she puts on this very strong face with me. She is constantly looking stuff up and, you know, she will force-feed me Gatorade chips. Her and my husband tag team.
[From two articles on Entertainment Tonight]
Shannen lost her father to a stroke in 2010 and she said she thinks about him constantly. She also expressed a desire to have have children and said she may adopt after her treatment. As for how she's coping emotionally, she went through a period when she was focused on her own mortality, but now feels embraced by the cancer community. "You realize how many people in the world are going through the same struggle as you and that you have such a larger family than you thought."
As for her dog smelling her cancer, numerous studies have shown that dogs can detect all kinds of cancer in humans, and they can also be trained to detect diabetic emergencies, epileptic seizures before they happen and even urinary tract infections. That's amazing.
Here's Shannen's dog, Bowie. Shannen told ET that she's named after David Bowie. Look at this beautiful dog.