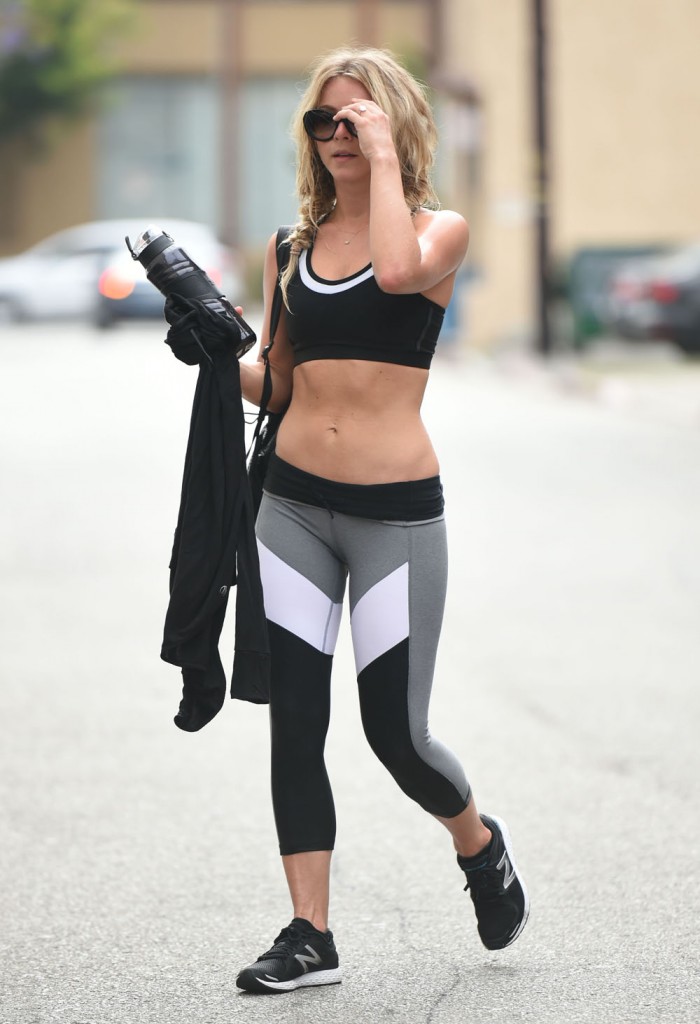 Julianne Hough covers the September issue of Shape Magazine, I think to promote her line of athletic clothes, which she's been papped out in seemingly once a week this entire summer. She's in phenomenal shape with great abs and has been getting a lot of coverage for that reason particularly. In Shape, Hough talks about her approach to fitness, diet and leisure. She sounds very honest about her fitness routine and diet, which is healthy for the most part with some occasional indulgences. Hough reminds me of Kate Hudson in that way. Kate will also explain how she maintains a healthy lifestyle by putting the work in every day.
On reminding herself that strong is better than skinny:
"I love my shape because I feel strong and fit, and that makes me feel confident. When I look at pictures of myself when I was 19, my body was bangin', but I was killing myself. I was working out two and a half hours a day and eating the bare minimum to survive. I was so miserable. I wasn't healthy. To be honest, I looked like a kid. Now I'm embracing the fact that I'm a woman with curves."

On discovering a routine that she loves:
"I exercise three to six times a week, but usually I do five days of hard-core training. On Mondays, Wednesdays, and Fridays, I do Tracy Anderson or Body by Simone or I work out with my trainer, Astrid Swan. Tuesdays and Thursdays, I do Core Power Yoga, which I love. If I'm doing something special, like shooting the SHAPE cover, or when I want to tone up quickly, I'll also take a SoulCycle class. Saturdays, I go on a really long hike with my friends or take another yoga class, depending on how I feel. Sunday is my reboot day. I try to eat healthy and do something outside like walk my dogs. I relax, enjoy the day and get mentally and spiritually prepared for the week. It gets me excited for what's ahead."

On finding ways to sweat with her friends:
"I love going to classes with my girlfriends [actresses Nina Dobrev and Sarah Hyland are two of her closest]. We'll call each other or send a group text and organize. Sometimes we sign up for Spartan races and have a blast. Last fall we took a girls' trip to Mexico. I had just finished a dancing tour with my brother, Derek, and was super motivated and working out like crazy. My friends asked me to teach a class one of the days we were on the trip, and I said, 'One day? I'll do it every day!' So rather than drink tequila shots and get crazy, we turned it into a healthy trip. Every morning, we got up and I taught an hourlong mix of Tracy Anderson, Body by Simone, and yoga moves. Then we'd put on our swimsuits and go to the beach or the pool. Don't get me wrong: We definitely enjoyed cocktails and chips and salsa while we were there, but after our daily workouts we always felt much better about ourselves."

On making room for cheat days, too:
"E! News recently posted a picture of me coming out of the gym, and there were all these comments about the photo, like, 'We could have abs like this, but we love pizza too much.' I started laughing because pizza is my favorite food. I eat it a lot! I want everyone to know that I'm not Miss Perfect. You can cheat every once in a while, and that's OK. You can still have a fit body as long as you work out regularly and eat relatively healthfully throughout your life."

On her exercise inspiration
"If I have a really cute outfit on when I exercise, it inspires me to work harder. I want those clothes to look good on my body."

On dressing for success:
"I started designing my athleisure line because I'm a believer in a fit lifestyle. I wanted to make clothes that are cute to work out in and that you can also go about your day in—picking up the kids, going to a meeting, getting groceries, whatever. The line makes you want to be active."
Shape also has a "behind the scenes" video and brief interview with Hough. She had some good things to say there as well about her health philosophy, which she says is "about your mind" as much as it is "about your body. When I have a clear head, that's when I feel like I'm healthy." She also said that she works out for her "future self" and that she wants to be healthy for the every phase of her life. It's all quite practical and she gives decent advice for the most part.
As for her fitnesswear line, I never understood or embraced the trend of wearing your gym clothes the entire day. I prefer to shower and change after I work out, but a lot of women just dress for a workout all day and I get that this is socially acceptable in the US. (And in Australia, judging from this parody video.)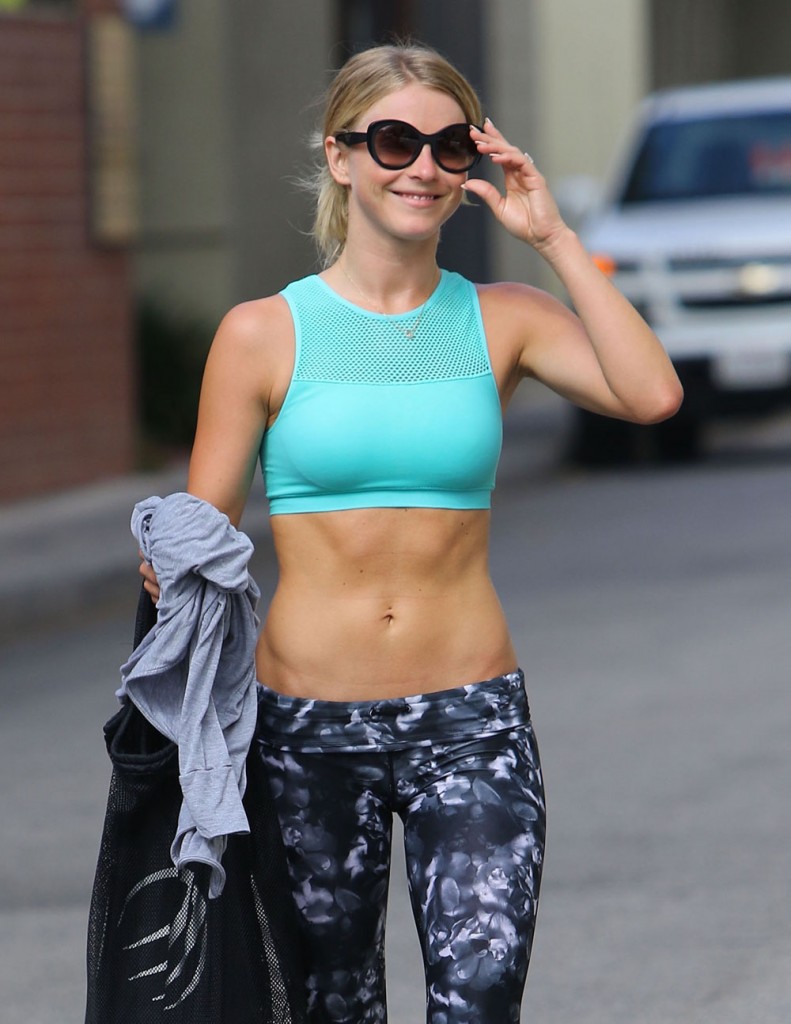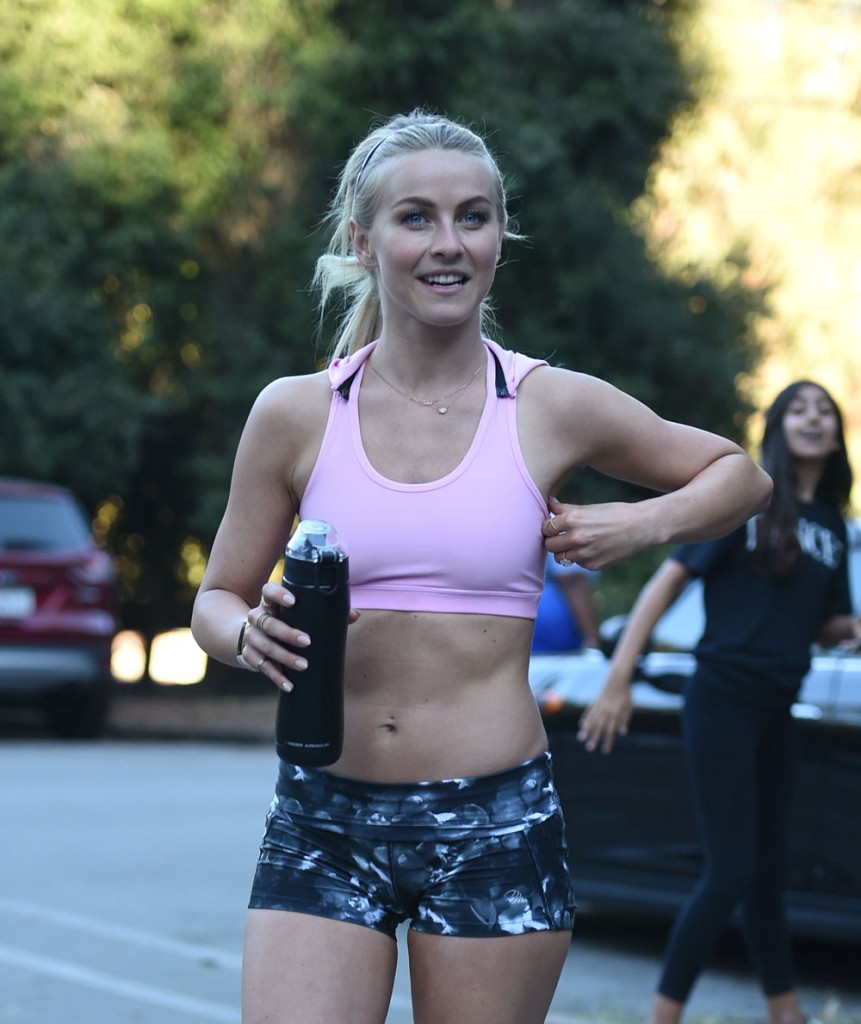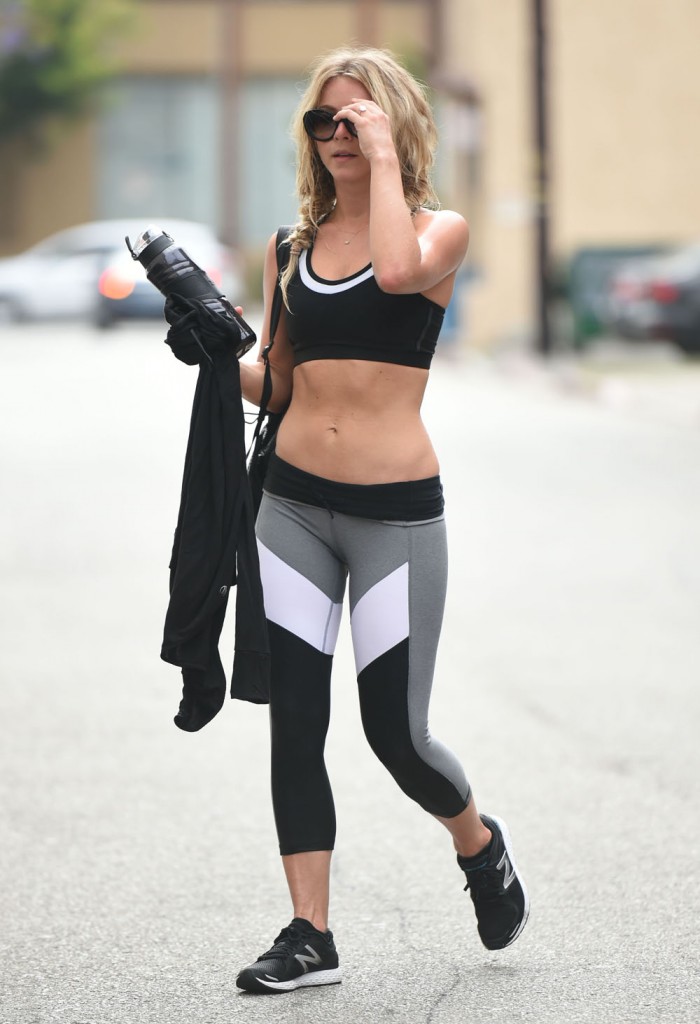 Photos credit: WENN, Fame and Shape