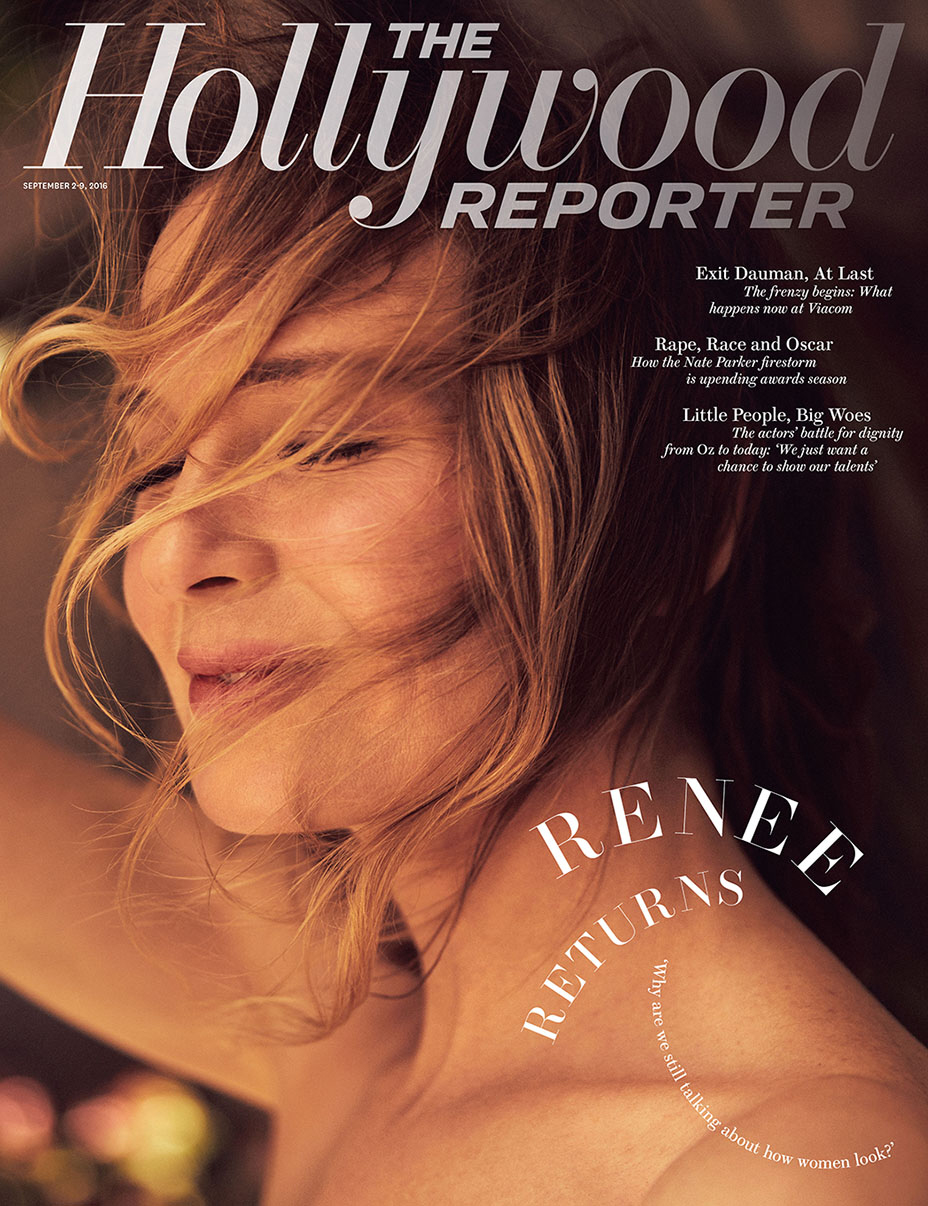 Renee Zellweger doesn't want to talk about her face anymore. After she sort of made the conversation worse with her HuffPo essay/word salad, she's been playing it a little bit fast and loose. My opinion – and this is not a feminist critique but a PR-critique – is that Renee mishandled the conversation from the very beginning. If something is none of our business, say that. If you don't want to talk about getting work done, say that. But exhaustive word salads about how you've never had anything done, when we all have eyes? No. Anyway, Renee covers the new issue of The Hollywood Reporter to promote Bridget Jones's Baby. And she really doesn't want to talk about her face. You can read the full piece here. Some highlights:
Her main goal: "My main goal is to avoid any negativity that might enter my consciousness. If I'm not aware of it, then it's not real. It doesn't exist."

Her six-year absence: "I wanted to grow. If you don't explore other things, you wake up 20 years later and you're still that same person who only learns anything when she goes out to research a character. You need to grow!"

Ageing in Hollywood: "I've never seen the maturation of a woman as a negative thing. I've never seen a woman stepping into her more powerful self as a negative. But this conversation perpetuates the problem. Why are we talking about how women look? Why do we value beauty over contribution? We don't seem to value beauty over contribution for men. It's simply not a conversation."

She's so private: "I'm not great at press. It's the part of my job I'm least comfortable with because I'm a really private person."

She's supporting Hillary Clinton: "There's never been anyone better prepared in our lifetime."

On Donald Trump: "The language that he uses perpetuates a particular way of communicating that standardizes cruelty and mean-spiritedness as a culture norm."

Her boyfriend Doyle Bramhall: "We have shared history, the same mutual friends from eons ago, before either of us was doing anything public," is about all she'll say about her boyfriend. Pressed further, she smiles icily. "I appreciate you asking," she says. "But let's stop."
The rest of the piece is an exhaustive history of her filmography, with assorted quotes from friends and coworkers about how she's a great person. I believe Renee is loyal, compassionate, charitable and nice. I also believe that she's happy to live in her own little world where no one says anything bad, ever, la la la, I can't hear you. And really, what harm does that do? None whatsoever. She just comes across as a bit daffy, which isn't the worst thing. As for this: "We don't seem to value beauty over contribution for men. It's simply not a conversation." Actually, it is a conversation, but she didn't realize it because she had her fingers in her ears, singing "I CAN'T HEAR YOUR NEGATIVITY!" I hate when people are like "no one ever talks about it when men have plastic surgery!" Because we do. We talk about George Clooney, Brad Pitt, Mickey Rourke, Tom Cruise, Rupert Everett, Burt Reynolds and more. We analyze their alleged (or not so alleged) "work" all the time.
Photos courtesy of THR, Fame/Flynet and Getty.