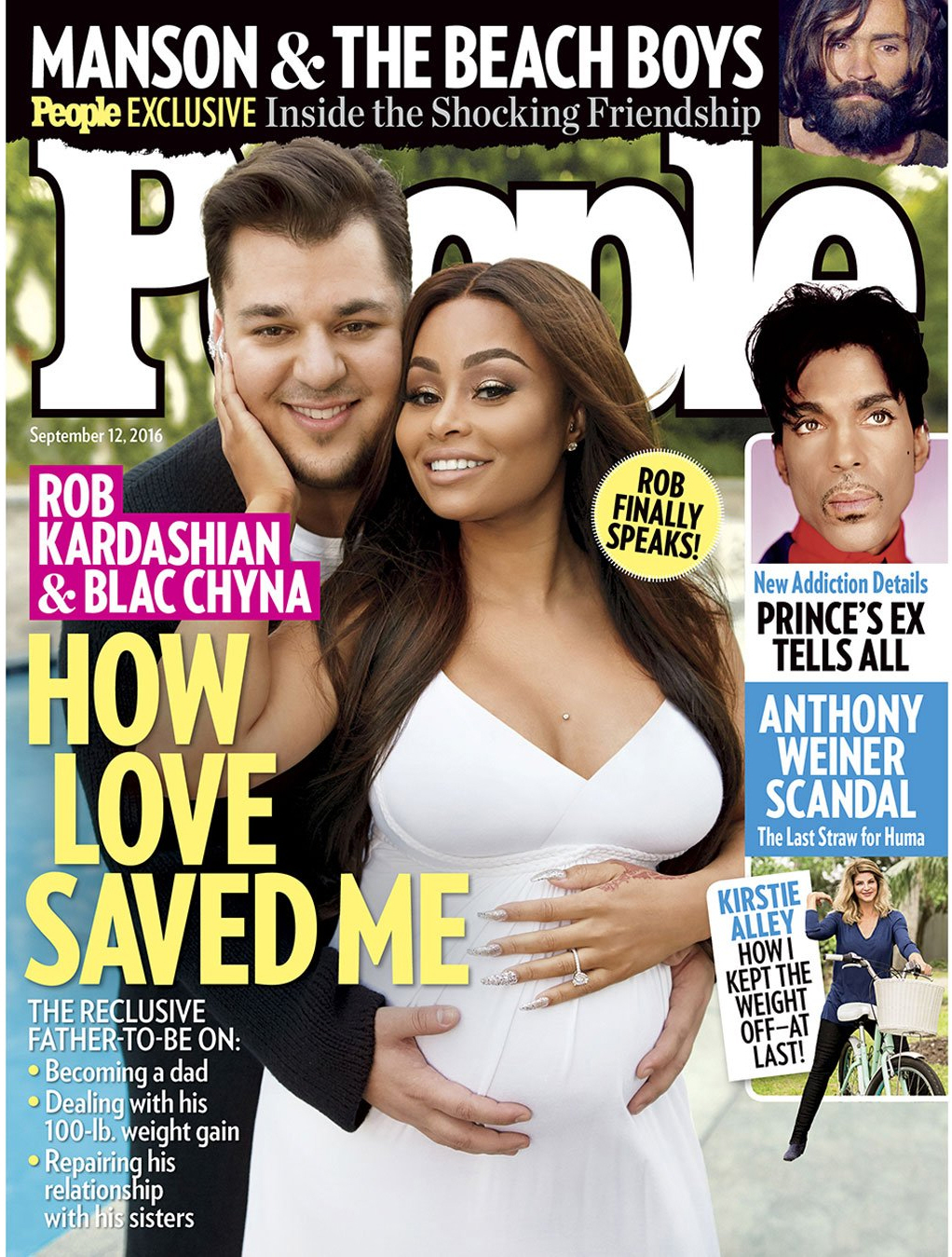 Some people – many people? – believe that Blac Chyna has ulterior motives with Rob Kardashian. Like, she's only with him for a mixture of revenge, fame-seeking and money. For what it's worth, I think she cares about Rob. I also think she's interested in revenge, fame and money. Rob and Chyna cover this week's issue of People Magazine, but the interview is pretty boring – you can read the full piece here. They're promoting their new E! show, and it's interesting to see this cover story, from a perspective of "will middle America buy this?"
Meanwhile, Chyna did a photoshoot and interview with Elle Mag, and the piece is pretty enlightening. Elle comes right out and says that Chyna likely has ulterior motives, but sure, let's all pretend that this is happening for real. Elle notes that her profile has been raised so significantly at this point, she now makes more than $50K for a personal appearance. She's branding beauty lines and more. You can read the full Elle piece here. Some highlights:
She started stripping at 18 to make money for college: "I was falling asleep all the time in class. It wasn't working out for me." She eventually dropped out of college, committing herself to stripping and modeling full-time. Her mother, a Dominican beauty who goes by the name Tokyo Toni, was fine with her decision. "My mom used to be a stripper," Chyna says, "so she was like, 'If this is what you want to do, be the best at it.'"

Her fame in the world of strippers: "The most I've ever made in one night is $15,000. You couldn't miss me. You would want to come meet me."

When Tyga cast her in a music video, she was only paid $2500: "I should've gotten more. He's kinda cheap."

When Tyga left her for Kylie: "When you don't want to be in a relationship with somebody anymore, you don't give a f–k what they're doing. I was just like, 'thank God I'm out of that situation.' And honestly, it was the best thing that I could've done, because my life has changed so much for the better."

Starting up with Rob: "When I linked up with Rob, he was at a point where nobody could really help him. But I'm the type of person that likes to motivate my friends and help them figure out how they can do better. That's how we really started off." She's proceeded by giving him his space. "When I'm around Rob, I'm never all up in his business, asking questions. I let him be himself and relax. I'm not a therapist. If he opens up, and I say the wrong thing, he may shut me out. Sometimes it's just best to let people talk about it and get it off their chest. That's how I've been carrying the situation with me and Rob, and so far it's worked out."

The real Chyna: "I wanted to show people my personality, that I'm not just a pretty face or what some people paint me out to be: this bad person, this stripper ho. I want them to see me as a mom, a business-woman, a growing being."

The baby: "You all will find out [the sex of the baby] during the premiere of our show on September 11," she teases. Will their scion have a "K" moniker, like all of his (or her) famous aunties? "No," Chyna says unequivocally. "The baby won't have a K name. We both agreed."
There are quotes about her relationship with Rob is working out, and it just doesn't seem like a love match, I guess? Like, Rob probably shouldn't be in a relationship because he needs to work on himself so much. And while I don't doubt that Chyna has helped him, she's not his therapist (as she says) and she's pretty much saying that she has to walk around eggshells around him because of his agoraphobia and depression. So, is she using Rob? Maybe. But I guess the better question is "who cares?"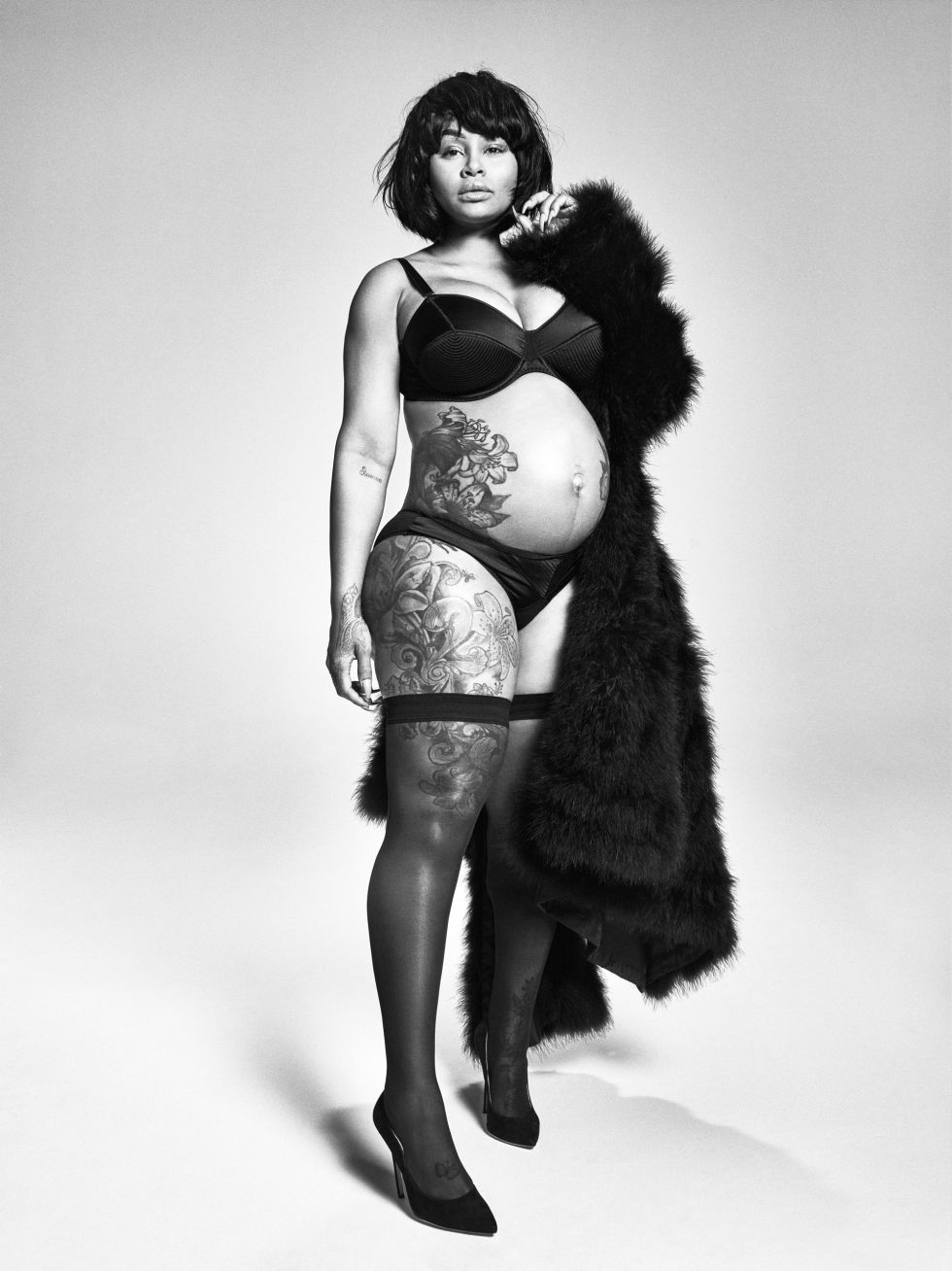 Photos courtesy of Elle, People.