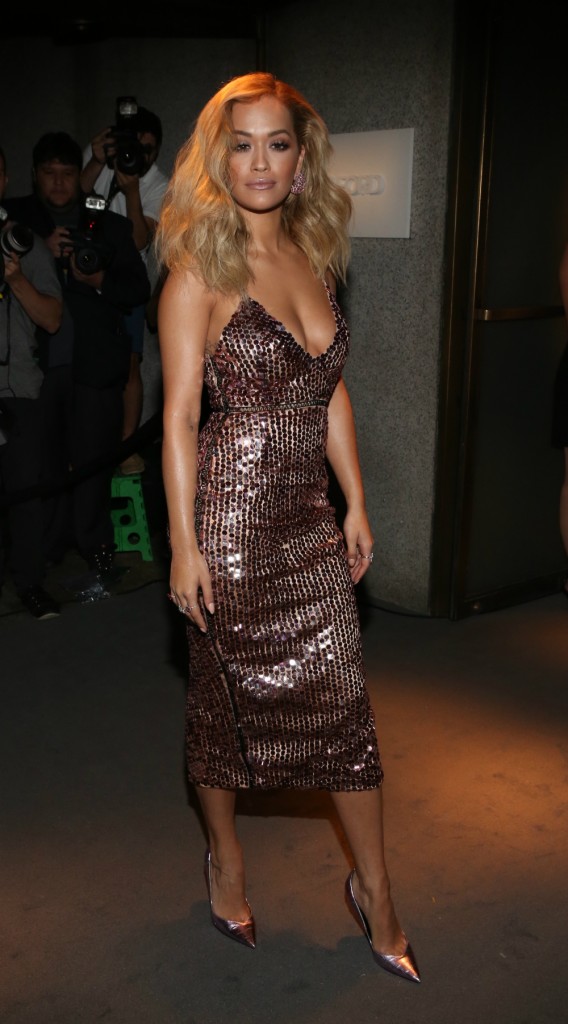 Back when Beyoncé's Lemonade came out, the majority of us wanted to know just who the hell Becky with the Good Hair was. As Kaiser covered, Rita Ora was once a Becky suspect, to which she issued an adamant denial. She didn't say she wasn't Becky, just that she idolized both Beyoncé and Jay Z, with whom she recently settled a lawsuit over a contract dispute with his record label. Rita was interviewed by Vanity Fair to discuss her new record deal and her hosting gig at America's Next Top Model. Interviewer Lisa Robinson asked Rita how things were with Jay and Bey. Rita tried to avoid riling up the Beyhive again but ended by throwing a little mud in their direction.
L.R.: Are you still friendly with Jay Z?
R.O.: First and foremost, Jay Z is my inspiration and one of my idols—lyrically, musically, business-wise. I still look up to him and his wife every day. Beyoncé was one of my biggest idols growing up.

L.R.: You—along with other women—were embroiled in the "Becky with the good hair" brouhaha after Beyoncé released Lemonade. You posted a photo of yourself on Snapchat wearing a bra with a lemon print from your clothing line, and you wore a "Not Becky" pin at a Met Ball after-party.
R.O.: That [pin] was a present from Katy Perry. Maybe I was the only one seen wearing it, but there were others. As for the rest of it, I'm oblivious, I'm just not the gossip queen. I find it incredibly rude and disrespectful to women in general [when] we get accused of something that's basically against the important part—the music.
Rita is the queen of talking around a point, isn't she? "Are you Becky?" "I love those guys!" "Are you pissed at Jay Z?" "Beyoncé was my hero!" "Why did you put yourself into the Becky conversation?" "Feminism. And Music is important, Rude-y McRudeston!" I agree that baseless accusations are rude but if Beyoncé issues a written invitation to figure out who was messing with her man and you look like you just got done brushing your hair? Duck and cover. I wax and wane on Katy Perry but the fact that she was passing out "Not Becky" pins at the Met Ball made me fall a little in love with her. Anyone who walks into a powderkeg with a pocketful of flints is somebody I want to get a drink with.
You can read Rita's full Vanity Fair interview here. She speaks about her UN work with Kosovo and her collaboration with Prince. Robinson also manages to bring up Rita's ex-boyfriend Calvin Harris not allowing her to perform their songs. Rita once again walked around the question, ending cryptically with, "Love is so great, but it also can be the most dangerous thing on planet earth. People do crazy things when it comes to jealousy and love."
Speaking of crazy, can someone explain this outfit to me?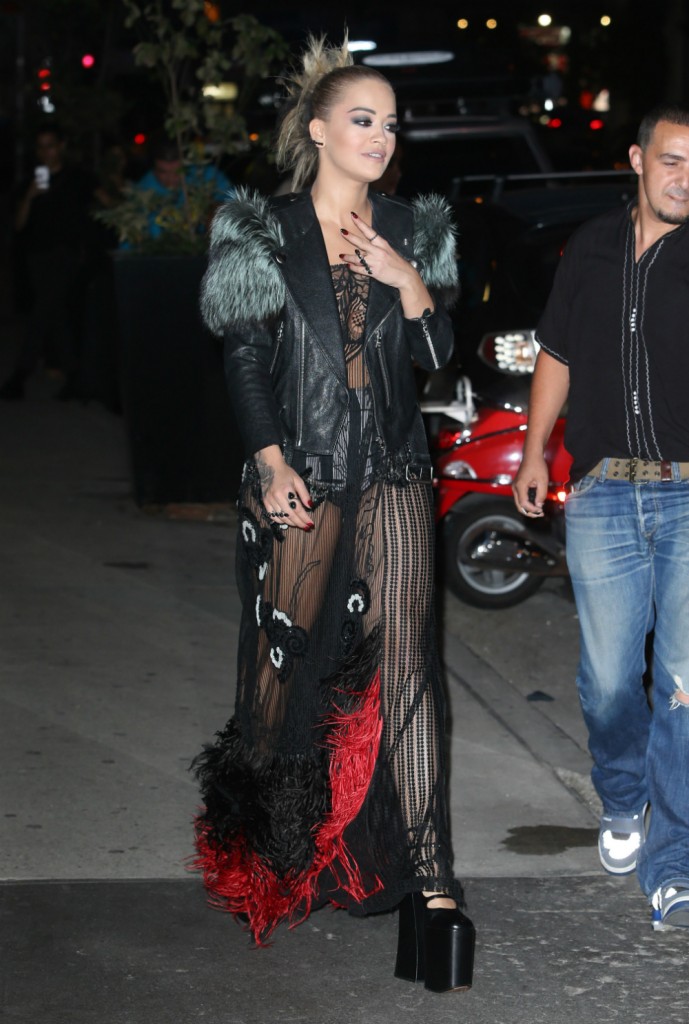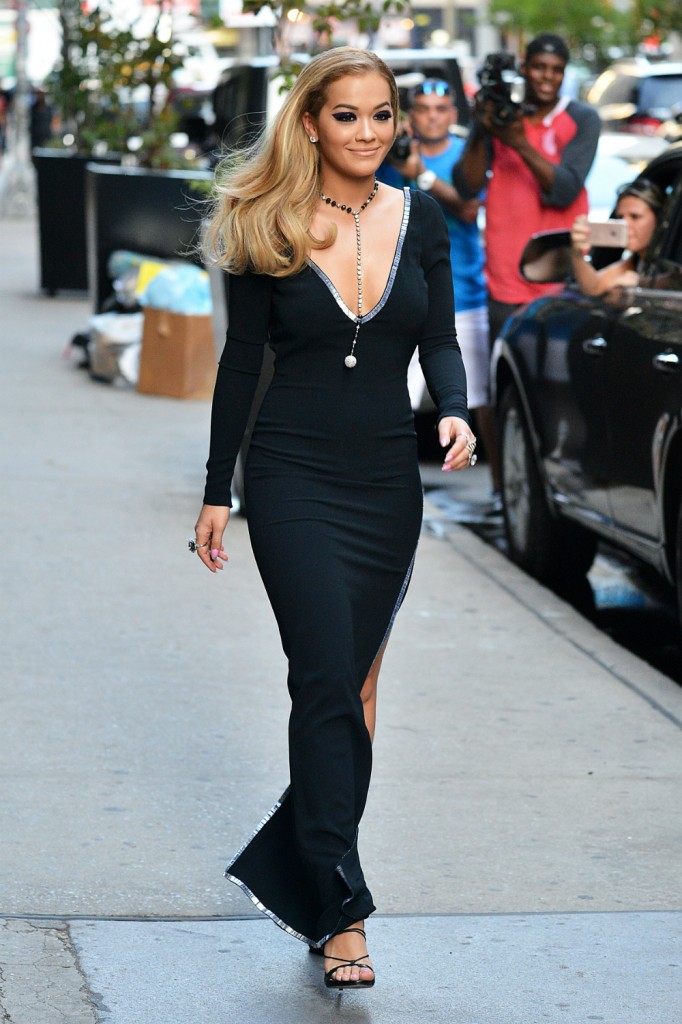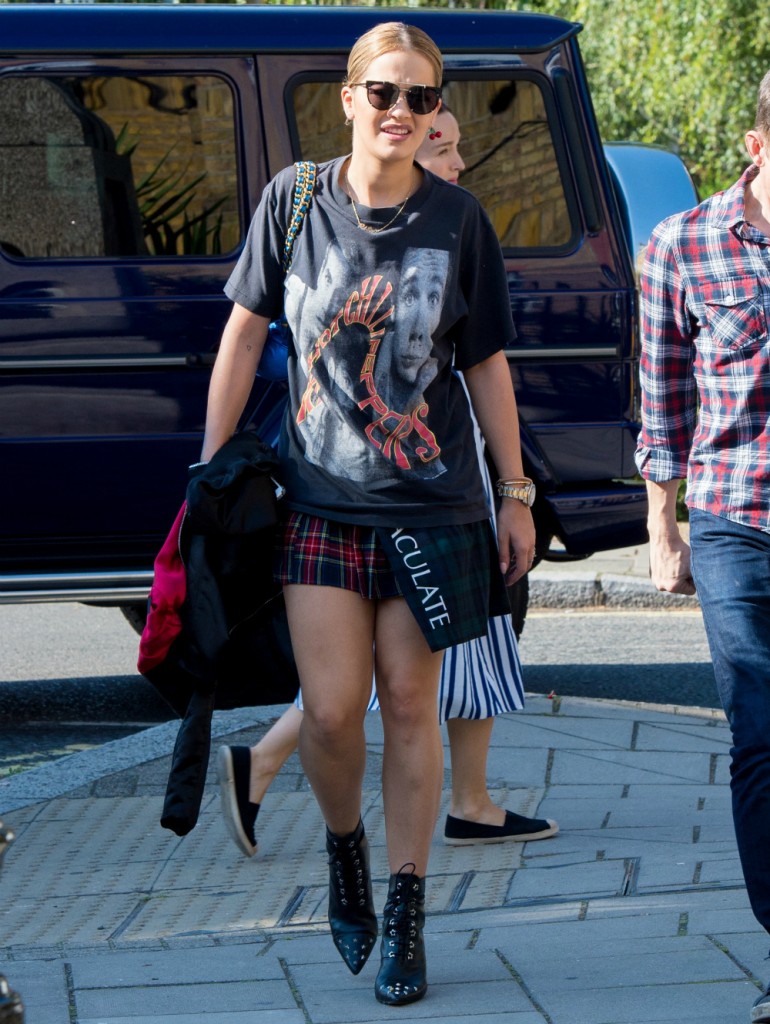 Photo credit: WENN and Fame/Flynet Photos