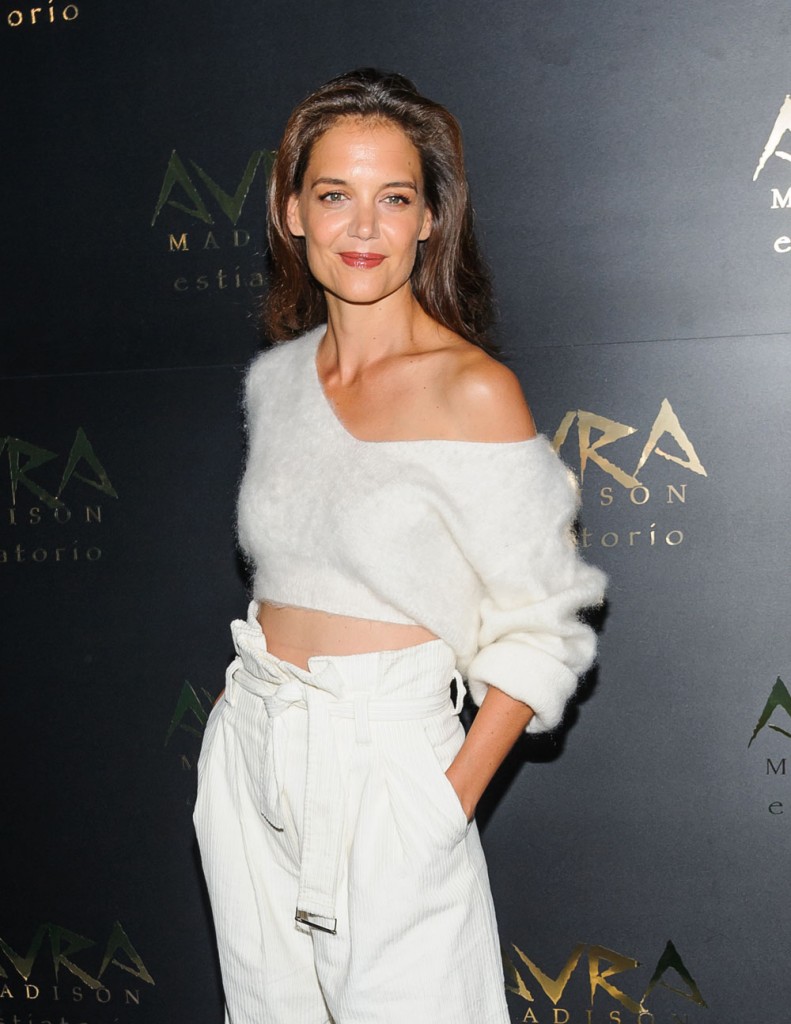 Katie Holmes recently posted some photos to Instagram of daughter Suri, with Suri's face strategically covered, at a birthday party for Katie's mom, Kathleen, in New York City. Katie's family lives in her native Ohio, but they come to visit her and Suri in New York often. It's a good thing that Katie is close to her family as they seem to have been instrumental in helping her divorce Tom and escaped from Scientology (Katie's dad is a lawyer). In a new interview with People, Katie heaps praise on her mom and says that she hopes to parent Suri, 10, the same way she was – with kindness and generosity:
When it comes to raising daughter Suri, Katie Holmes looks to her own mom, Kathleen, for parenting cues.

"She's just so kind and has such a pure heart; she really leads with those two qualities, so I try to do the same," Holmes, 37, told PEOPLE at the Sept. 8 opening of the restaurant Avra Madison in New York City.

"She's just so kind and very generous, so I try my best to embody that and pass that on to my own daughter," Holmes says.

The night before the restaurant launch – which the actress-director hosted – Holmes took her mother as her date to the re-opening of the Cartier Mansion in New York, an outing that doubled as a birthday celebration for Kathleen.

"It's always a blessing to be able to have time with my mom – especially time in the city with her," Holmes says. "We always have a good time."
That's really sweet and I can definitely relate. I live in the same town as my mom and I hang out with her a couple of times a week and it still doesn't feel like enough. And only recently have I realized how much she gave up for us and what an incredible parent and grandparent she is. Love you mom!
While it may seem like a shame that Tom Cruise seems to have decided to cut off his daughter after Katie left him and Scientology, Suri has a very practical mother who is working to give her a normal life, with family and friends around them. Considering how deep Tom is in the cult, I can imagine the alternative and it's chilling.
Here's a photo of Katie with her mom last week at a Cartier event. Her dress is Valentino and it's basically a beige-colored tulle sack with sparkly moons and butterflies on it. So fug. In the header photo, the white pants with the off the shoulder crop sweater, she's wearing H&M collection. I kind of dig that outfit.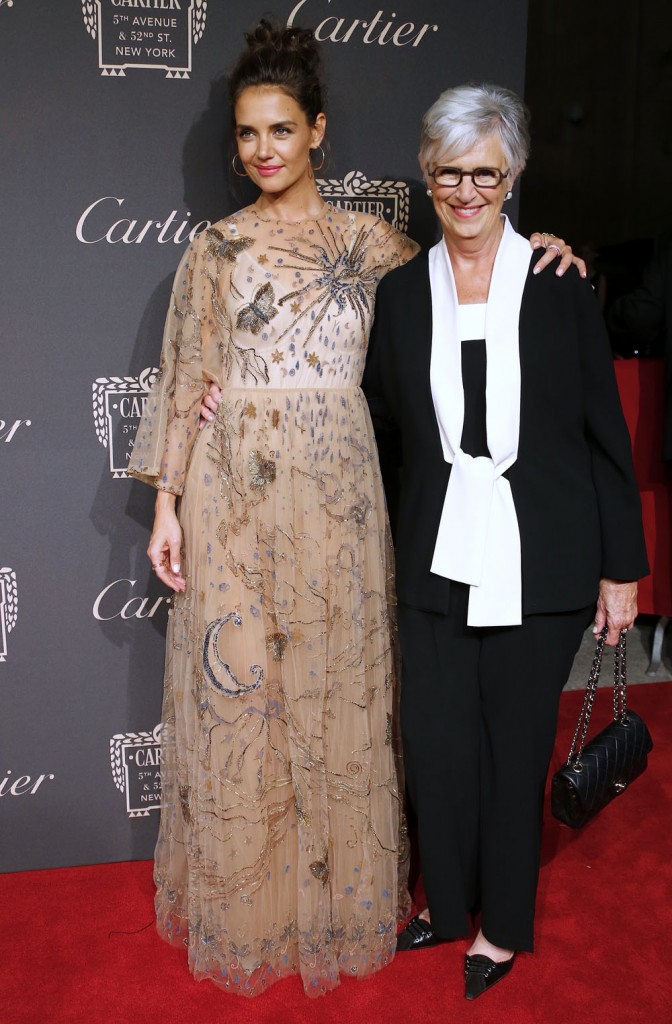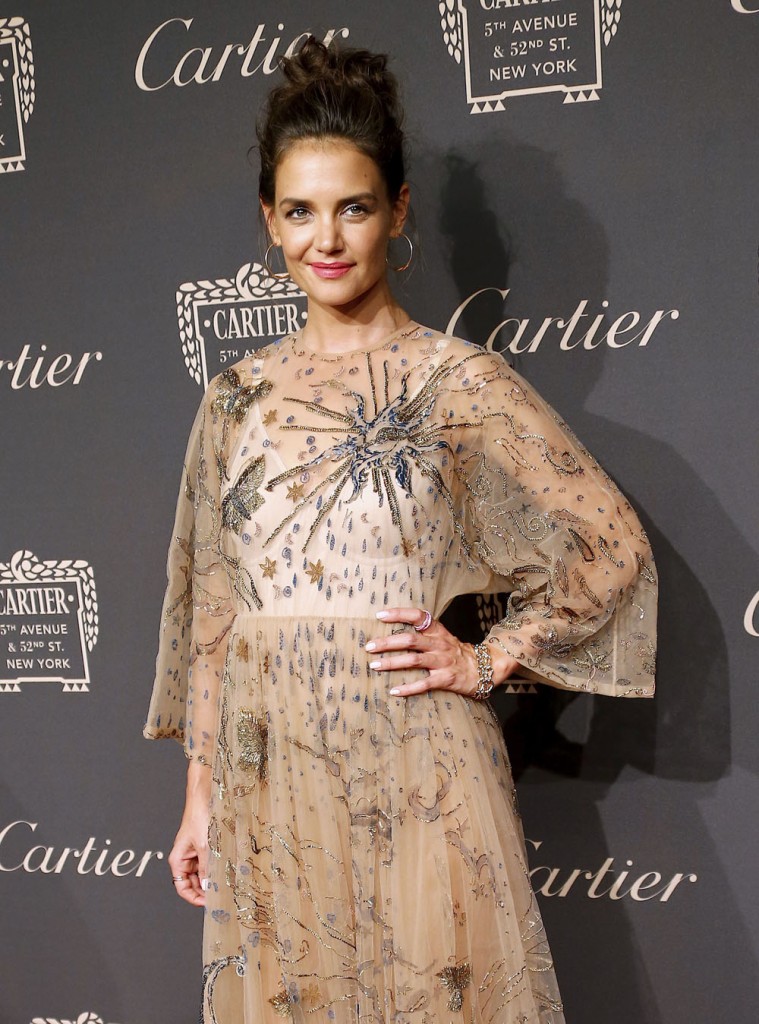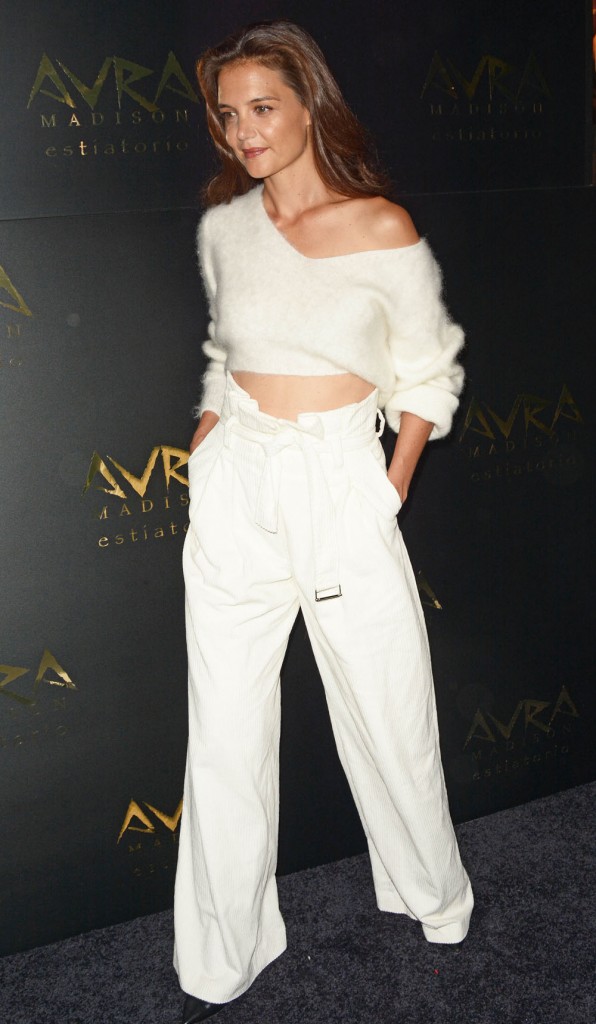 Photos credit: WENN and FameFlynet