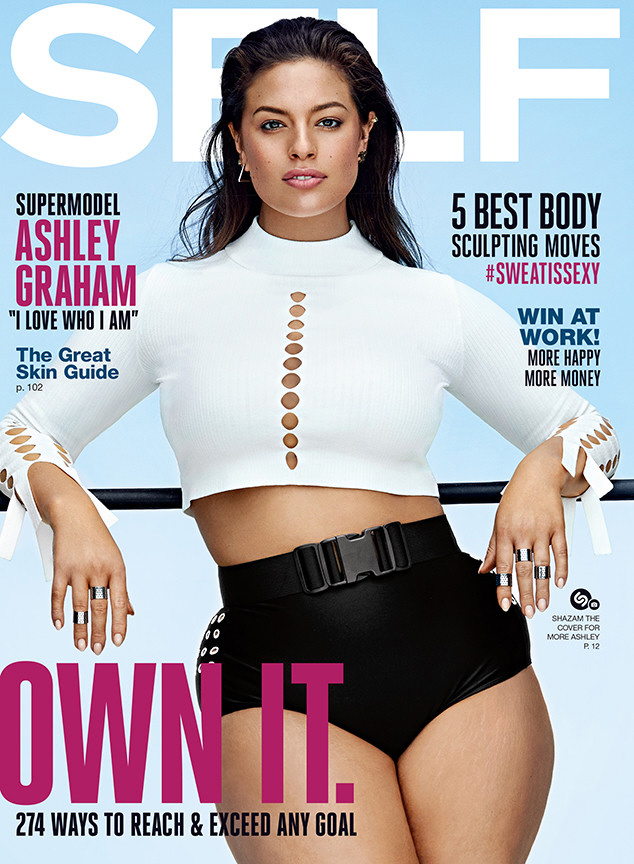 I rather enjoy the fact that Ashley Graham has been getting magazine covers all year. This really has been a breakthrough year for her, and quite honestly, I'd rather hear what she has to say as opposed to what half of the other "celebrities" have to say. Ashley covers the new issue of Self Magazine, which traditionally gives its covers to slender women who then talk about how they maintain their size-2 bodies. It's fascinating to see a plus-sized model (although she hates the term "plus-sized") on a magazine devoted to exercise, fitness and health. Which is the point that Ashley has always made about the people concern-trolling her for being "unhealthy": you can be a size 16 and be in great health. You can be a size 2 and in poor health. Skinny does not equal good health, just as curvy/bigger does not equal poor health. Ashley talks about all of that and more with Self – you can read the full piece here, and here are some highlights:
Self-love: "I love my hourglass figure. You can be sexy and feel good in your skin, no matter what size you are."

She prefers "curvasexalicious" to "plus-size": "We don't say, 'My skinny friend.' Why do big girls have a label?"

Toxic romances: "I dated all the wrong men. I thought I could feel appreciated in my body through guys." Graham speaks openly about being in an abusive relationship during this period. "He never hit me, but he did throw me up against a wall. I didn't know to get out then because I was so insecure." When a different boyfriend dumped her, "He said, 'I'm afraid you're going to be as fat as my mom.' " The now oft-quoted remark, Graham says, "was the start of how I began to look at my body and relate it to men. Like, Oh, I'm not pretty or skinny enough for men."

Building herself back up after hitting a low point: "I remember one moment, like, boom. I was looking in the mirror, crying, and I started just saying, 'I love you.' We've been taught to say negative things to ourselves—to pinch our fat and be like, 'One day it'll leave.' To say 'Sorry' when someone bumps into us. So I decided to break that cycle. But it didn't happen overnight. I had to realize that if I didn't really love who I was and if I couldn't appreciate this—my body—as my moneymaker, then I wasn't going to make any money."

Getting back into fitness at 21: "So it was like, okay, I'm an athlete. I need to move. I know that working out releases endorphins and makes me feel my best." Graham has been working up a serious sweat ever since. Today, she exercises three mornings a week and recently took up boxing. "I'm really excited because I feel like my body's just going to be, like, de-fi-ni-tion!" Her commitment, she says, "helps to shatter these preconceived notions that thin is the only way you can be athletic."

Not having sex until her honeymoon: "I was like, 'Look, I'm not having sex 'til I'm married.' And he was like, 'Great! Let's not.' " Difficult as it was to honor this commitment ("He is so fine," Graham enthuses), "We stuck to it." Then, on their Jamaican honeymoon, "We had sex all the time for, like, 10 days."

Her high-profile critics, like Cheryl Tiegs: "It was great—it brought up another talking point for girls like me to be like: How can you look at somebody and decide if they're healthy? You can't! I happen to be really healthy, but are you a doctor? No. And even if you are, Instagram is not the place. I've always had to prove myself more than the girl next to me because I've always been bigger. I've always had a bustier chest. I've always been louder. My laugh is outrageous. I learned to think, Your confidence has to walk into the room before you do."

Her message: "I'm trying to change how women think about themselves. Some people just don't get it—I've been denied jobs because I was too big. I've also been denied jobs because I was too small. At the end of the day, I'm never going to conform to what anybody wants. This is my body; I'm happy in it. And nobody—nobody—has control over my body but me."
She talked about waiting to have sex with her husband in her recent Elle Canada interview too. While her language about sex was a little bit all over the place, if you read the full interviews (in Self and Elle), there's a larger context. She decided to become celibate after she abused her body with bad food, self-hate and bad boyfriends. She was mistreated by men and she almost left modeling. I honestly don't think she's recommending that all women should follow in her path and wait for marriage, she's just saying that this was her path.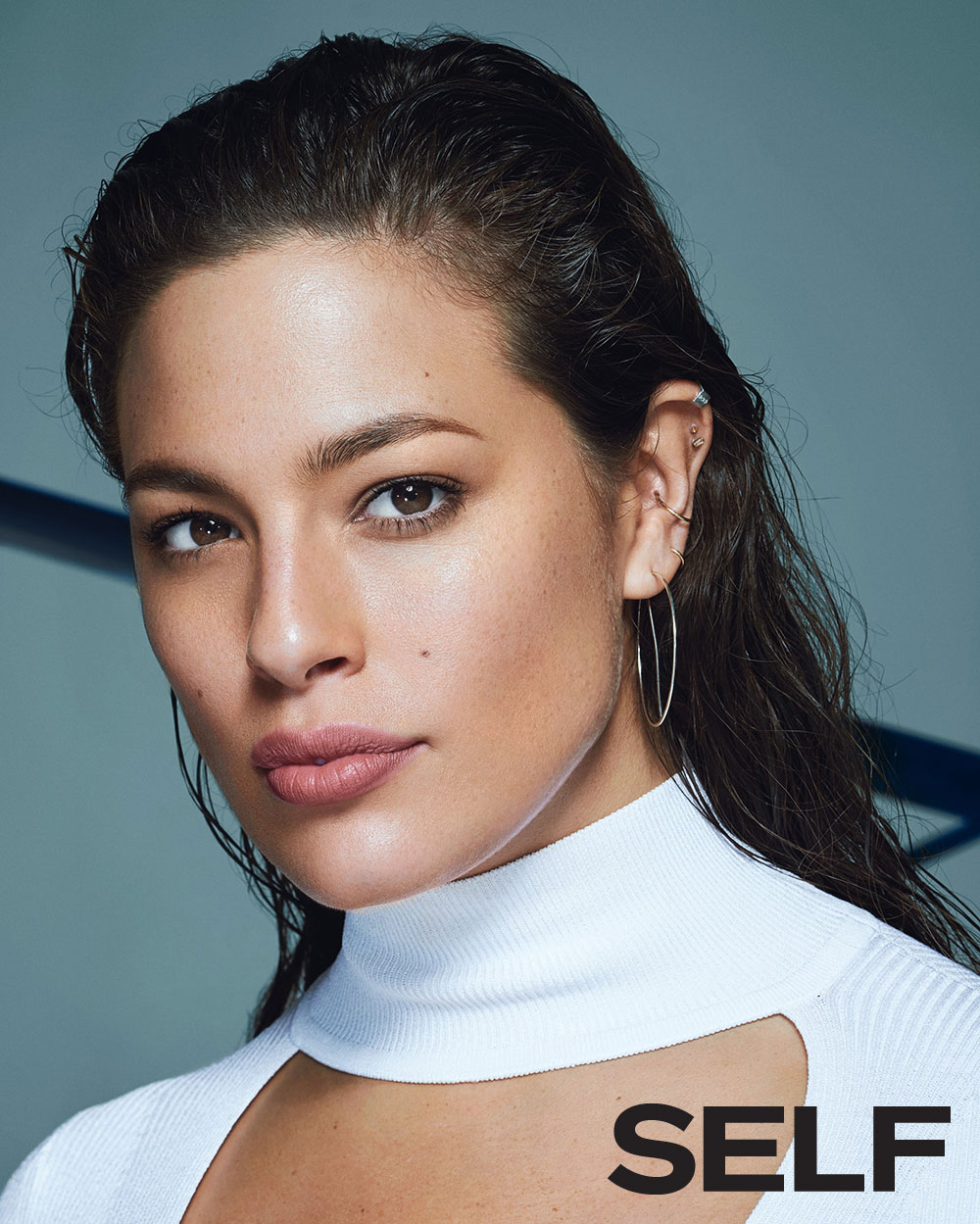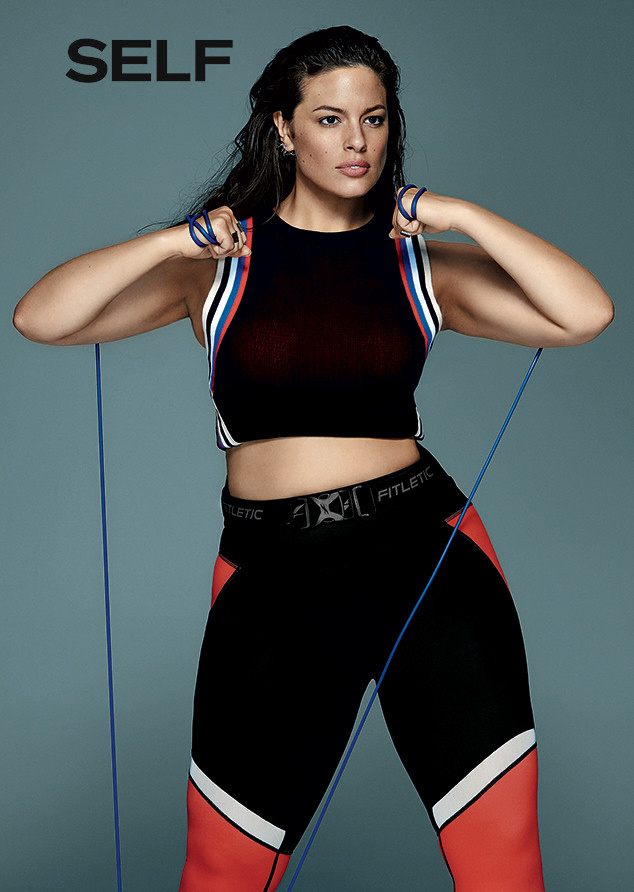 Photos courtesy of Self.