Alyssa Milano has a new interview with US Magazine, I think to promote her partnership with the NFL's fashion line for women. She recently taught a spin class as a promotional event, which sounds fun sign me up! US asked her about her relationship with her husband of seven years, CAA agent David Bugliari. Alyssa said that her parents come to stay with them every weekend to help watch their two children, Milo, 5, and Elizabella, 2, so that they can have alone time. That's really nice and they must be a close family. Alyssa also still works with Atkins, although she recently got some competition representing the brand when Kim Kardashian signed on. Here's what Alyssa told US:
My parents come stay with us so we have help with the babies. They understand the importance of actually spending time with your spouse. It's what's kept their 50-year marriage. You have to be able to still connect on a human level and not just a parental level," Milano, 43, said. "I've watched a lot of my friends struggle with their marriage and I think it's because they've lost that adult connection. You gotta make time for that."

And it doesn't have to involve a romantic dinner. "David and I can honestly make a date out of going to Target to do back-to-school shopping," Milano told Us. "We love to be together and we have fun no matter what we do."

Just as important: spending one-on-one time with each child. "Elizabella has a mommy-and-me ballet class that we go to," says the actress. "With Milo, I'm the bench coach for his baseball team. He loves it. I was his bench coach last year, and I said, 'Do you want me to do this again?' and he said, 'Yeah, mom, you have to!'"
Considering that so many couples stress and fight over issues on how to raise their kids, this sounds wise. I also love to hear about families who live close to extendedrelativesy help each other out. My mom and dad help with my son quite a bit and it's beneficial for all of us. (I hope! I watch their dog when they're away but I know it's not the same thing.) However I have an older friend on facebook who recently posted that she will absolutely not babysit her grandkids now that she's living alone. If it's your own grandkids, how is that babysitting? I'm not very close to her, she's just an acquaintance, but I would be interested to know if she's close to her adult children and how far away they live from her. I guess as long as everyone is on board with watching the grandkids every weekend and no one in the family feels like it's a burden then it can work out for everyone, as Alyssa explains.
This is Alyssa at the Marchesa show at NYFW. You can tell by what she's wearing.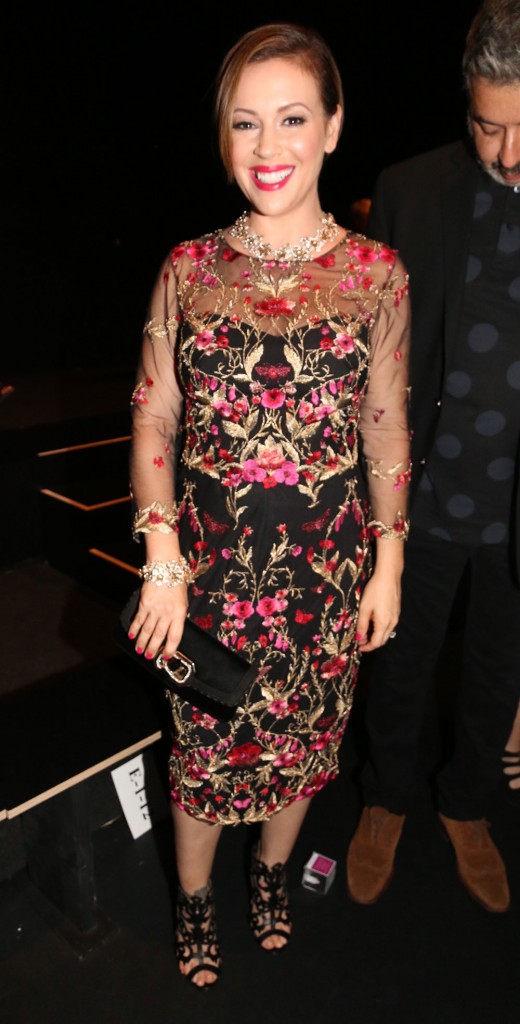 photos credit: WENN, Getty, FameFlynet and Instagram/Alyssa Milano