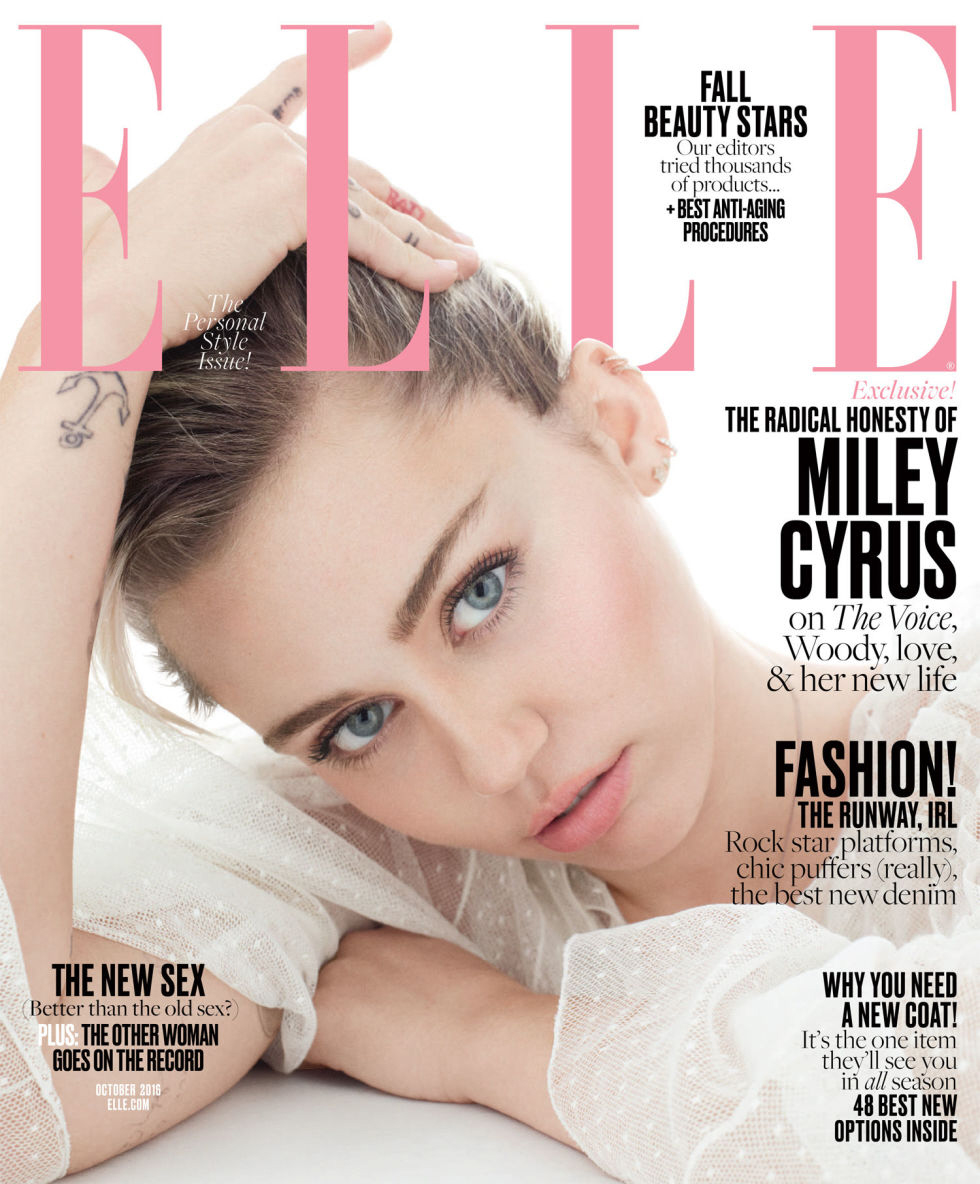 As we discussed a few weeks back, Miley Cyrus covers the October issue of Elle Magazine. The interview is a whole lotta Miley, so if you do read the full piece, you better strap in and get your bong handy. Which is exactly what Miley did before the interview – she tells the Elle interviewer a "detailed story about the blunt she said she smoked on her way to meet" said journalist. I also learned some new stuff from High AF Miley – she no longer employs a publicist (shocking), she doesn't have a makeup artist on The Voice set (she does her own makeup) and she thinks she's very, very anti-Establishment. Sure. You can read the full piece here. Some highlights:
She tells contestants "not everyone can be Mariah Carey": "I've never really been a fan, because it's so much about Mariah Carey. That's part of her shtick; I can see through that. That's part of what makes her a gay icon; like, it's about Mimi! It's about what she's wearing, and it's about her. What I make isn't about me. It's about sharing my story; it's about someone being connected to what I'm saying…That's why you don't see me, like, on the sides of buses, selling sh-t. I mean, what am I going to do—sell makeup? Mostly, I tell people, Don't wear makeup."

An extended riff about makeup: "Today, I only have makeup on because Joan Jett had eyeliner on yesterday, and we all think Joan looks so cool that I copied her. I don't really [wear makeup] for the contestants, because some of these girls come from f–king Arkansas with cake face on. Like, I don't want these kids to come out here and wear a bunch of makeup. I mean, I cover my zits, but besides that, I don't really wear it. And Alicia [Keys] doesn't really wear it. But she's got a makeup artist and I don't. Yes [I do my own makeup], girl! This is my kit! People are like, "Oh, I want to make your eyes almond." I don't have almond eyes! Why are you trying to change my eye shape? When someone changes your face, it's really shocking and scary."

The 'Hannah Montana' money: "I just wanted to be on TV. I mean, at one point—they'll probably kill me for saying it—I was probably the least paid person on my cast because I didn't know any better. I was just like, I can be on Disney! Yeah, I want to do it! My name was Miley on my show, but I didn't own my name—we didn't think about that. Like, Yeah, you can use my name on your show, sure! My mom started understanding how many people take advantage of a child, so she hired smart people to protect me in that way. I'm happy that when I was younger, people protected me and put me in a position where I can now control my music.

Her foundation, Happy Hippie, and what that means: "I relate so much to it. It's very strange, because I'm not sexually confused in any way. I'm very much—the word is pansexual. That just means everyone. It doesn't stop at girl, boy, or if someone's in a transition. I don't see people ever for who they were before who they are right now. I think of who I was before who I am right now; that's a transition in itself. Everyone is constantly transitioning. When there's a thing you have to do, you have to do it."

Hugging Woody Allen: "I went to White Plains, New York. Do you know where that is? I adopted a weird cat named Harlem and just lived in a White Plains apartment by myself and went to Whole Foods with my main gay every day. Working with Woody was the best experience. He's just being Woody. He's, like, not doing it, putting it on. When I met him, the first thing I did was give him the biggest hug, and I'm in sparkly cowboy boots and a bucket hat with rainbows sprouting at the top of it, and he's like, "Oh. Oh. Wow, hi." He kind of pushed me off, like, Ayyy—get off me!
The shade of it all! First she came for Mariah and I said nothing. Then she came for Alicia Keys and I laughed my ass off. At the beginning of the Mariah quote, I was like "this isn't that bad," but the way she ended… yeah, she thinks she's better than Mariah because she, Miley, is more "real" somehow. But is this the real Miley, or is this just one persona of a little brat who still doesn't know who she is? I don't know. As for Alicia Keys: "And Alicia [Keys] doesn't really wear it. But she's got a makeup artist and I don't." Hahaha. Alicia made such a BFD about going "makeup free" and as it turns out, Alicia demands a makeup artist for The Voice.
As for her pansexuality… is she even explaining it the right way? I'm trying to be non-judgmental, because I think there is a need for more vocal sex-positivity in the world. I guess I just don't want Miley to be the messenger of that message though.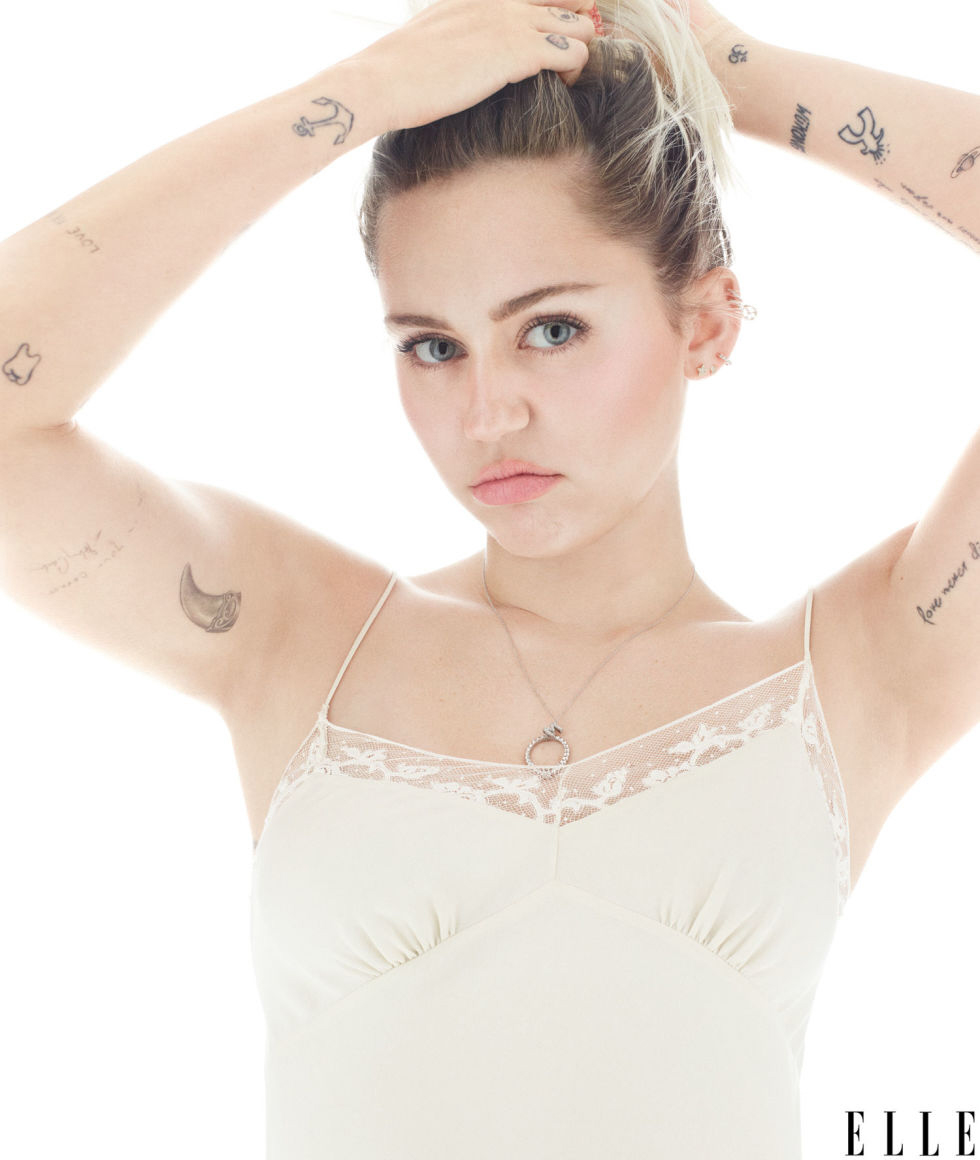 Photos courtesy of Elle.