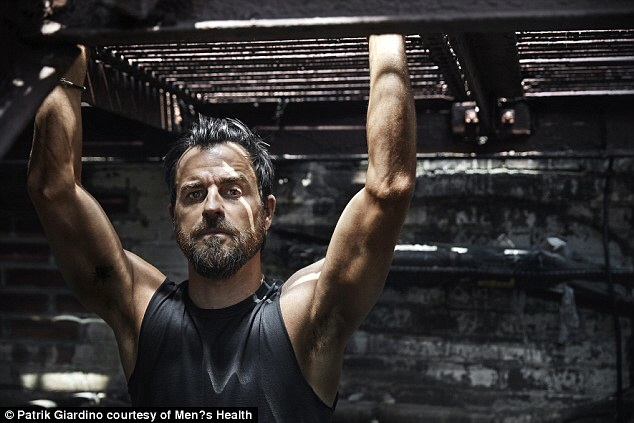 I actually do find Justin Theroux attractive. To me, the best Justin Theroux is Bearded Justin In Winter. When he's wearing heavier clothes, you don't notice his skin-tight skinny jeans as much, and his proportions don't look as awkward. But facially, he's a good looking guy and he looks better, to me, when he's more rugged and beardy, as opposed to the metrosexual look that Jennifer Aniston seems to prefer with her men. Anyway, Theroux covers the new issue of Men's Health UK, and the photos feature a sweaty, bearded Justin showing off his best feature: his arms. I'm into it. I just wish I could find a better-quality cover shot! Here are some highlights from the Men's Health interview, plus one he did with Elle.
On those bulge photos from the Leftovers set: "It's like having someone yank your shorts down in public. It doesn't feel great. Anyone who has an unflattering picture taken of them would probably say, 'Join the club'"

The bulge attention wasn't unflattering: "It has the appearance of a compliment but it's more mortifying than anything else."

On fitness/exercise: "Fitness is a brain food. It makes my brain function better. It improves my mind. There are times I don't enjoy working out, but I never regret visiting a gym. It's about keeping the spring tight, you know? You have to come into filming in the best shape and you can because as the hours and weeks grind on, you find yourself not having the luxury of going to the gym and doing big workouts you like to do."

He won't wear shorts: "The one thing that is unchangeable is I refuse to wear shorts. I just don't think it's a good look on anybody. It's the same with flip-flops."

He doesn't like being beardy: "It's driving me crazy, because I love shaving. There's something that feels good about shaving."
You can see some of those bulge photos here. People carried on about that like Theroux was Jon Hamm or something. Puh-lease. I mean, it was nice to see that Theroux was working with something, but after being on Hamm Bulge watch for years, Theroux's bulge barely elicited a shrug. As for Justin not wearing shorts… yeah, we know. He'll only wear JORTS.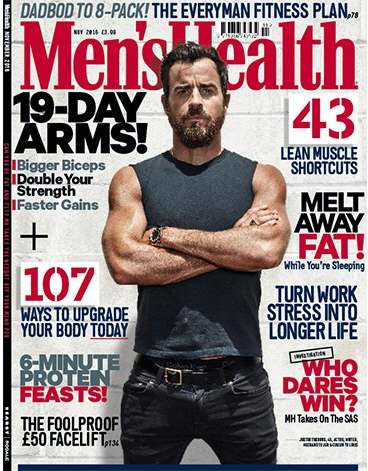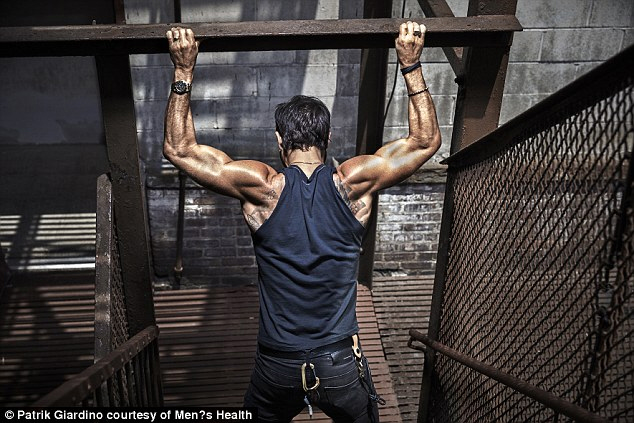 Photos courtesy of Men's Health UK, Pacific Coast News.