These are photos of Jennifer Garner holding a cute baby at an event for Huggies, where they were donating diapers to Baby2Baby. She looks very cute in that denim dress. The Today Show recently published what looks like a new interview with Garner, but I'm confused because they include a video with the story from early August when she was promoting the movie Nine Lives. (Here's a link to that earlier Today interview, which we covered at the time.) She does reference going back to school so this interview must be new. Garner is promoting her charitable partnership with Huggies. She talked to Today about her family, about technology about being present for her children.
On teaching her kids empathy through example
"I don't think empathy is something you can drill in someone's head, You have to have faith that while your kids can seem to be selfish and concerned only about the word 'mine' sometimes, overall, they are watching you really carefully, and if you care about other people, they will too. I try to be the best version of myself and to have faith that they're watching me as carefully when I do something right as they do when I roll through a stop sign."

On getting Violet, 10, her first computer
"We just had back to school night, and I said afterwards, 'Do they need a computer?' They need some kind of device or computer to complete their homework. Our daughter doesn't have any of those things, and she's, like, the only kid in the class who doesn't, apparently," she said. "So I found an old laptop this weekend for her, and I am kind of panicked about it. She's not on social media yet — her school has a no social media policy until 6th grade — but I know it's coming soon."

On spending time with each of her children
"I try to make bedtime sacred, to have some alone time with each kid every night, when it is possible," she said,"… Except for the nights when it's not possible. I work, and I have a job that means that sometimes I have to go out at night, and sometimes I need to go out at night just for me."
Garner has said in the past that her kids don't have iPads, phones or technology, so it makes sense that she would fret over getting Violet her first computer. My son was online much earlier than that and I think it's important to use strict parental filters to make sure it's safe for them on all devices (We use NetNanny), being around while they're using them and also teaching them the skills and logic to navigate the internet. Oh and no social media.
Also, although Garner talked about Ben in her earlier interview with Today in August, doesn't she sound like a single mom here? She talked about parenting as if she's doing it all herself. Ben has said that she does most of the heavy lifting, but he does seem to be a present parent too. This makes it sound more like they're doing everything separately, which may be the case – apart from school runs.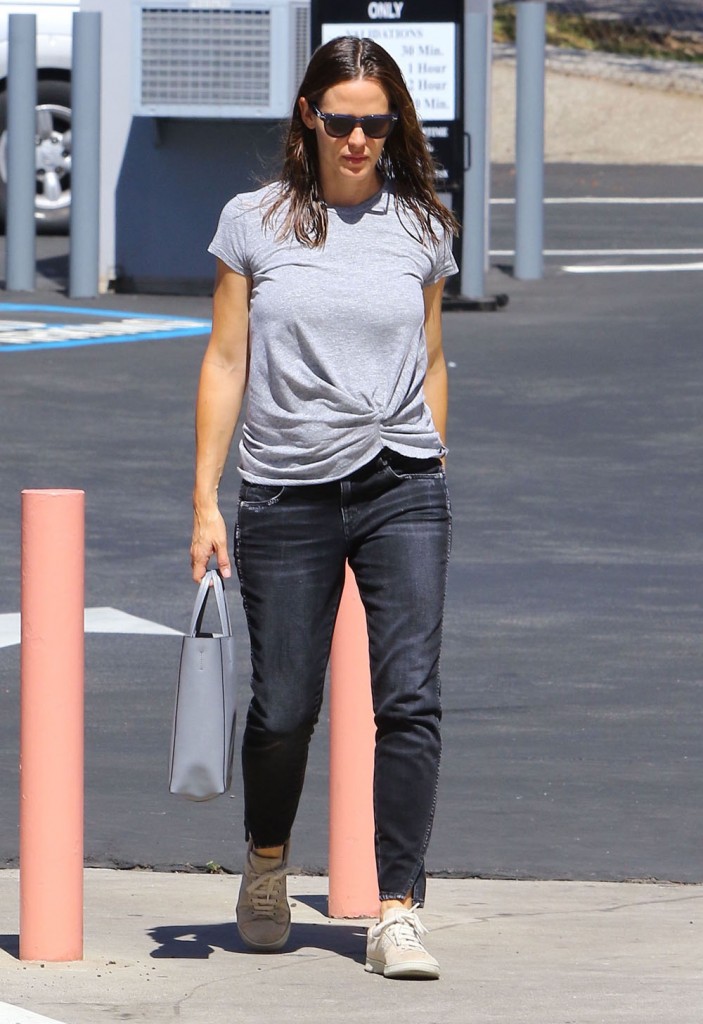 photos credit: Fameflynet and Getty