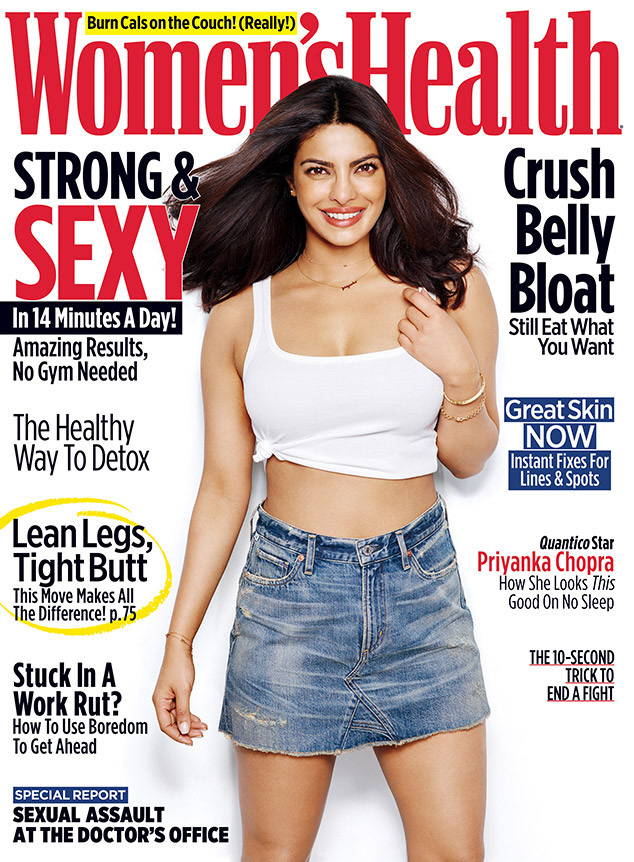 Ooh, this Women's Health cover is not good. They Photoshopped Priyanka Chopra to look like Sarita Choudhury! It's the weirdest thing. Anyway, Priyanka covers Women's Health for some reason or another, I guess mostly for Quantico. Does anyone else feel like Priyanka might be oversaturating the media a little bit? Don't get me wrong, it's lovely to see an Indian woman get so many magazine covers and I wish this had been the case when I was growing up! But it feels like every month, Priyanka covers at least two, sometimes three or four magazines. This interview is pretty much the same kind of stuff she's been saying:
She eats like a J.Law: "All of us are super busy. Life is just really fast-paced and you don't have to kill yourself in the gym. You don't have to starve yourself. I love having my pizzas and burgers and buffalo wings, on the side, for sure. But I like staying fit as well."

She has to stay strong: "I have to stay super active and agile because I do my own stunts. I do all my fights myself. I trust my body and my instincts. People always say you should listen to your body. But I don't listen to my body. My body listens to me. I can't afford to be sick or low on energy. It's mind over matter: I'm going to have a good day, and not in that fake 'Happy girls are the best girls!' way. Identify the weaknesses, shut them in a box, find your strengths, and run with them."

Her ideal body: Chopra's idea of her perfect body is "curvaceous but not super-skinny but at the same time I want to be lean. So I try and eat healthy whenever I can."

Breaking into Hollywood: "It's been a huge struggle for me to be able to come into mainstream entertainment in America and actually break the mold of what a Bollywood actress should be. Success is always about what's next. I don't settle and I don't stop."
[From Women's Health and People]
My father was very big on "mind over matter" too – until his health severely deteriorated over the last few years of his life. There is a legitimate power to positive thinking and "thinking healthy," but let's be real – positive thinking isn't going to somehow magically save you from becoming sick. You can tell your body "I don't have time to be sick right now" and you'll still get the flu. Your body is all "haha, try again bitch." As for Priyanka taking a page out of J.Law book… at least Priyanka isn't talking about Dorito farts. Do you think Priyanka is really downing buffalo wings and pizza on the reg? I do not.
Meanwhile, this cover of Conde Nast Traveler came out a few days ago and people were like "WTF?" with this t-shirt. This isn't on Priyanka – it would be a pretty cover without that particular t-shirt. But whoever made that t-shirt needs to stop production. There is a legit difference between a "traveler" and a REFUGEE. A refugee doesn't have any choice in being a refugee and it seems like Conde Nast is mocking refugees in general. Conde Nast issued a statement about why they chose that t-shirt and Priyanka for their cover but their explanation doesn't make much sense.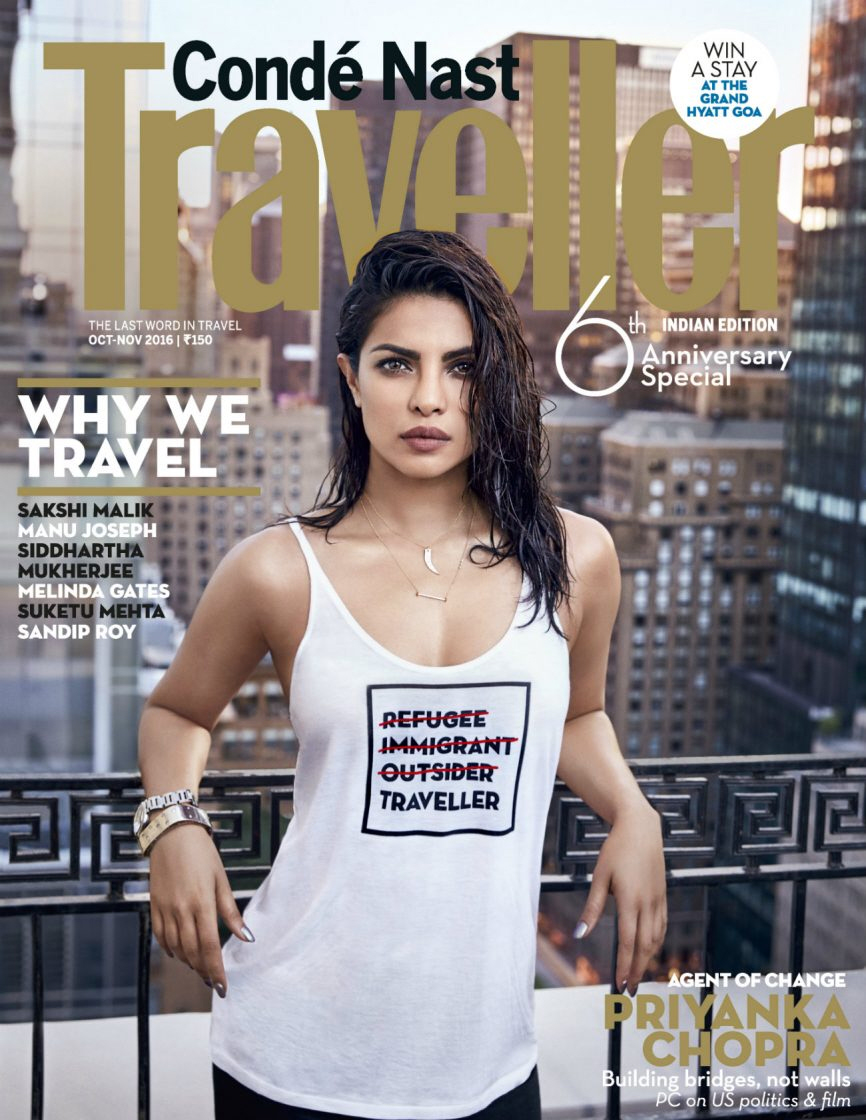 Photos courtesy of Women's Health, Conde Nast Traveler.