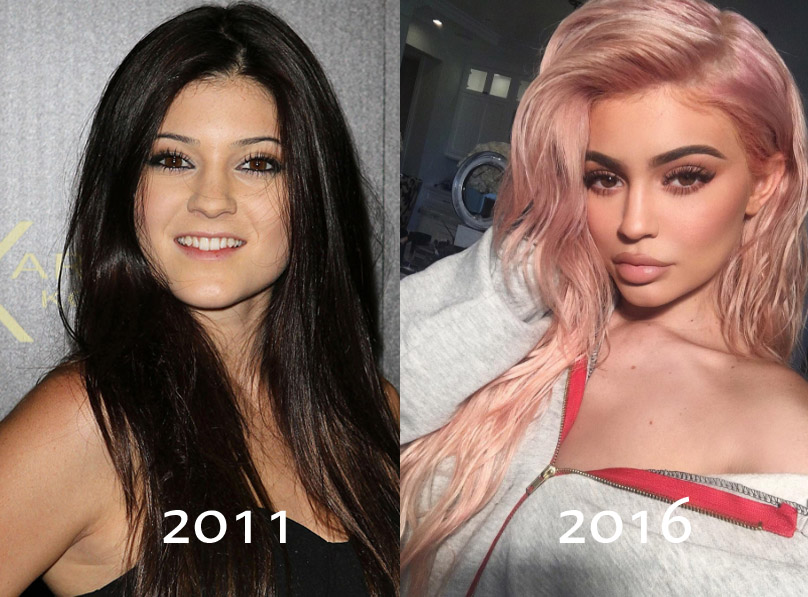 It's no secret – to me – that Kylie Jenner has had a lot of work done to her face and body. The difference in how she looked in 2011 versus how she looks now cannot be explained away with "she's just a teenager going through some changes" or "it's just lip injections." By my completely unscientific estimation, she's had multiple nose jobs, lip augmentation, breast augmentation, something with her chin/jawline, possibly some eyelid work and possibly/probably something with her waist, hips and butt. I suspect she gets lipo on her waist and might have butt implants or something, but honestly I'm usually too overcome with horror whenever I see her Sad Doll face to look at much of anything beyond it.
Why are we talking about this? Because Kylie is talking about it. She did a Q&A on her app and she tried to "set the rumors straight." By lying her fake face off.
No butt implants: "[I haven't had] ass implants. You know, I used to be 120 [lbs.]. I was really skinny. Now I'm pushing like 136. But it's alright, I like the chunkiness. I don't really think I have the fattest ass, but I know my angles."

No breast implants: "They're not big. I've thought about [getting breast implants], but I'm like, why ruin it? I have really good boobs naturally and they're a cute little size. I'm not against it, but right now, it's a no from me."

No cheek or jaw reconstructive surgery. "People starting saying that [when] I was like 16. You think Kris Jenner, at 16 years old, would let me get cheek and jaw reconstructive surgery? Nah. I always used to love my jaw – I never was self-conscious about my jaw."

No nose job. "I didn't get a nose job. I've always had a cute nose. I've really always liked my nose."
The only thing I believe is that she's 136 lbs. I don't even believe that weight qualifies as "chunkiness." She is in no way chunky and that would be a perfectly healthy weight for her height and frame. She's lying about everything else though, right? I mean… the nose job is so obvious, why even lie about it? That's such nonsense. Kylie has the family nose now, in that all of the Kardashian-Jenner women got really similar nose jobs. I don't even believe Kylie was "never self-conscious" about her jaw. Liar, liar Sad Doll on fire.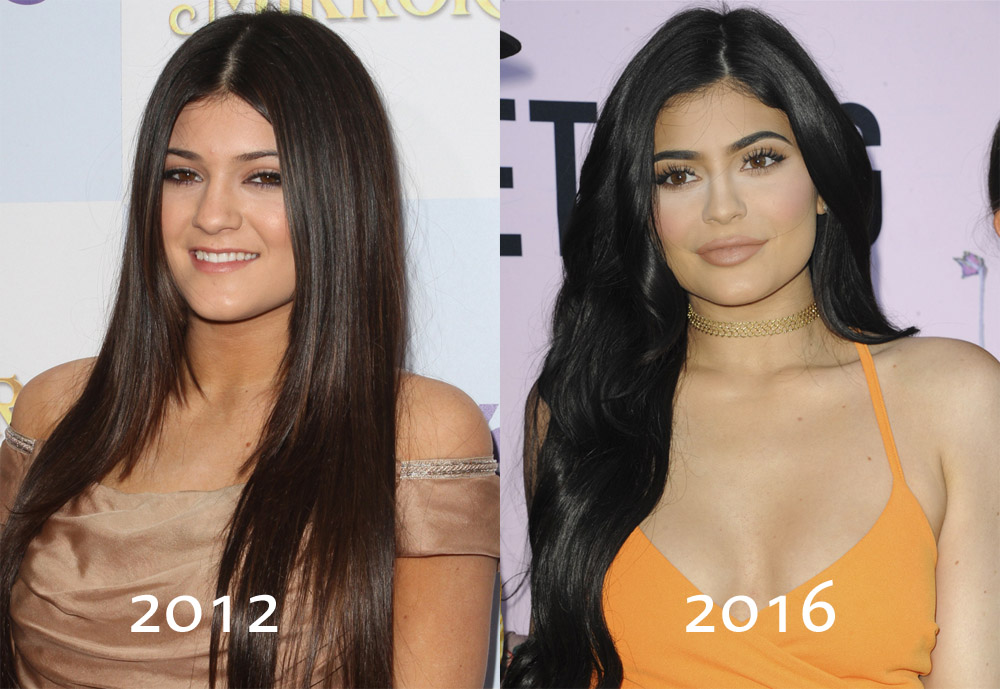 Photos courtesy of WENN, Fame/Flynet and Kylie's Instagram. Thanks to CB for making the side-by-sides!