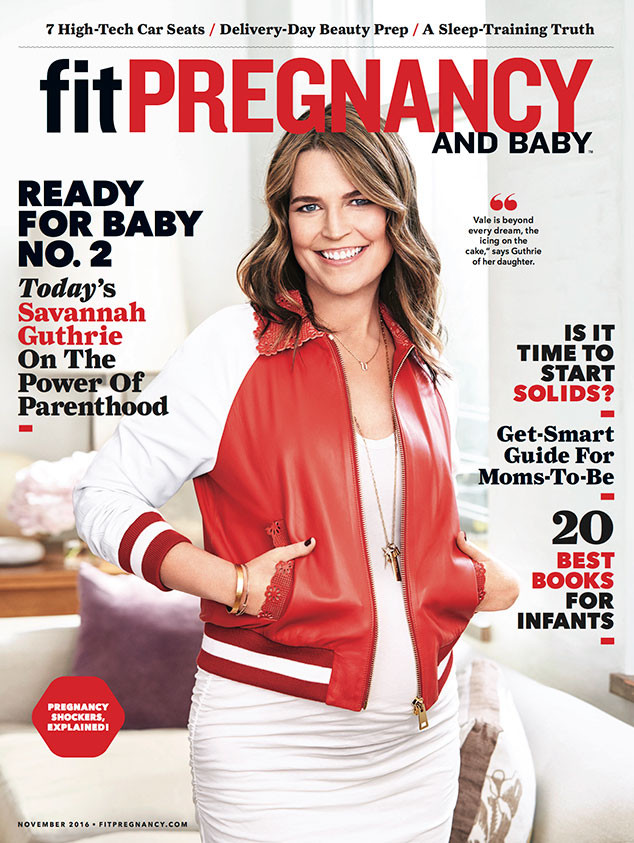 Savannah Guthrie is expecting her second child with her political consultant husband Michael Feldman next month. She always wears pregnancy so well – a lovely combination of thrilled yet tranquil. Her son-to-be will join two-year old daughter, Vale. Savannah is 44 years old and neck-deep in election coverage at Today. She covers fitPREGNANCY and Baby to discuss staying healthy while being a working mom in a high-powered position. You can read her full interview here and here are some highlights.
Does being a mom always come first for you?
"It does, and when I wrote my Twitter profile, I deliberately listed it first to remind myself that being a mom is the most important part of my identity. It's my life's work. Of course, if it's 7:02 a.m. and I'm about to interview one of the presidential candidates, I'm not thinking at that very moment, 'How did Vale sleep?' But at 7:05, when that interview is done, I can assure you that I'm texting my husband: 'What time did she get up this morning? Is she happy?' I also FaceTime her during the commercials on set. She's always at the center of my heart."

How has your second pregnancy felt different from your first?
"With Vale, I was obsessed with those videos that compare your baby to produce. 'This week your fetus is as big as a spaghetti squash.' I don't even know what a spaghetti squash looks like! Now, I don't have time to obsess because I'm chasing a 2-year-old. The only thing I do think about more is losing the baby weight. I gained 35 to 40 pounds with Vale, and I'm right on target to do that again. So I try to be a little more disciplined about my exercise and ice-cream intake."

What does that mean?
"Sometimes I don't exercise at all, because I'm too lazy. Other times, I want to exercise all the time—and by that I mean twice a week. I do some low-impact aerobics and my prenatal yoga. I eat pretty well throughout the week, but everything goes off the rails on the weekends. Dessert is a signature weak point for me. I miss my glass or two of wine, and ice cream is what's left, so that's what I have."

Your due date is next month. What's your birth plan?
"I had a low-lying placenta with Vale, so about nine days before my due date, my doctor recommended a C-section. The whole experience was just fantastic. Afterward, I was high on life—and probably a couple of painkillers. This time, when I said, 'Do you think I'll have a C-section again?' the doctor said, 'Let's talk about it when it gets closer.' And I like that about my doctor. He's real chill. If I need a C-section, I'll be totally okay with that. And if I have this baby the old-fashioned way, that's cool too."

Would you be all about the epidural in that case?
"Oh, 100 percent [laughter]. Is there anything about me that suggests I have the internal fortitude to withstand birth without a little bit of help? But my hat's off to women who do. My sister-in-law did with both of her children. She's an amazing superwoman athlete. And I know that I am not."

How is your husband in the delivery room?
"Mike's great. First of all, he does crisis communications for a living. He is temperamentally suited to being a dad. Also, he's the son of an ob-gyn. His entire life, the phone was ringing in the middle of dinner with women in labor on the line, so he is totally suited to speaking in a calm voice and understanding everything about childbirth."
I really like Savannah so I don't want to be too snarky. Her bubbling enthusiasm about being a mom is lovely. I am just not one of those moms. I don't need to be reminded that society expects motherhood to be the most important part of my identity. I do appreciate her generally relaxed approach to everything, though. Like her birth plan, I never had one but I assume flexibility is key with them. Plus I can completely relate to her exercise habits. The article also lists six of Savannah's Been-There-Done-That tips for moms. I agree with about half of them.
I laughed at her comments about the epidural. I near about tattooed "Yes, epidural NOW!" on the inside of my thigh so there would be no confusion. And I love her equating crisis communications with a preparation for fatherhood. I have these images of Mike brokering a deal of a 10% broccoli-intake increase in exchange for one additional, non-educational cartoon on the weekends.
Savannah looks amazing in this pic. This is how I wanted to look while pregnant. Hell, it's how I want to look now.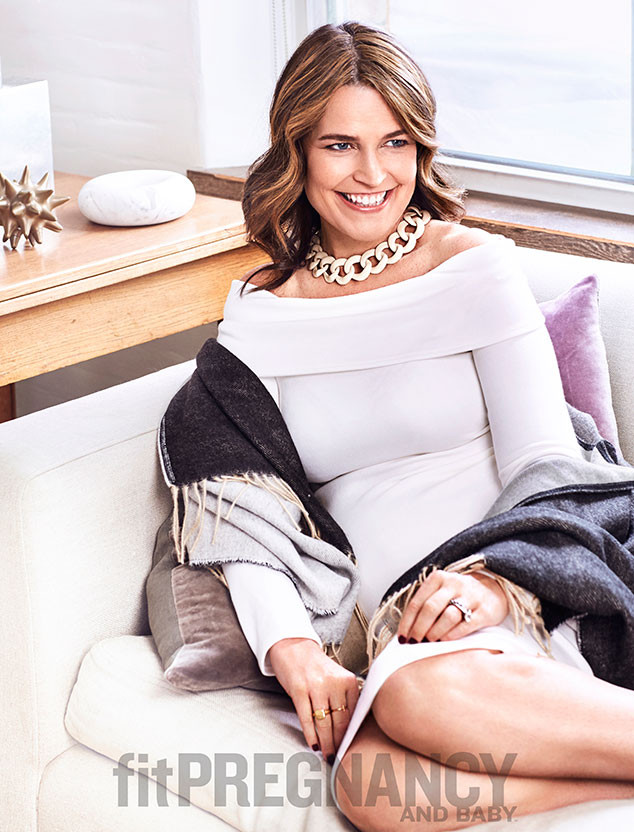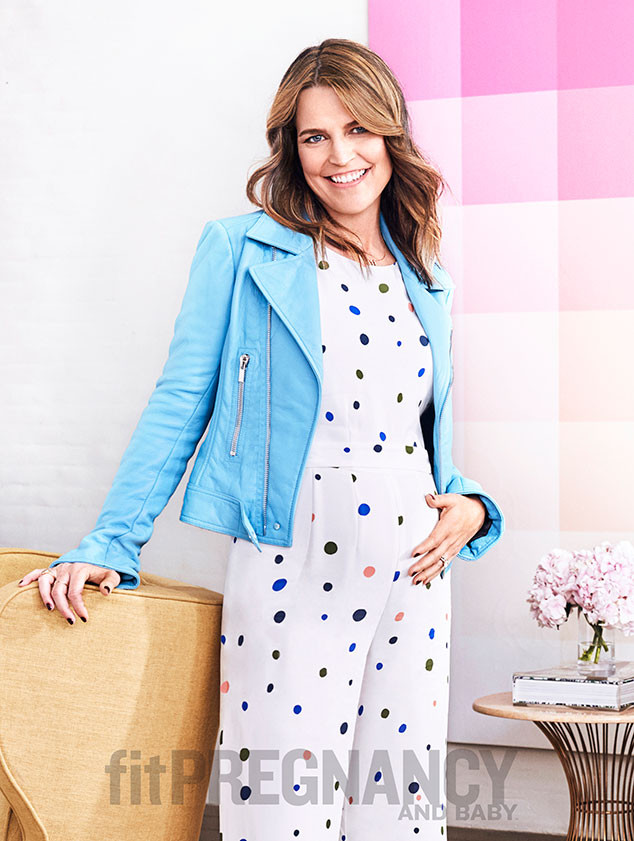 Photo credit: Justin Coit/fitPREGNANCY and Baby