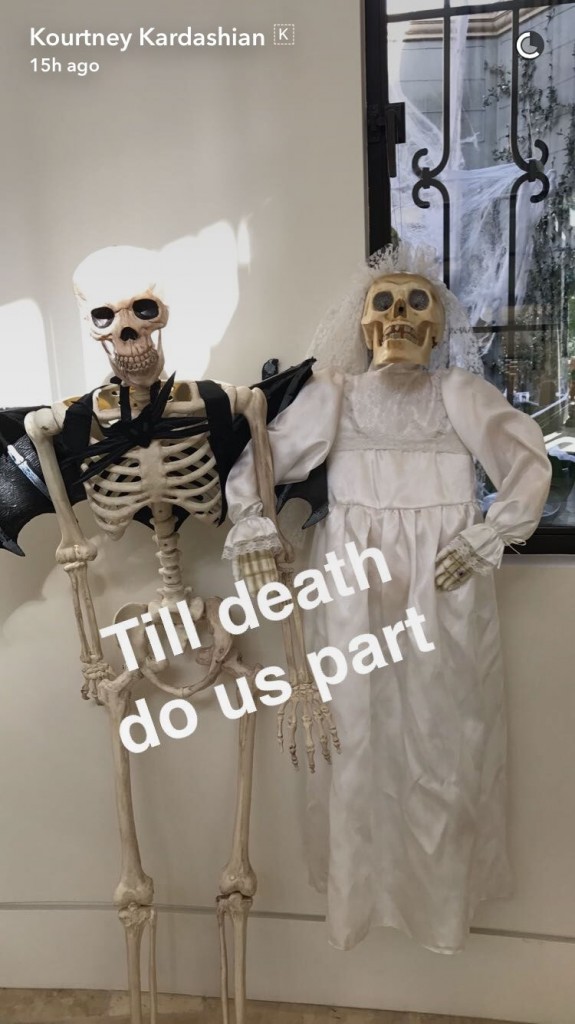 Who could use a big ol' distraction today? Me too. Monday night, Kourtney Kardashin hosted a Halloween dinner for a group of her friends, including makeup artist Joyce Bonelli, hair stylist Jen Atkin and actress Khadijah Haqq, and their kids. I can't say I have much in common with Kourt except that we both love costumes and theme parties. Covering her Halloween and birthday shindigs brings me joy. Even though I'm sure she has "help," her parties have a homespun feel, like I could replicate a few of these things without having to hire a set designer. Last year, Kourt and the kids dressed as Superheroes. This year's theme seemed to be black and white which, going by these shots, seems conducive to Kourt's largely white house.
I understand she didn't hang those spiders by herself but that center table is doable, provided you know where the giant candle factory is. The draping spider silk is a great effect but few of us have 20 foot ceilings and guests would constantly run into them hanging from a normal-heighted ceiling. I would have stacked scarier books though, either leather-bound or black and white alternating spines: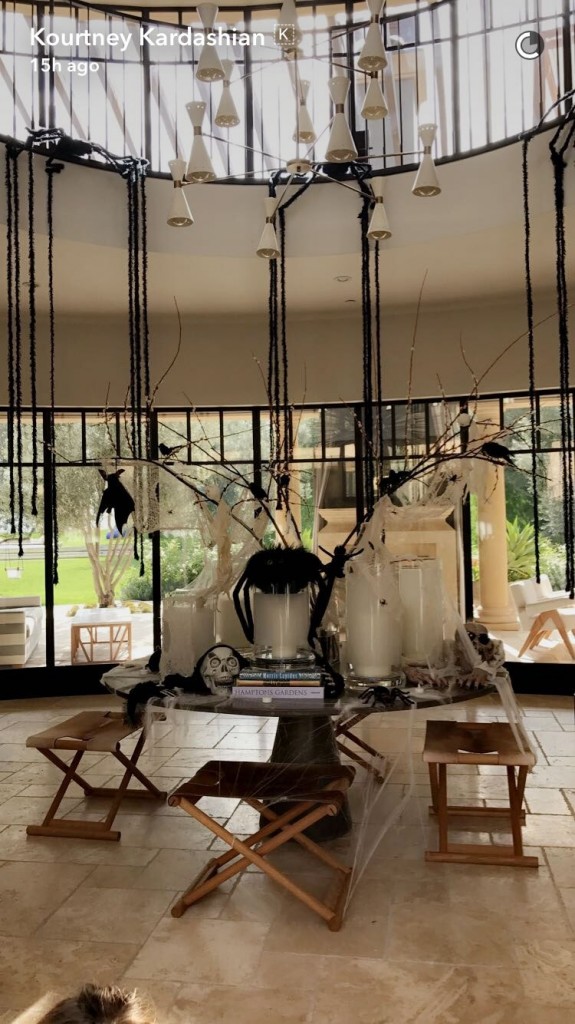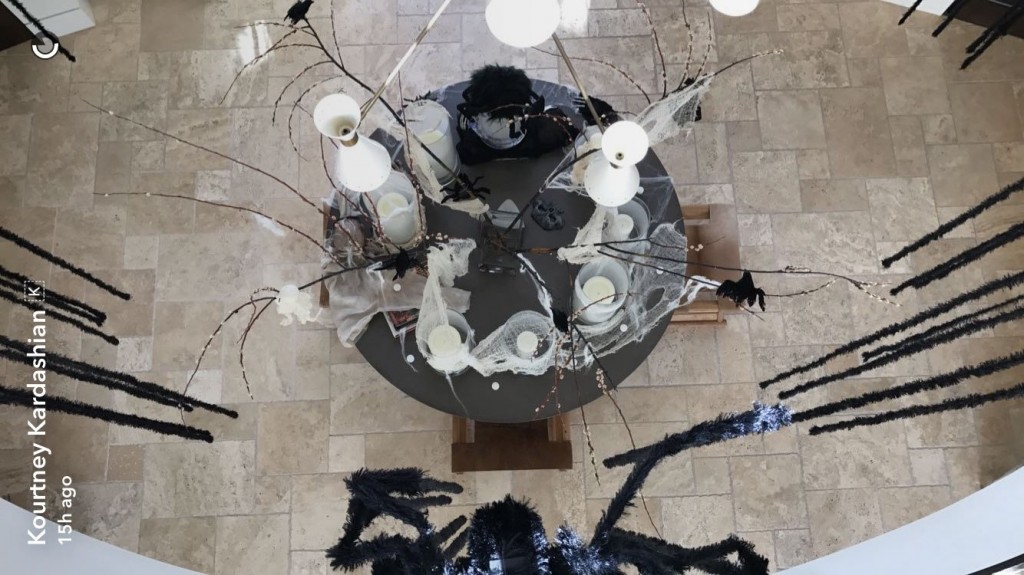 At first I thought she had netting inside the candle vases but it's just frosted glass bands. However, the tulle idea would be amazing – wrap some low heat tiny light strings in it and put that in a glass vase instead of a candle. That tent is fabulous. I don't know if it's for a pet or a child but that's where I would spend most of the party. I love how its reflection makes it look like the white couch outside is en theme. Plus, I think I need a silver skeleton in my life: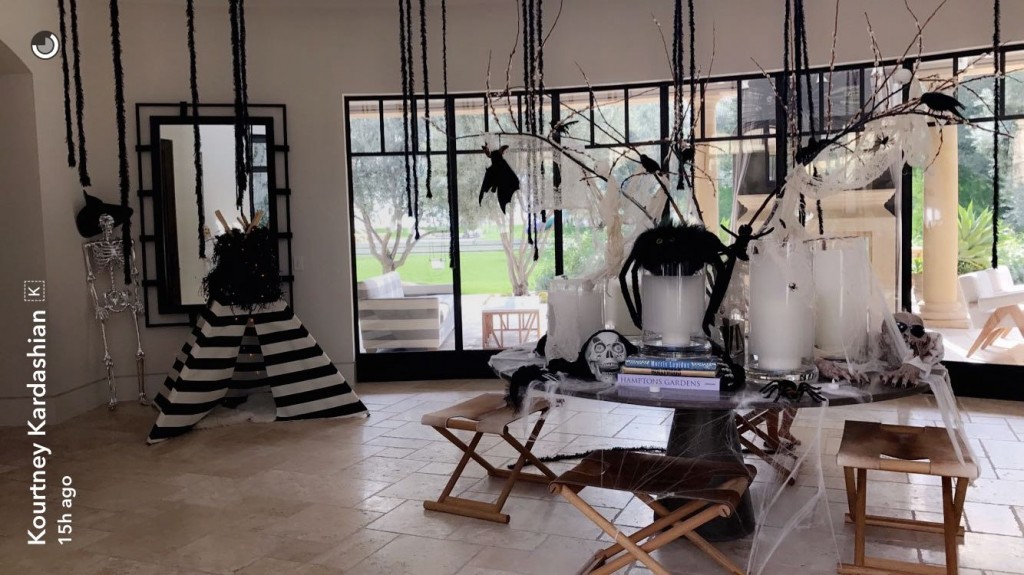 This table is super easy. White cloth with a black rag cloth over it (available at most Halloween shops). Some novelty spiders, flameless votives and white pumpkins. Nice. You could do black and white plastic utensils as well but the silver seems to be punctuated throughout the party. I am guessing that is Reign's little convict arm?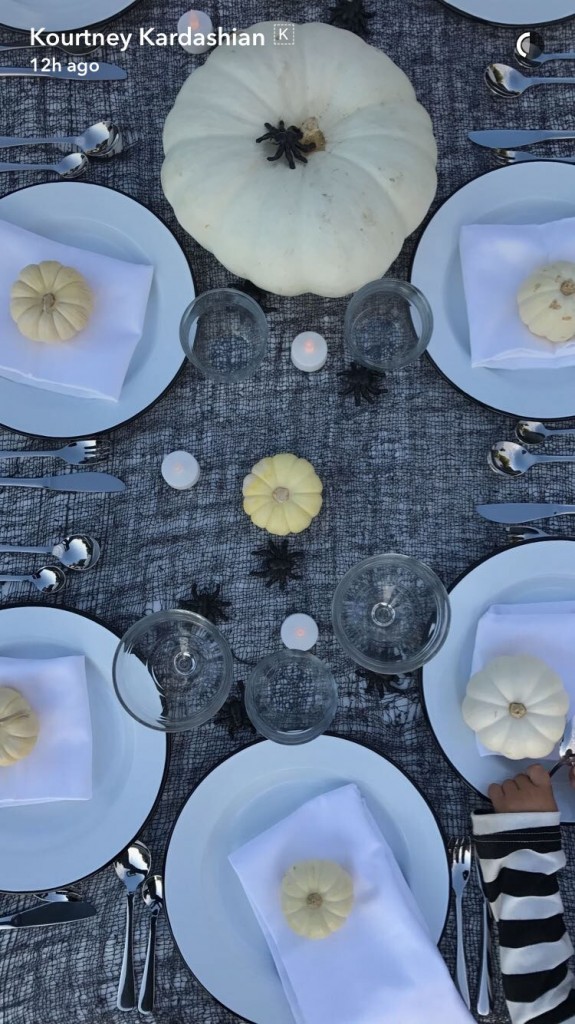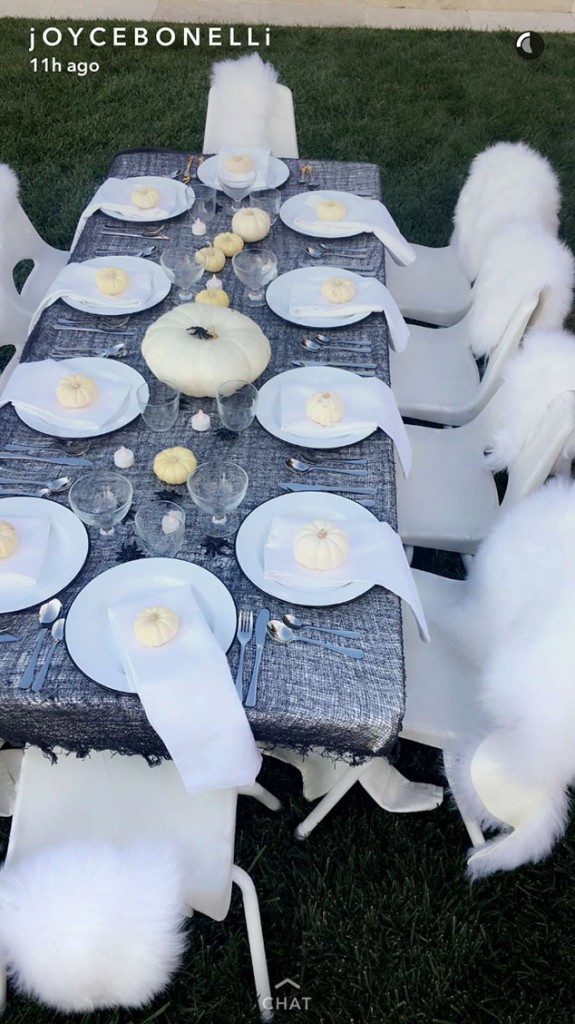 This is my favorite. I love the idea of labeling the food dishes on butcher paper! This is the first I have ever seen that. Unfortunately this is all we have of the food but holy crap, that Oreo Rice Crispy treat skeleton is a thing of beauty: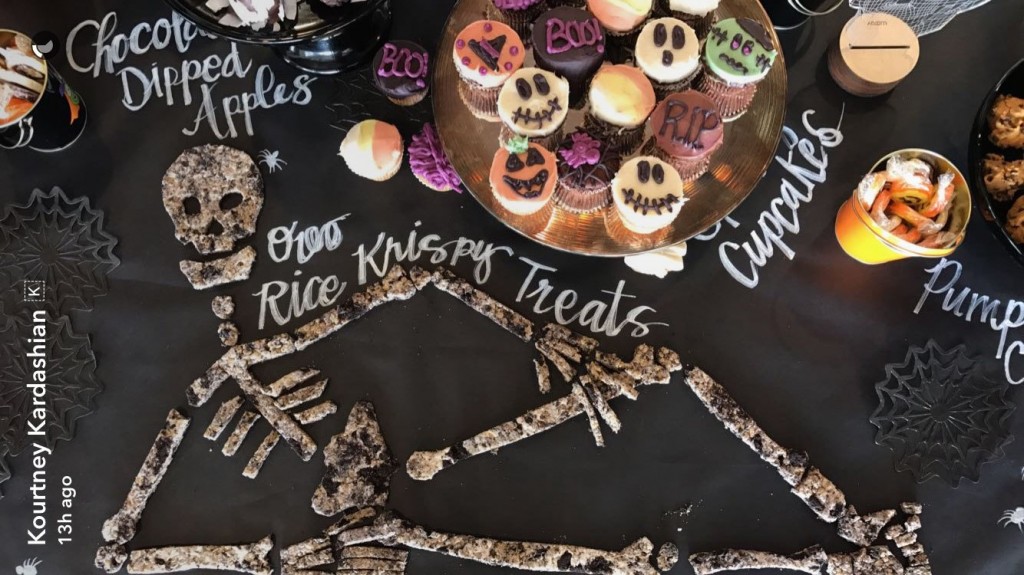 Here is the only area where I was let down a little – the costumes. I know I am being too judgmental but to put it in context, I begin our Halloween costume discussion in August. Maybe the party was a last minute decision and it was, after all, a school night but honestly, a black and white theme and the best they have is a skeleton onesie?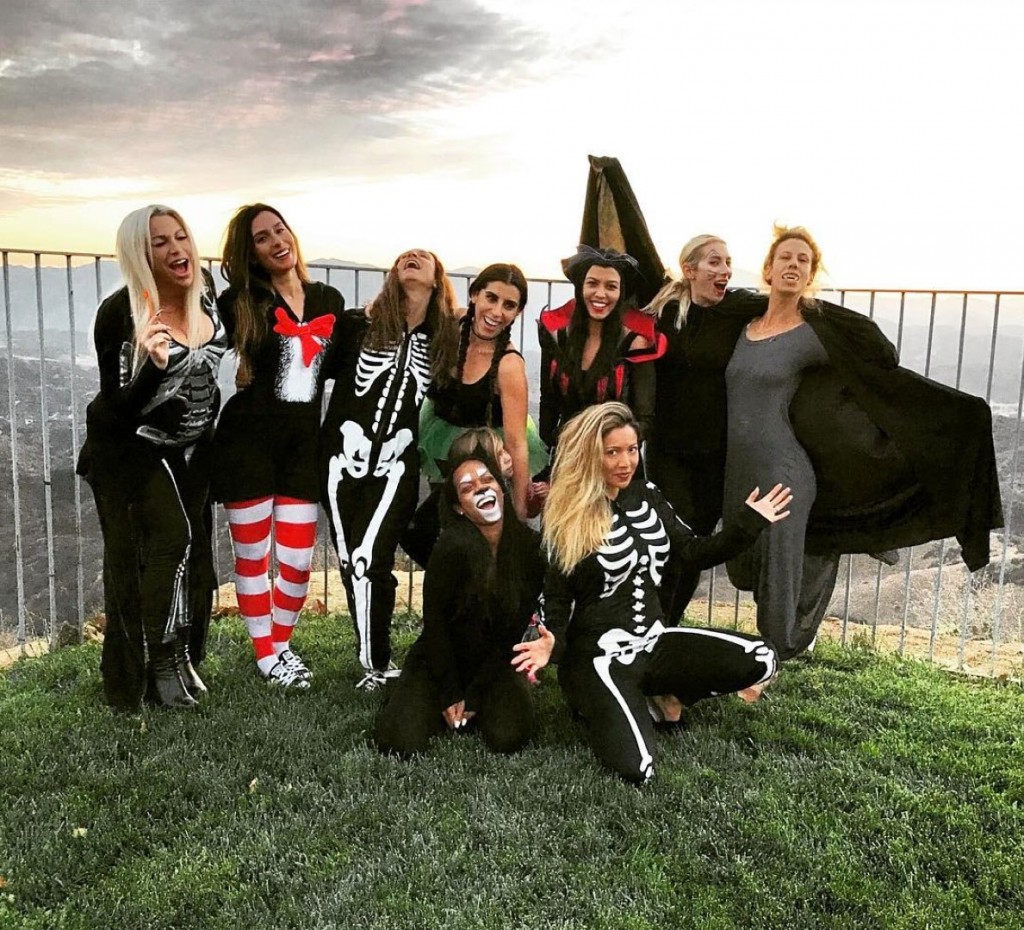 Kourtney herself is noted as a "Disney Witch." If she was going black and white Disney character, at least go with Cruella DeVille. What Disney witch wore a catsuit?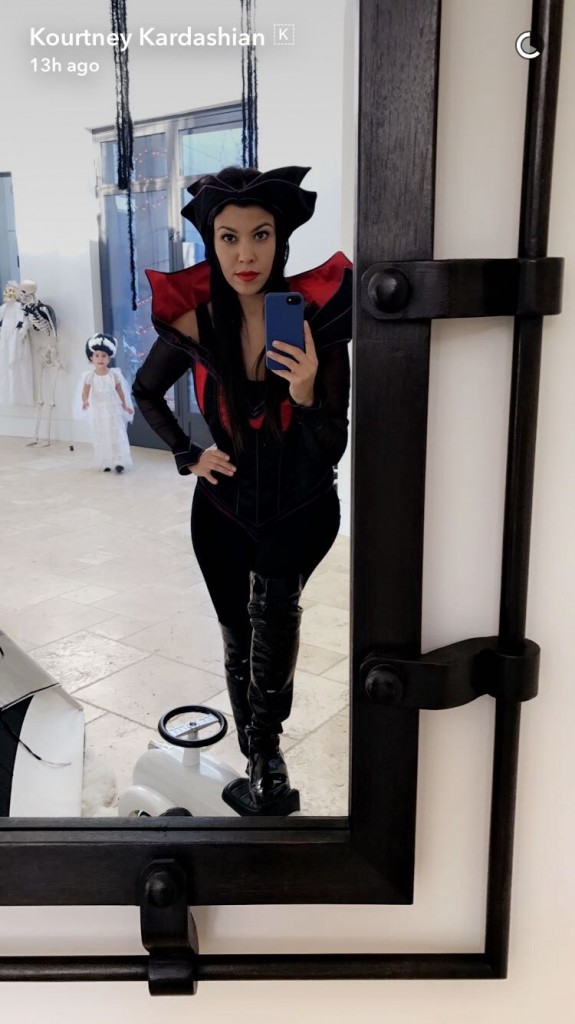 However, as previewed in the shot above, Penelope wins. Decked out as the Bride of Frankenstein, she gets all the Halloween points: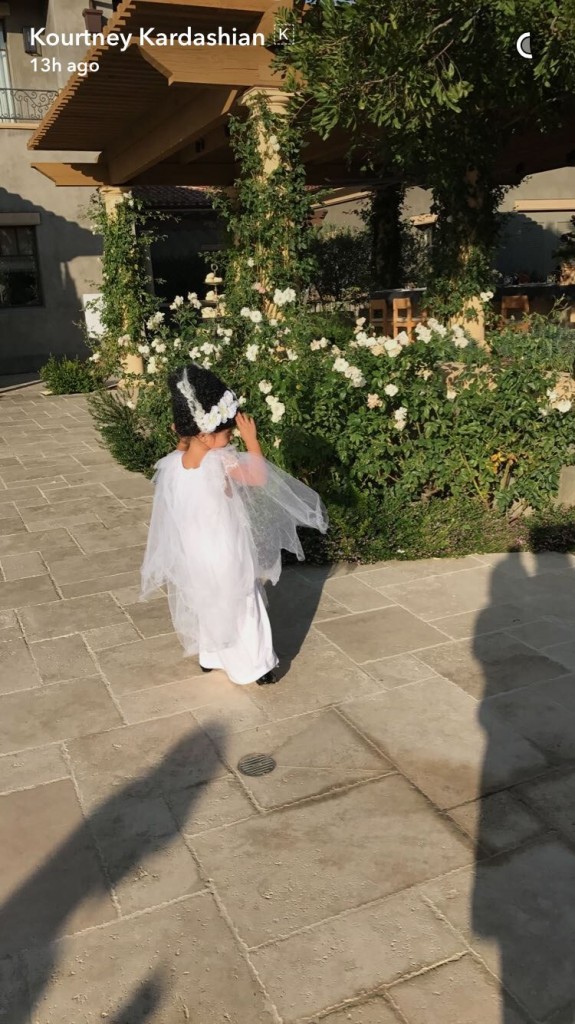 Photo Credit: Kourtney Kardashian Snapchat and WENN Photos>