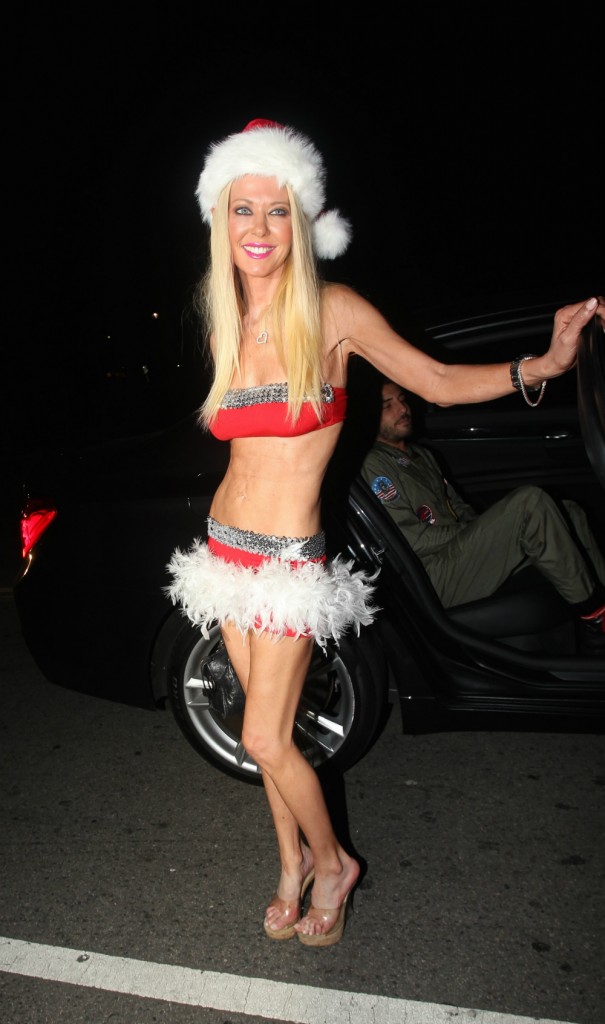 Tara Reid went to yet another star-studded Halloween party, this time for Trick or treats! – The 6th Annual treats! Magazine Halloween. After channeling her inner Greek Goddess for the Maxim party, Tara's second Halloween ensemble was holiday appropriation. Her sex kitten Santa consisted of a pair of headbands around her boobs and an unsuspecting swan glued to a spandex mini skirt. She topped it off with a Santa hat for that touch of authenticity we've come to expect at these parties. For the eagled-eyed observer, you'll see that she cheekily wore her diamond heart pendant, bringing Valentine's Day into the mix, just to keep things spicy. Of course, she tied the whole look together with her favorite acrylic wedges. Those shoes really should be burned in a ritualistic way to make sure they never come back: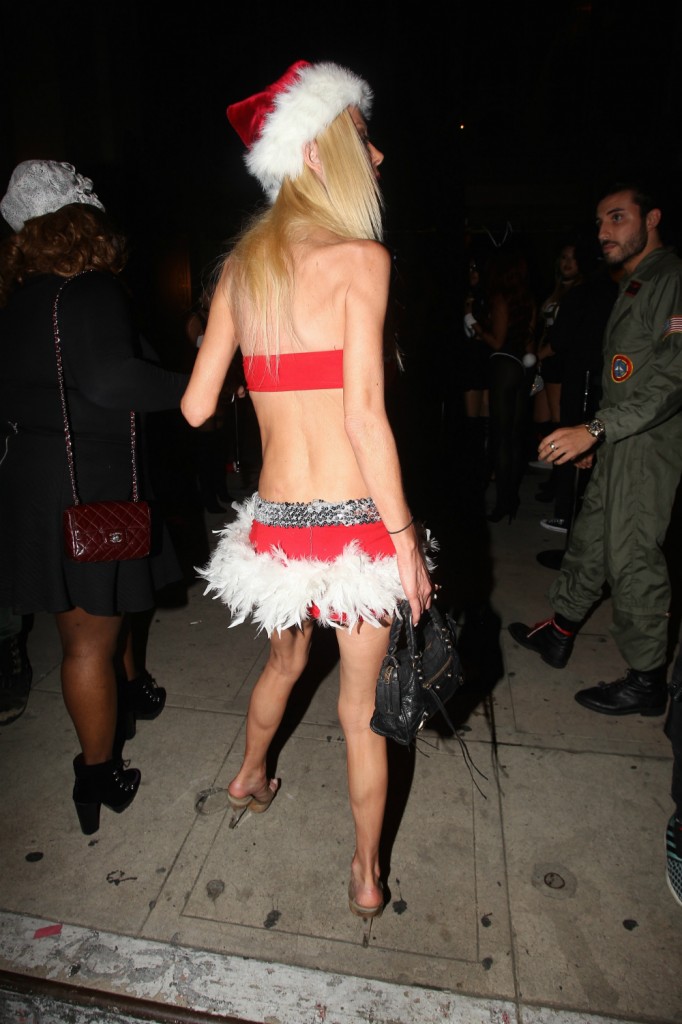 You can see more photos of Tara at The Daily Mail. Obviously, once again her thin frame has raised a few eyebrows. Back in 2014, Tara told TMZ, "I'm just a small-boned girl. I eat, I eat, I eat." Substitute "eat" with "drink" and I would be more inclined to agree. Apparently the dude in the flight suit her was her date, although I have no ID on who he is. Because I give Tara grief, I want to also give her credit when due. I did not realize that she donated a portion of the proceeds from her autograph signing at Geek'd Con to help the Louisiana flood victims earlier this year. Good for her.
Among other luminaries dazzled at the treats! Magazine Halloween Party was Tara's frenemy Paris Hilton with a nod to children's literature – keep reading kids! Sofia Richie, sister to former Paris sidekick Nicole, attended dressed as a confused finish line from NASCAR:
Kate Hudson's ex, Matt Bellamy, came in undead steampunk attire and looked pretty good. Pictured with him is Blurred Lines actress, Elle Evans, who is a demonic babydoll? I actually like her costume, primarily because I am all over that wig and make-up, but what is she?
And Gerard Butler went as an a—hole: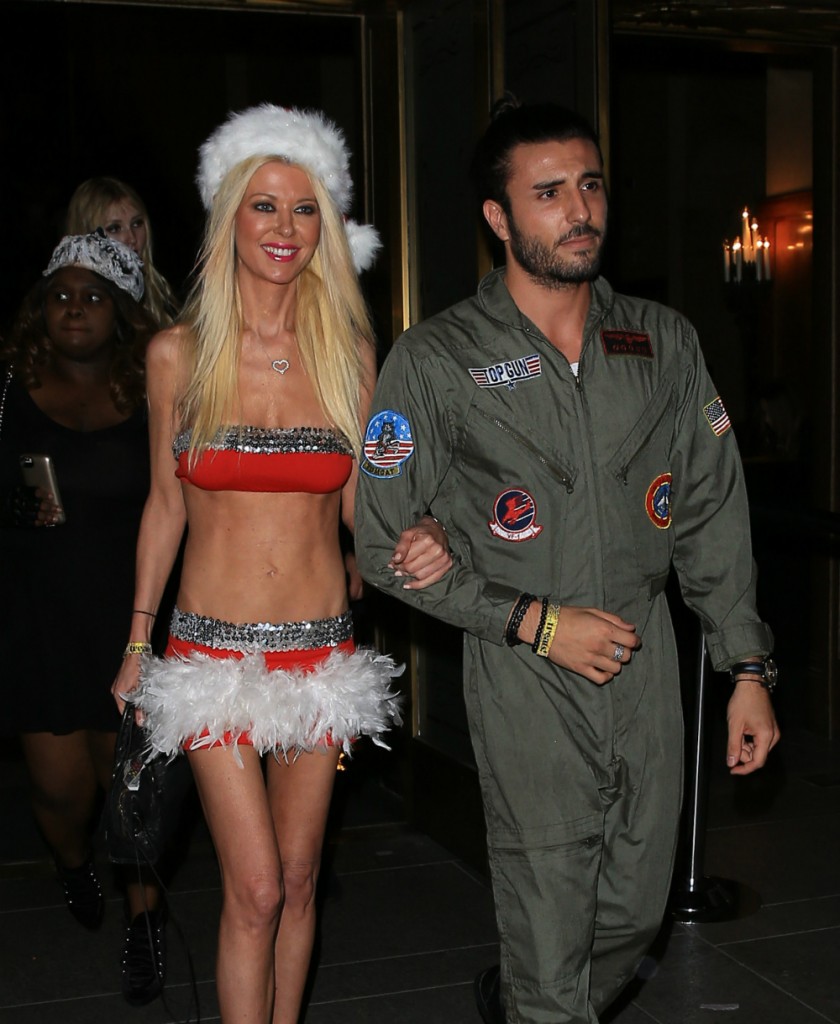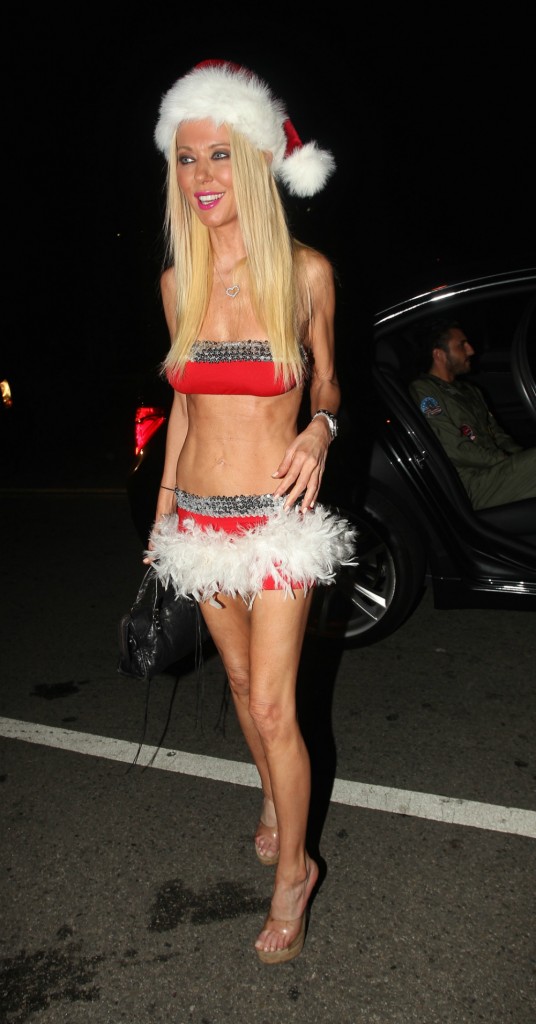 Photo credit: WENN and Fame/Flynet Photos and Getty Images