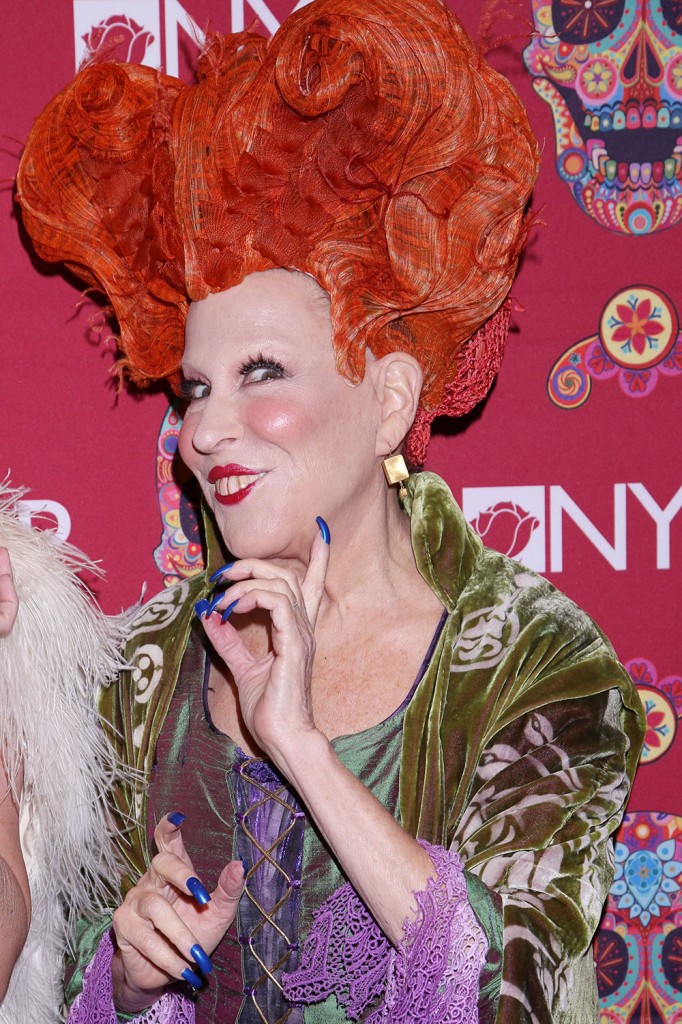 National freaking treasure Bette Midler, who is the queen of Halloween in my book (sorry, Heidi Klum, but you are a close second), once again did not disappoint with her costume for her annual Hulaween ball at New York's Waldorf Astoria on Friday. Bette dressed as her character, Winnie Sanderson, from the only movie you need to see at Halloween, 1993's Hocus Pocus. Do I even need to say that Bette looks amazing? Can you believe she's 70? I suspect a little witchcraft.
This year was Bette's 21st year celebrating All Halows Eve with her famous friends. The annual event benefits The New York Restoration Project, which is committed to keeping New York green by planting trees, restoring parks and renovating gardens throughout the city. Bette slayed, so everyone else probably shouldn't have bothered, here are some of the other costumed celebs who hit the event's red carpet.
Kathy Griffin went for topical, dressing as a Snapchat avatar, complete with animal face filter. Seems a little last-minute to me. I do kind of dig the pantsuit though – and you kind of have to give props to anyone who has to lug around what amounts to a huge sandwich board for an entire party.
I expected more from Sandra Bernhard, who dressed as a witch (witches were a theme for this party, apparently. Debbie Harry also showed up in witchy attire.) Her witch hat fascinator is adorable, but that purple and black striped satin dress isn't giving me any kind of witch realness. It's kind of "wild west saloon girl gone bad."
If your mother was dressed as one of her most iconic characters, would you even attempt to out-do her? If your answer is "no," you're probably on the same boat as Bette's daughter. The Honolulu native posed alongside her 29-year-old daughter, Sophie Von Haselberg. The 29-year-old went for a kind of gothic undead look, although it kind of looks like she just dropped by Hot Topic and slapped on some makeup on the way to the party. But, like I said, who's paying attention to you standing next to Winnie Sanderson?
The runner-up on the event's red carpet had to be designer Marc Jacobs. The designer dressed as a female bodybuilder in a padded bodysuit and light blue bikini. He beat that mug and committed fully to his inner WWE diva with a pair of black patent leather Christian Louboutin stilettos.
Bette posted a photo to her Twitter account, with the caption, "Winifred Sanderson flies in to Hulaween! Says thanks to everyone who made it such an electrifying evening!!"
Winifred Sanderson flies in to Hulaween! Says thanks to everyone who made it such an electrifying evening!! pic.twitter.com/BTLDs3CVaQ

— Bette Midler (@BetteMidler) October 29, 2016
Bette's choice of costume may have generated some demand for a Hocus Pocus sequel, could it happen? Bette has been willing for quite some time and Sarah Jessica Parker recently said she'd be game as well – as is third Sanderson sister Kathy Najimy. Back in 2014, Bette appealed to her fans to contact Disney and let them know they want a sequel, asserting, "They are wiling to do it, but we have no say in it, so if you want a Hocus Pocus 2, ask the Walt Disney company." I guess the pleas fell on deaf ears at the Mouse, as Bette, answering a fan's question about the possibility of a sequel during a 2015 Facebook Q&A, said, "After all these years and all the fan demand, I do believe I can stand and firmly say an unequivocal no."
I'm not a big fan of reboots and sequels, but if anyone can make lightning strike twice, it's definitely the Divine Miss M. I mean, she's coming back for more of The First Wives Club, and fans are excited. As one of these fans, I'm highly optimistic. I'm hoping Bette's costume choice this year might make Disney reconsider their decision. Work your magic, Bette!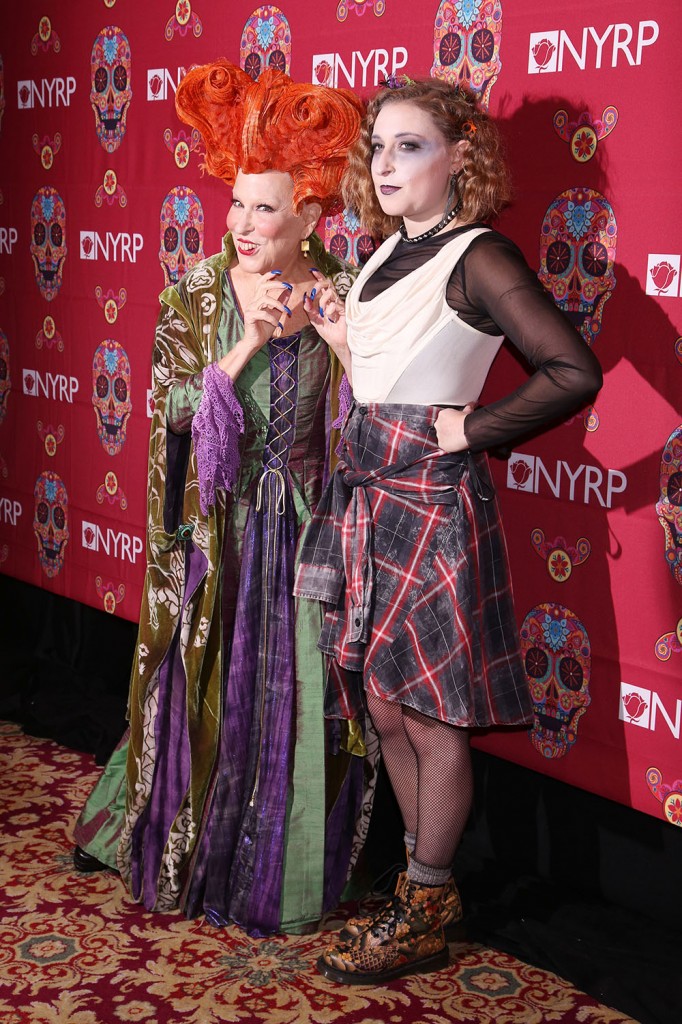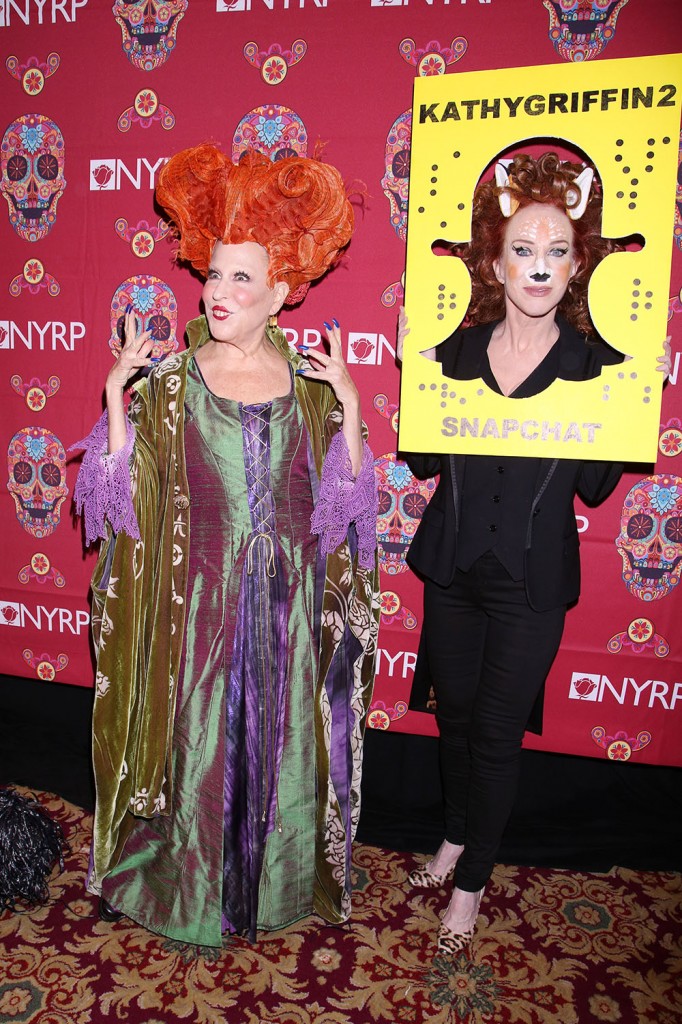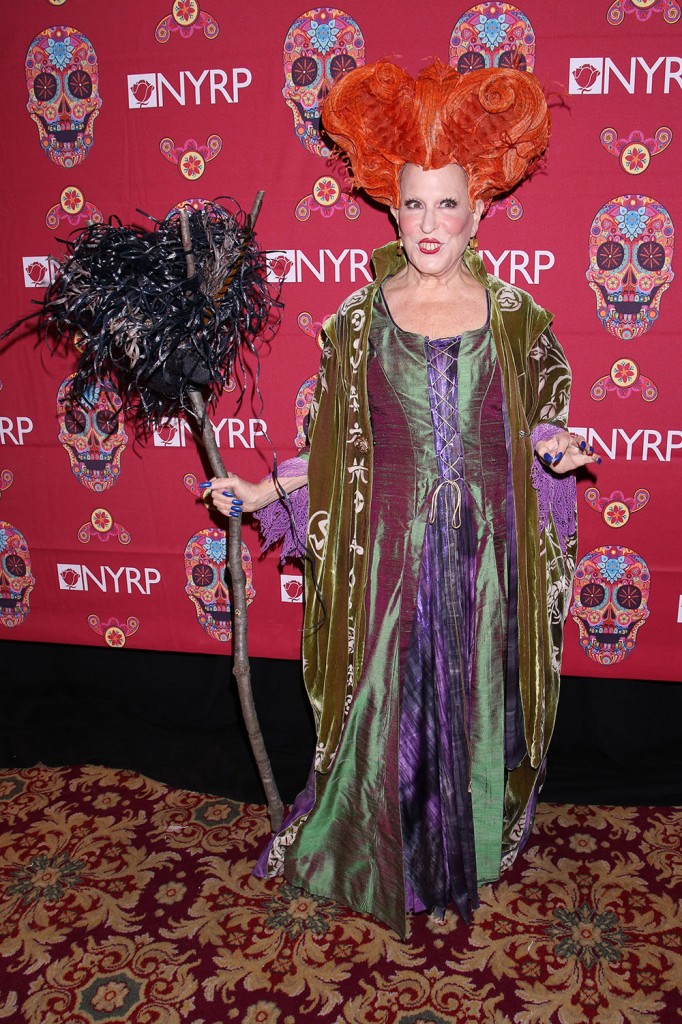 Photo credit: WENN.com, Getty Images