Kelly Osbourne wrote a book. Apparently it's a compilation of letters that she has written to everything from her family to her vagina. I cannot quite find the words strong enough to tell you how much I don't want to read what Kelly has to say to her genitalia. The book is called There Is No F*cking Secret: Letters from a Bad-ss B-tch. The 'secret' reference is to the book The Secret, btw, because apparently everything pisses Kelly off. The book won't be out until April 2017 but she's already doing press because it provides another perfect opportunity for her to play the victim. To remind everyone, when Donald Trump began spewing his immigrant hate speak, Kelly appeared on The View and in condemning Trump's comments, did so by asking, "If you kick every Latino out of this country, then who is going to be cleaning your toilet, Donald Trump? In the sense that…you know what I mean? But I'm saying that in L.A., they always…" The View co-host Rosie Perez stopped her by interjecting, "Latinos are not only the only people doing that." Rosie even apologized to Kelly later in the show for being "sensitive." What followed was Kelly's inane attempts at trying to prove she wasn't a racist and that we, the viewing public, were just horrible people who wouldn't give her a chance. Well, guess what, folks – it still bugs Kelly that we think she's racist. Here are some highlights from her interview with Entertainment Weekly. The rest is here.
On why she choose to write in letters: I was inspired by Dawn French's book [Dear Fatty], where she wrote letters. The format helped me keep it concise without rambling, and I could change from topic to topic to topic, and it allowed the book to have a fluidity. But it's also because at times in my life, writing letters was the only way I could communicate with my family and my loved ones. And that was either because maybe I was in a wonderful institution for my restoration, or if I just was on tour because I thought it was more fun to send a letter than an email, because I am still a child of the analog world. When I can't say what I want to say, I write a letter. That way you say it, but you don't send it.

On what she learned writing the book: One of the biggest realizations I had was no matter what I put in black and white, no matter what I say to you, people are going to have their own opinion no matter what. And I let other people dictate my emotions so much growing up that I didn't realize until after I wrote this book that I don't do that anymore—and that was a really great feeling.

But the again, the other chapter that was really hard to write, but for a completely different reason, was the letter to my vagina, because I knew my parents would be reading it at some point.

On how she isn't racist: It says "Dear Racists." It's about the topic. I'm a little bit scared about what people are going to say. And I do address the whole View issue, and how that has affected my life forever. I still hate myself for it, because if it was me, watching someone else say it on television, I'd hate them. But the fact is, I got cut off. No matter what I was going to say, people are not going to believe it anyway. I know my true intentions behind it, but like I say in my book, the mistake I made was to fall back on witty sarcasm, and you can't do that when you're talking about race, especially in this country. In my way of trying to defend a community of people that I do truly love, I managed to insult an entire race of people in this country. The fact that if you type in "Kelly Osbourne" [into Google], the first thing that comes up is "racist" just kills me.
Kelly is still throwing Rosie under the bus for cutting her off. Let's try to walk with Kelly's argument here. She said, "No matter what I was going to say, people are not going to believe it anyway." What could she have possibly said following, "who is going to be cleaning your toilet, Donald Trump," that would have made that joke okay? Nothing. Kelly doesn't get to rail on Giuliana Rancic and then argue she should be forgiven. If she doesn't like seeing racist after her name in Google she has some choices. She can: 1) not Google herself and 2) Make some effort to own what she said and evolve her mindset.
Kelly ends the interview by saying, "So I know I'm gonna manage to offend someone along the way in this. And some people I intentionally want to offend because they offended me!" An eye for an eye only will make the whole world blind.
Her pom is her most redeemable quality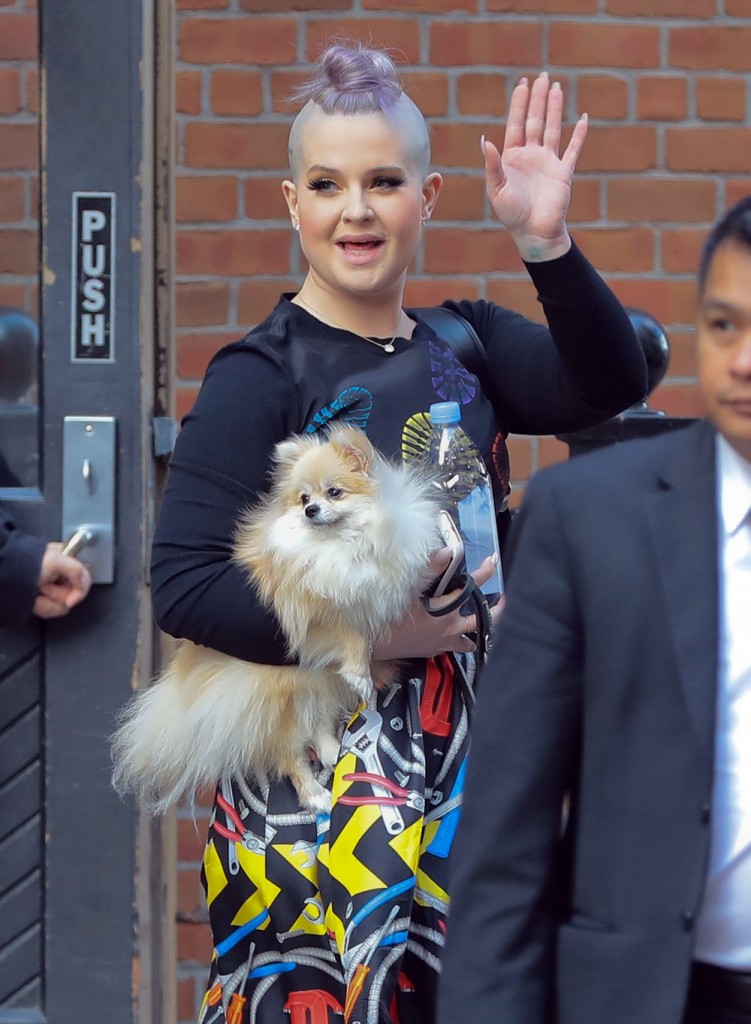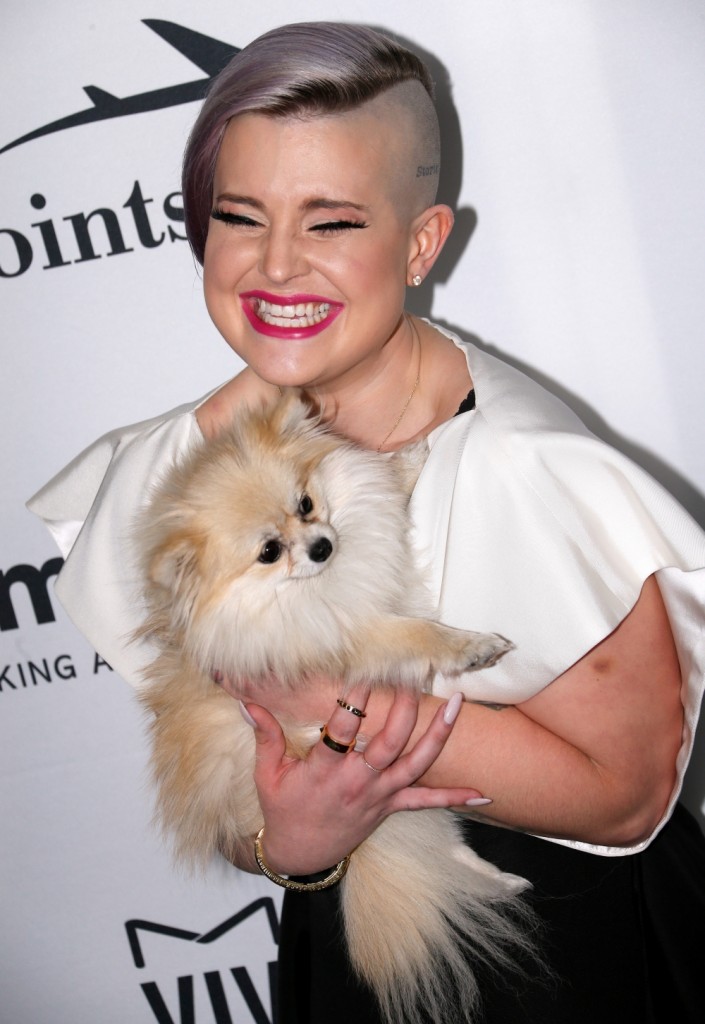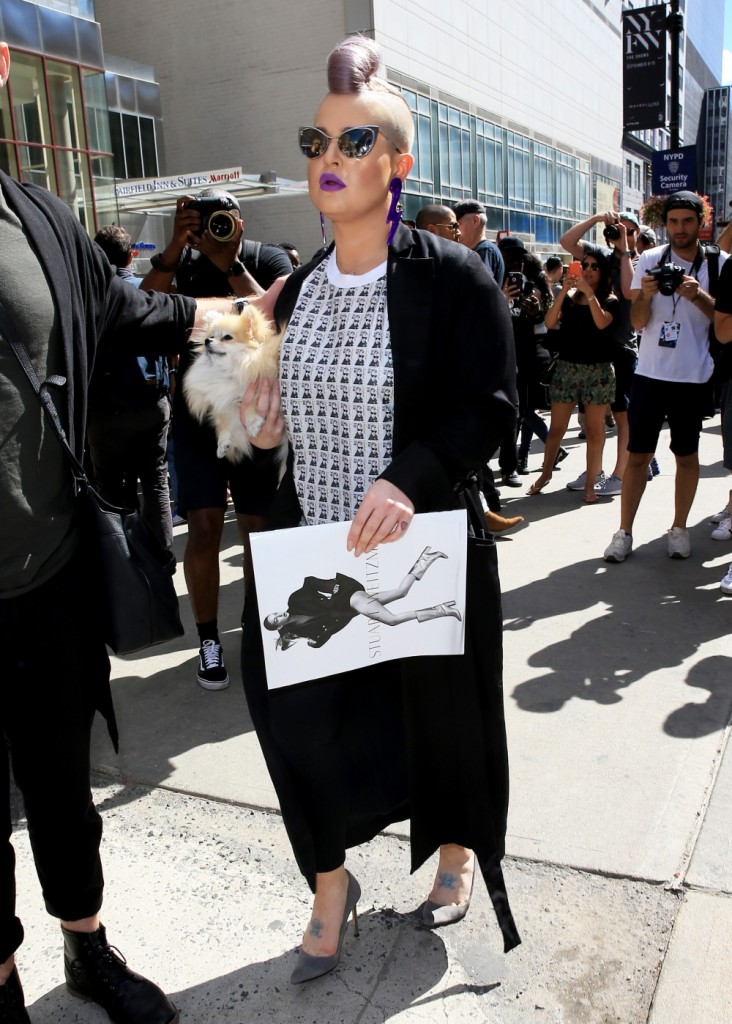 Photo credit: Entertainment Weekly and FameFlynet Photos