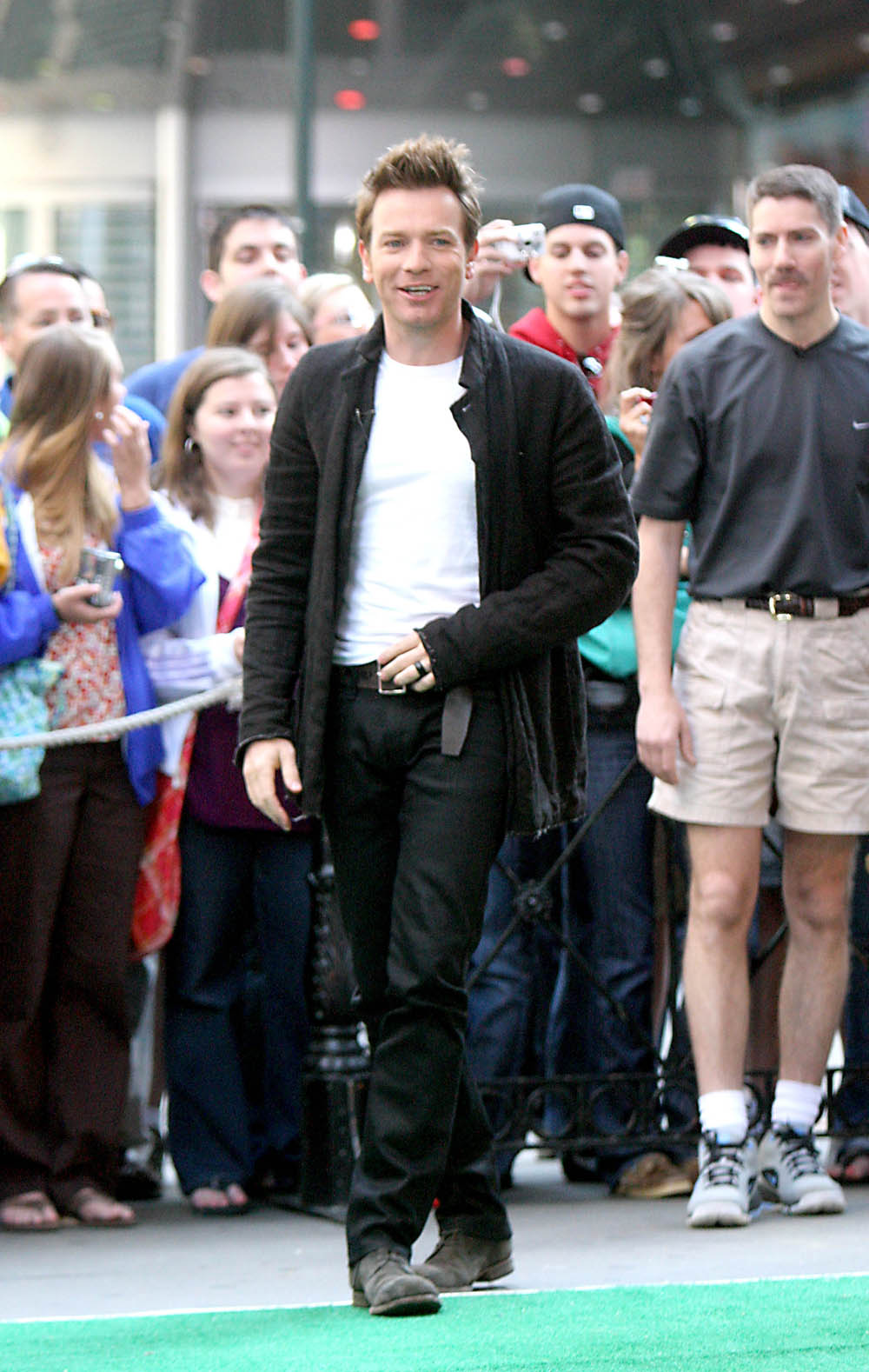 Moviefone has a beautiful, hilarious, amazing interview with Ewan McGregor. Ewan is still promoting Angels & Demons, but that part of the interview is pretty boring, so I'm putting it at the end. The interview is long, and they covered a lot of subjects, from George Clooney ("I admire him very much.") to Jim Carrey ("Full oral penetration with Jim, yeah … Jim's a very sensitive but firm lover") to Megan Fox ("Who's Megan Fox?"). He's talking about the films he's got coming out this year and next, like I Love You Phillip Morris, where he and Jim Carrey play lovers, and Men Who Stare At Goats, with George Clooney. They also cover musicals, tattoos, getting naked, Danny Boyle and that alleged Trainspotting sequel:
In one of your smaller movies, I Love You Phillip Morris, you kiss Jim Carrey. How does he rate as an on-screen kisser?
Full oral penetration with Jim, yeah … Jim's a very sensitive but firm lover, you know? And I think that's what makes him such a great actor and such a great man [laughs].

There's been more talk of a 'Trainspotting' sequel — would you be interested in participating in it?
I don't think I would, for several reasons. The first one is that I didn't think the book was very good. The novel of 'Trainspotting' was quite fantastic, it was beautiful, quite moving and disturbing writing, and then I find that the sequel … the book that Irvine Welsh wrote was called 'Porno,' and … it didn't move me as much … He'd written a good sequel to the film as opposed to a sequel to his book. It's also a similar story, you know, the betrayal of trust … Renton walks away with all the money at the end again. And I thought I don't want to make the same story again. And, also, I think just the idea of getting the cast together again 10 to 15 years later isn't good enough, you need more than that. I wouldn't want to damage 'Trainspotting"s reputation, because it was an amazing film and a very important film of its time, a very important film for me and … a very important film for British cinema. I wouldn't want to leave people remembering a poor sequel rather than leaving its reputation where it sits at the moment, which is kind of a phenomenal film.

Have you been in touch with Danny Boyle since he won the Oscar for Slumdog Millionaire?
No, I haven't spoken to Danny for years, I'm afraid. But I thought it was very well deserved; I liked 'Slumdog' very much. I thought it was an excellent film, and it was nice to see him getting all those accolades; it was great.

Would you do another musical, like Moulin Rouge? Or might you ever release an album?
No … I think it's quite tricky for actors to release albums. It's difficult, because I'm an actor, you know, I'm not a musician. I love singing, but I don't have a big repertoire of songs that I've written; I mean, I've got a few, but nothing that I could fill an album with, and I don't want to do it just for the sake of it. I don't know, we'll see. I certainly would be very happy to do another musical; I loved it. It would just have to be the right thing.

You did a film with George Clooney, Men Who Stare At Goats. How was that experience?
I loved working with him, and he made me laugh a lot … I admire him very much, because I think he's a great man, he's a great actor — and I admire his commitment to his work that he does in the Sudan; he really puts his money where his mouth is, and he goes and he takes himself to the Sudan and Darfur, and I admire him for that. He doesn't do the lip service to it, he really is quite instrumental, going to meet high-powered figures around the world, using his status as an actor to get access to presidents and prime ministers to try and get them to help as well, which is really admirable.

You play Gene Vidal in the upcoming Amelia — because he's a real person, did that affect how you played him or how you prepped for the role?
It does in a way … I've found a great many photographs of him and read about him … but I [had to] trust that he was in the script. Whenever I've played somebody that's real, I find that photographs … are really telling to me. When I played James Joyce [in Nora] the pictures of him were very important to the way I acted physically, and I suppose with Gene Vidal it's the same.

Megan Fox reportedly said that you have a tattoo sleeve, is that true?
No. I have a tattoo … but who's Megan Fox?

She's an actress who's in 'Transformers.' She supposedly was talking about getting a tattoo sleeve herself and she said that you had one.
I have a really large tattoo on my right arm … It's about my family and where I come from in Scotland … but it's not a sleeve, no … not quite a sleeve, but maybe half of one.

You are known for your propensity for on-screen nudity, but it seems like maybe you're stepping back from that …
[Laughs] It's extraordinary how it comes up. No, not at all, I mean … I've done nudity when it's been relevant in the films I've been making, you know? I've made films about sexuality, and the sex in the films has been very instrumental to explaining or showing where a character's at … In films like Young Adam the sex scenes are really sort of instructive of this young man's moral demise. I'm interested in sexuality and sex as much as anybody else and I find it a part of art, as part of filmmaking and acting because it's a part of life — a big part of life, I suppose. I've never had a problem with nudity in that it's been relevant to the work that I've done, but I've never gone out of my way to do films with nudity, nor certainly haven't decided not to, or stepped away from it in any way. I mean, I haven't made a film for a while, you know, as centrally focused on sex as I have done in the past, but not for any reason. It just hasn't cropped up, I guess.
[From Moviefone]
God, I just love him. Why hasn't he been on every magazine cover and every television show promoting the hell out of Angels & Demons? He gives a great interview, always so funny. Oh, right. They probably don't let him promote Angels & Demons because when he talks about it, it's a total snoozefest. Plus, he already said some of this stuff earlier this week.
There's only one part I found interesting about the Angels & Demons discussion. Ewan says, "[When] I read the script… there's nothing that's anti-Catholic. If there had been anything that I felt kind of dissed someone else's religion, I wouldn't have been involved in it. The people in the Catholic church in the movie who are the evildoers get their comeuppance in the end, and it's quite clear that the Catholic church shuns them and punishes them and isn't condoning their behavior in any way. In any walk of life there are people that are good people and there are occasionally people that do crazy things for whatever reason, you know?" Amen to that.
Here's Ewan McGregor on Good Morning America on Wednesday to promote 'Angels & Demons' and playing horseshoe. Naturally. Images thanks to INF Photo.