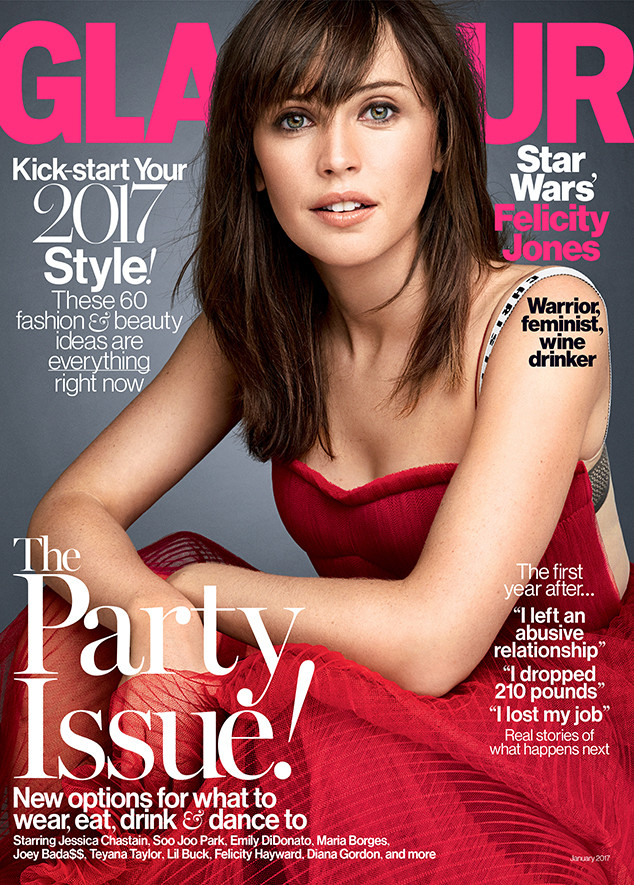 Felicity Jones covers the January issue of Glamour magazine. I like the editorial. Most of the dresses bend the rules on the feminine looks, which makes it interesting. Like the dress on the cover being flouncy but finished with athletic shoulder straps; I wouldn't wear it but I appreciate the contrast. I really like the white ruffled number below with the fencing vest that looks like part of a Jedi uniform.
Felicity's life is about to get very exciting. She received some attention (including an Oscar nomination) for playing Jane Hawkins in The Theory of Everything. She also appeared alongside Tom Hanks in Inferno. But starring as Jyn Erso in Rogue One: A Star Wars Story is going to blow up her quiet existence. In her interview with Glamour, Felicity wants to make one point very clear: she is a feminist. She repeats this theme in almost every answer, of which there are many, so I selected some of the ones I felt made her point fairly well.
GLAMOUR: Where did you get your work ethic?
FJ: My mother [was in advertising and] worked incredibly hard when she was bringing us up. She was a working mother and a working single parent. [Jones' parents divorced when she was a child; she lived with her mom.] That instills in you a sense of determination. But my father [a journalist] is a feminist as well. He talked to us about school and work, and also gave us a strong sense of identity in terms of finding, What do you want to do?

GLAMOUR: Was there a character you really wanted to play as a kid?
FJ: The first film I ever saw at the cinema was The Little Mermaid, so I wanted to be Ariel. Now I am playing a Disney princess. [Disney bought the rights to Star Wars from George Lucas in 2012.] A very contemporary, kick-ass Disney princess!

GLAMOUR:Were your feminist needs met by this movie?
FJ: I've always been a feminist, and what I love in my work is being able to explore a full-sided woman and not patronize her. Particularly with Jyn, it's such a rare opportunity to be able to play a female who's not just thinking about [romantic] relationships.

GLAMOUR: Do you feel any relief in not being the first Star Wars female lead? Does it feel like Daisy Ridley's Rey in The Force Awakens did a lot of work at putting gender wariness to bed?
FJ: Absolutely. And I hope now with Rogue One we're in a place where of course women are going to be leading action films as well as men. I feel like Sigourney Weaver in Alien and Jennifer Lawrence in The Hunger Games, and then obviously Daisy in The Force Awakens, all passed on the baton.

GLAMOUR: Have you suggested a change to a character?
FJ: I'm keen [to make sure] that the woman isn't asking too many questions. Sometimes that can be an issue—she's always asking questions and never speaking in statements.

GLAMOUR: Women at times finish our sentences on an up—
FJ: Delivering it up, as though you're not sure of what you're saying. Exactly. So you have to think: I know the answer to this question. I don't need to ask. I can state. But I've been very lucky. Directors I've worked with have been very amenable to changes.

GLAMOUR: Back to how you fight for yourself: Jennifer Lawrence and Patricia Arquette have advocated for equal pay. Do you feel comfortable talking about money? One report says you made twice as much as your male costars for Rogue One.
FJ: I want to be paid fairly for the work that I'm doing. That's what every single woman around the world wants. We want to be paid on parity with a man in a similar position. And I think it's important to talk about it…. It's brave of those women to come forward and make a point about it. Now younger actresses will have a confidence in those discussions with their agents and be able to say, "Can we make sure that I'm being paid the right amount for the work that I'm doing?"
I am trying to figure out if Felicity finishing the interviewer's sentence in the question about finishing sentences is a joke. I'm hoping it was. This isn't the first time she has touched on work ethics, she once cited the Kardashians for theirs. I tend to agree – whether I like a person or not, I admire a good work ethic. There are two other bits in the interview that are pretty cute.We find out Felicity's nickname is Tiny Warrior because she's petite but a fighter. At the end she discovers she has a Jyn Erso Lego blaster in her pocket because someone gave her the Lego figure and she carries it as sort of a talisman.
I can't disagree with anything Felicity is saying but moreso, I really appreciate the way she says it. I love how she redefined the Disney Princess. In her comments about parity, she recognized those who have spoken out without condemning those who haven't. As CB pointed out Monday, it is the individual's prerogative to chose their platform. When speaking about the desire not to sexualize Jyn, Felicity said that director Garth Edwards said from the start, "I want guys to watch it and be like, 'I want to be Jyn!'" When I read that, I felt the same way as I did when I read Felicity's answer identifying where female characters fall short, "Sometimes that can be an issue—she's always asking questions and never speaking in statements." These are the kinds of comments that will change the conversation.
Rogue One: A Star Wars Story opens on December 16th.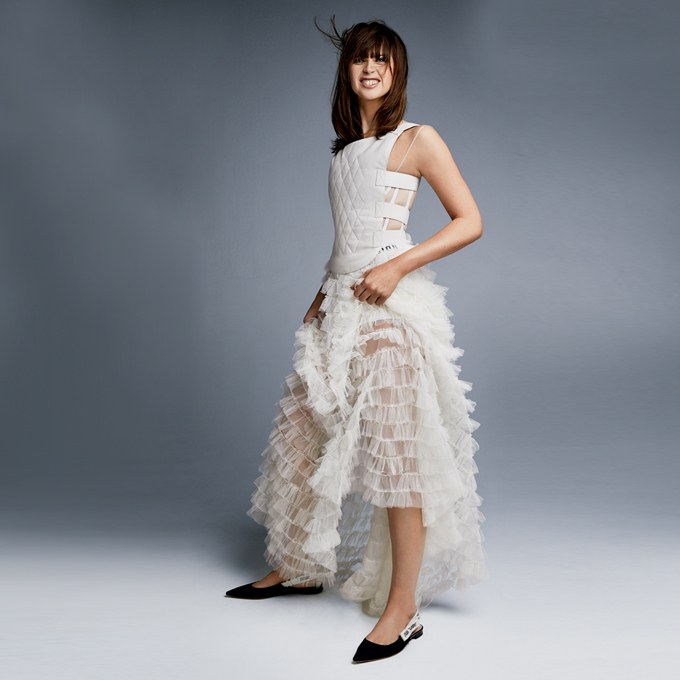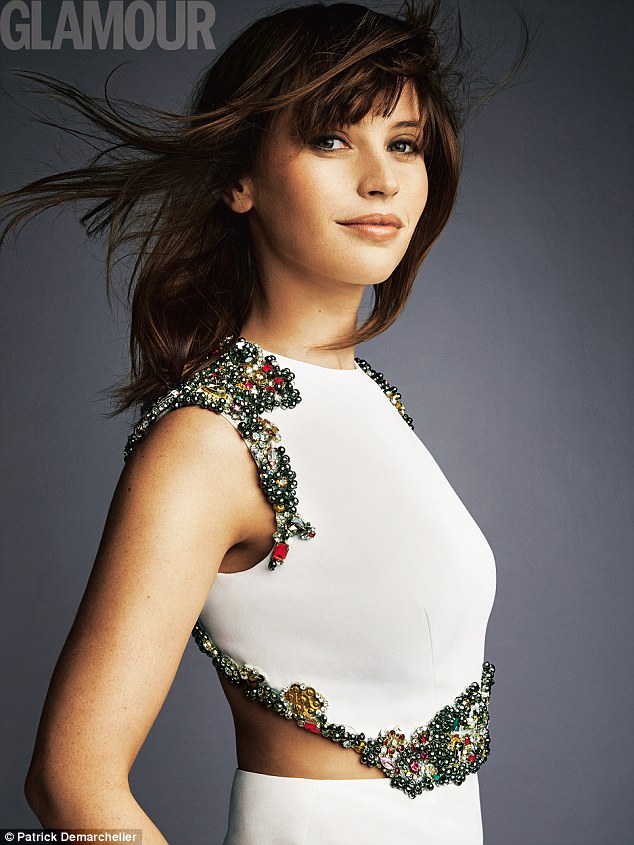 Photo credit: Patrick Demarchelier/Glamour