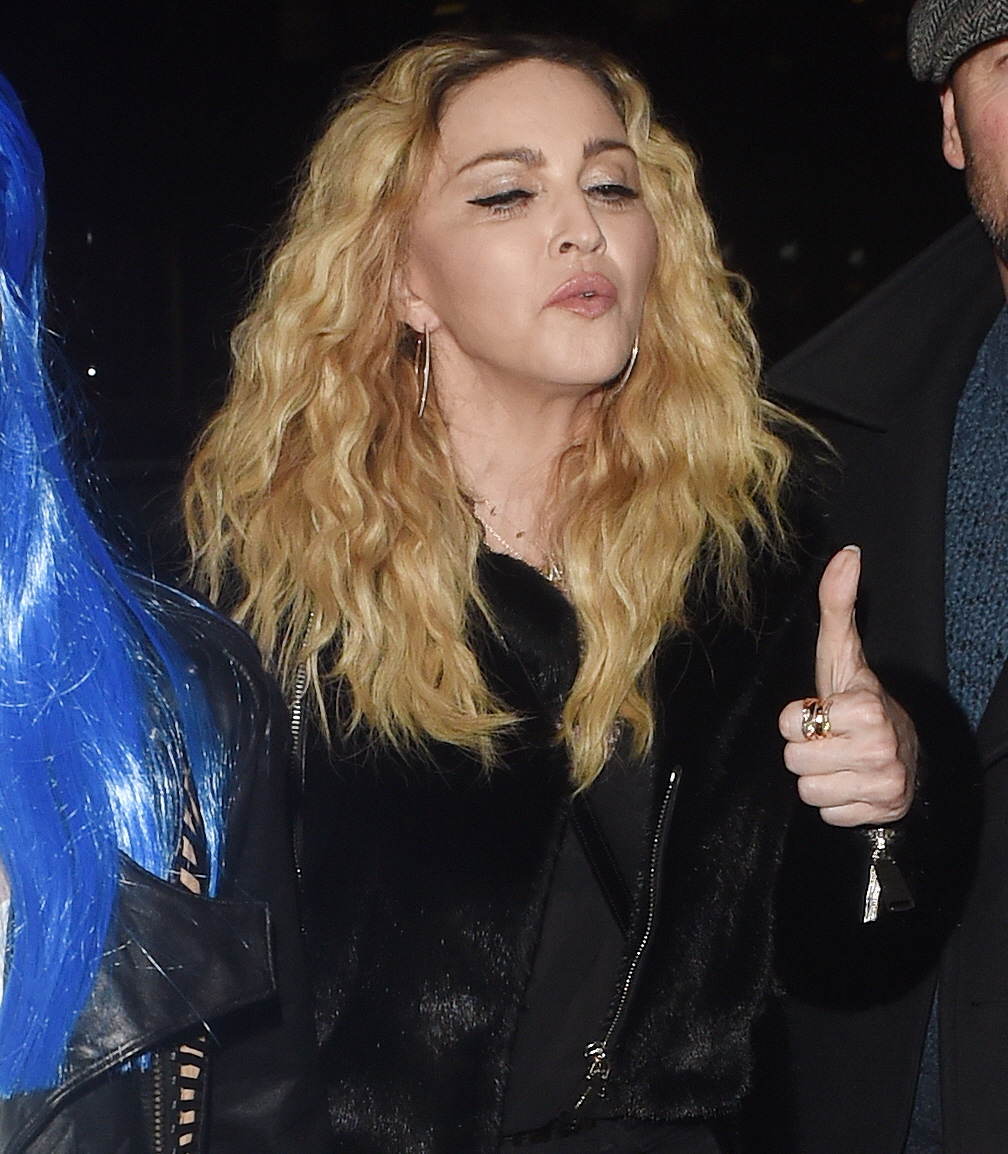 Madonna did a big fundraiser for her (massively shady) charity, Raising Malawi, in Miami on Friday. The idea was to host a fundraiser to coincide with all of the rich celebrities in town for Art Basel Miami. And it worked, because she got a lot of celebrities to show up, donate money, perform and bid on auction items. People in attendance included: Sean Penn, Leonardo DiCaprio, Alex Rodriguez, Ariana Grande, Dave Chappelle, David Blaine, Jeremy Scott, James Corden, Rosario Dawson, Courtney Love and more. Madonna performed music, and she also said words about Donald Trump.
During the auction and concert, Madonna made a number of provocative comments. The staunch Hillary Clinton supporter, who had promised to perform sexual favors for those who voted for the Democratic presidential candidate, revealed she'd "slept in Donald Trump's bed."

"Now don't go jumping to conclusions because he wasn't in that bed. He wasn't anywhere near that bed. He wasn't even in the room. I was just doing a photo shoot in Palm Beach for the Versace campaign in his house," she said, before criticizing the president-elect's sheets. "I just want to mention that his sheets were not 100 percent Egyptian cotton. Yes. Cheap slumlord. Here's what I'm wondering. Do you think he's going to have nice sheets in White House? Here's one thing I'm sure of. They won't be Egyptian cotton because we all know how he feels about Muslims, don't we?"

Some audience members gasped at the last remark, but the Queen of Pop wasn't done. She performed a slowed-down version of Britney Spears' "Toxic" and sang, "You know that you're toxic," as images of Trump appeared on a large screen behind her.

She also spoke passionately about the plight of Native Americans and asked why their land was being destroyed.

"It just really makes me feel ashamed, ashamed to be an American, ashamed to be a human being really," she said before launching into "American Life."
While I've given a pass to many celebrities for their vocal disappointment in the wake of Trump's victory or Trump's America in general, this one just feels… stupid? I don't know the right word for it, honestly. Like, I totally get what she's saying, but I also think that Madonna standing up in front of rich people at a charity event (for her own shady f—king charity) and saying she's ashamed to be an American doesn't do anyone any good.
As for the other gossip from the event… she did raise millions of dollars, and she successfully auctioned off several of her most prized personal possessions, like some pieces from her art collection, and some Herb Ritts photos taken of herself and Sean Penn on their wedding day. Sean Penn bid on several items, and he took the stage with Madonna at one point, doing a bit where he handcuffed himself to her. At one point, Madonna offered to remarry Sean if he donated $150,000. Then she told him, "I'm still in love with you." Yeah, girl. We know. We know because you have no chill.
Photos courtesy of WENN, Instagram.