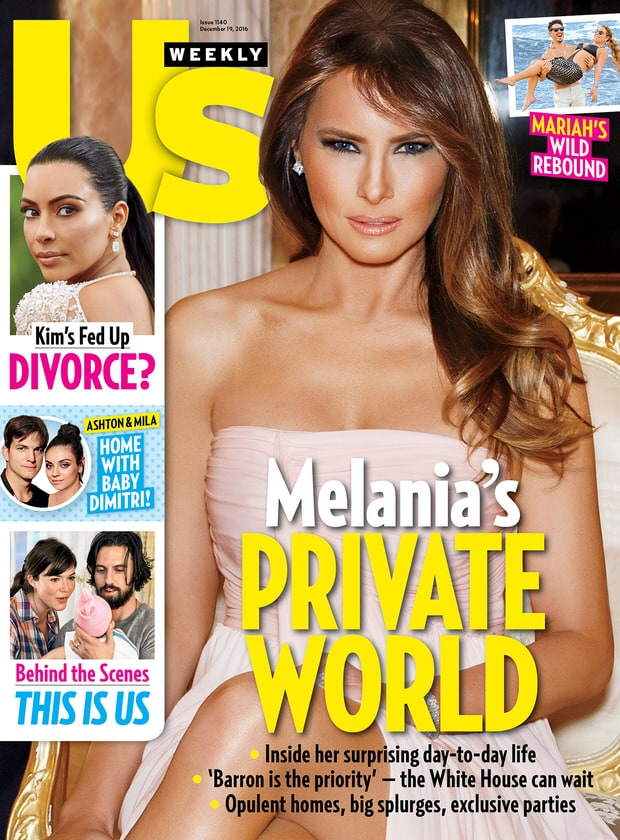 Two more fashion designers have come forward to say that they are open to dressing Melania Trump as First Lady. Carolina Herrera told Page Six, "Of course I will, as the first lady of this country I will. Of course. It is an honor to dress the first ladies of the country and it's something to do for the United States. It's not for myself. It's for the public." Which is sort of a bold way to think of fashion design, as a service to the country? Jean Paul Gautier also said words about how if Melania wanted him to dress her, he would, and how he thought Melania was "better dressed than Hillary." I disagree, but whatever. I think the list of designers who refuse to work with the Trumps is longer than the Trump-fashion-appeasers list, but I expect that to change in the coming months.
Meanwhile, the normalization of the Trumps continues unabated. Us Weekly put Melania on their cover this week, and the story is all about her life in New York… the life that she's not going to give up any time soon.
If Manhattan's Columbia Grammar and Preparatory School is in session, then Melania Trump is going to be there to pick up or drop off Barron, the 10-year-old son she shares with President-elect Donald Trump. And, oh yes, she's going to be looking good while she does it! The 46-year-old former model regularly rolls up to the school in a chauffeured Cadillac Escalade, security and all, and "comes in full hair and makeup," sources said in the new issue of Us Weekly. Right now, Melania's world revolves around Barron, which is why mother and son will remain at their home in Trump Tower in NYC at least until he can finish the school year — reportedly a decision that she made.

"Barron is the priority for now," Melania told the magazine in January. "He needs me at this age." Melania, who has said that she doesn't employ a nanny, proclaims to be "very involved in [Barron's] life."

During the school day is the time for Melania to work on her own projects, such as the jewelry line she once designed for QVC. She also makes time to watch her favorite show, How to Get Away With Murder, and to call Donald, since the avid Twitter user doesn't text or FaceTime, according to the story (!). Afternoons are filled with homework and after-school programs, while dinners, at least when Donald is home, are about a gourmet meal prepared by the family's private chef.

"We love to catch up on our daily life and have dinner," Melania said. "When you're together and you have great conversation, it's priceless."

Melania is likely to stay home at night. Stylist Phillip Bloch, an acquaintance of the Trumps, said, "Melania's not a big social girl."

Still, people who know the native Slovenian expect her to excel at hosting dinners and other events in Washington, D.C.

"Melania is an incredible hostess," a family friend told Us Weekly. "She does everything from orchestrating intimate dinners to bigger things."

The magazine reports that an aide of former first lady Laura Bush is helping Mrs. Trump to find an experienced social secretary to help. However, she turned to another president's wife for advice on raising a child in the White House: Michelle Obama.
Why are we even talking about Melania's White House staff when she's not moving into the White House any time soon, if she ever does? My guess is that for much of the next year, Melania will barely even be in DC. So maybe we should be talking about the staff Ivanka will use when she's the de facto FLOTUS.
Photos courtesy of Getty, cover courtesy of Us Weekly.