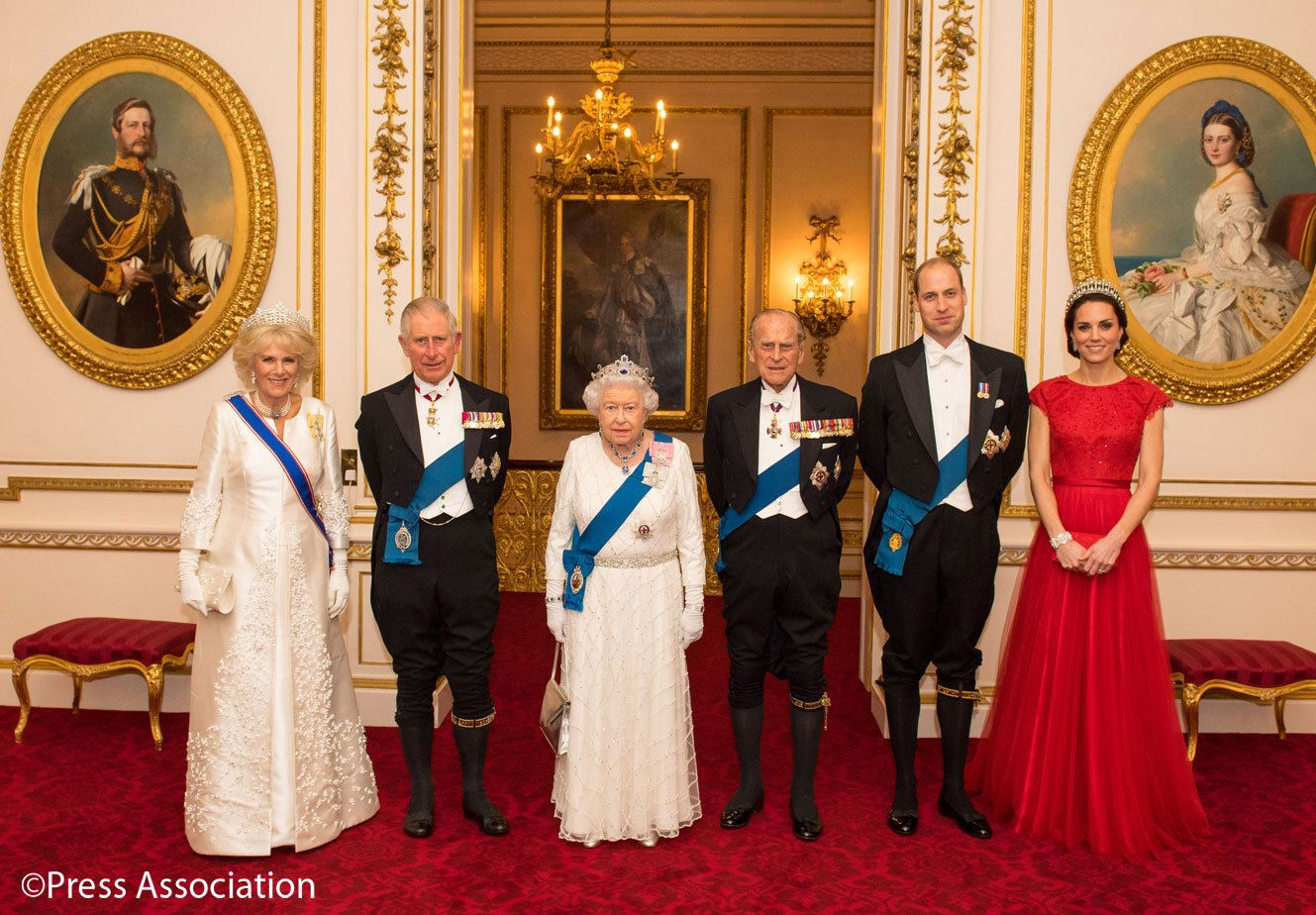 Well, well. The Duchess of Cambridge finally stepped out for an event last night. Kate must have made conditions for her appearance: no public speaking, no interacting with children, and she must be allowed to borrow some jewelry closely associated with Princess Diana. The Queen might have had her own preconditions too: no flashing, wear an appropriate gown, wear your hair back and no manic smiling. Once everyone agreed, Kate showed up to the white-tie reception at Buckingham Palace for some-odd one thousand assembled diplomats. This is one of the biggest events of the year for Buckingham Palace, and I believe this is only the second time William and Kate have ever attended.
The above photo, which was released by Buckingham Palace to the press, is the first-ever formal photograph of these six royals posed together at this event. As the Daily Mail noted, "It is the first time a photographer has been allowed to photograph the Royal Family at an event normally shrouded in secrecy, for reasons that no-one in the royal household can quite remember." LOL. It's super-secret but no one knows why. Look at the gentlemen in their fancy britches! So that's what white-tie-gala-wear looks like for the royals.
As for Kate's white-tie-wear, she decided to NOT wear white, the color chosen by the Duchess of Cornwall and the Queen. Kate chose to re-wear the same red Jenny Packham gown which she wore to the Buckingham Palace reception for the Chinese president in 2015. That sort of pisses me off, because when I first saw last night's photos, I thought people were just republishing the Chinese reception photos. Why repeat such a memorable gown to another reception at Buckingham Palace? And it's not like Kate doesn't have other (less memorable) gowns to repeat too. Plus, she shops so much, you know she's got gowns in her closet which she's never even worn. Why this particular repeat for this particular event?
As for the jewelry, Kate got to borrow the Cambridge Lover's Knot Tiara, which was given to Diana (by the Queen) as a wedding present in 1981. This is not the first time Kate has worn this particular tiara – she got to wear at last year's diplomatic reception too. Kate also wore some loopy diamond earrings which look borrowed to me. The Queen wore her sapphire and diamond suite (with matching tiara), and Camilla wore her Boucheron tiara and one of her favorite pieces, a pearl choker. Something else to note about the header photo: Kate is the only one without any orders, medals or honors to wear. Just goes to show you: the Queen isn't going to give her an honor for doing the bare minimum.
A beaming Catherine Duchess of Cambridge leaves a diplomatic reception #BuckinghamPalace #Royals #Tiara pic.twitter.com/3v6ANknd07

— Rookie (@royalfocus1) December 8, 2016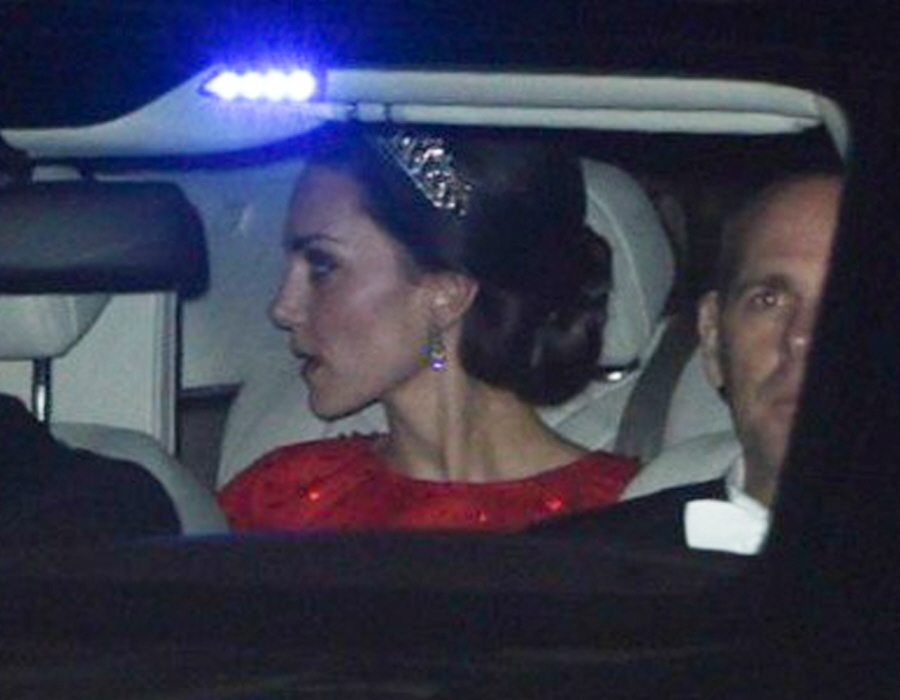 Photos courtesy of Press Association/Royal Family, Fame/Flynet and @royalfocus1 Twitter.