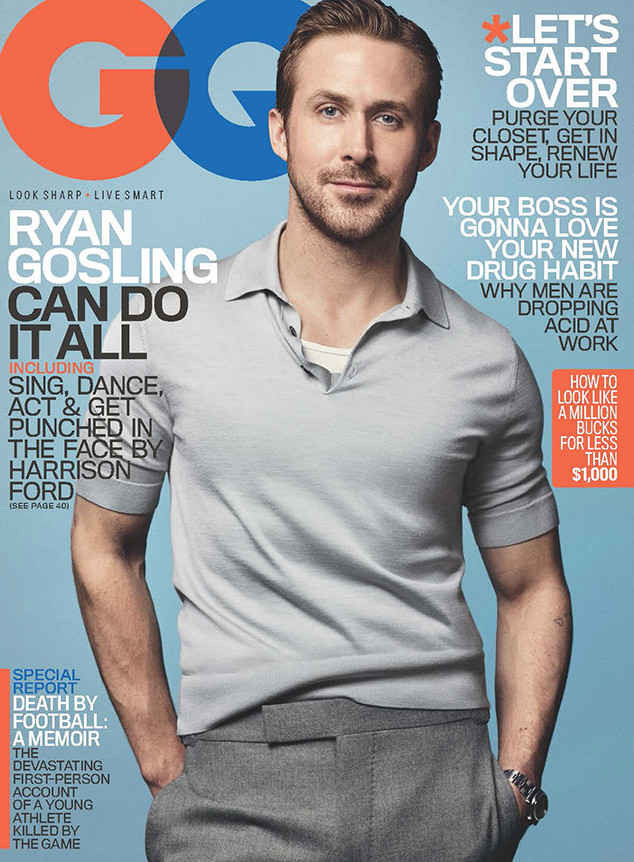 Ryan Gosling covers the January issue of GQ, and as I was reading it, I realized that it feels like it's been forever since Gosling sat down for a formal magazine profile. He's promoted his films over the past few years, but this is the first in-depth magazine cover story I've read with him in a while. You can read GQ's piece here – Gosling is promoting La La Land, which he discusses extensively, but there are also long-winded conversations about Canada, his childhood, his two daughters, Harrison Ford and more. Some highlights:
He was in special-ed classes as a kid: "I was doing very badly in school, and I just couldn't remember what the teachers were talking about. I felt like it looked easier for everyone else and it was harder for me. It affected my self-worth. I mean, they started feathering me into some special-education classes and things like that. I mean, I remember playing chess with a kid who was eating his queen, you know."

Harrison Ford punched him in the face while they worked on Blade Runner: "Yeah, he did. It was kind of, you know, a rite of passage. We were just doing a fight scene and, you know, it just happened. But what was funny was, when it was over, they brought ice for my face, and Harrison pushed me out of the way and stuck his fist in the ice. I asked him the other day where he got his sense of humor from—was it from his mother or his father? He said, 'Sears.' And he didn't have much time to shop around so he just had to grab one and get out."

Whether Harrison apologized for punching him: "He came by afterward with this bottle of scotch, and I thought, 'Oh, I knew this was coming.' And he pulled out a glass from his pocket, poured me a glass, and walked away with the rest of the bottle. So I guess he felt like he didn't connect enough to earn a whole bottle. You know, they say don't meet your heroes, but I would say the addendum to that is '…unless they're Harrison Ford.' 'Cause he's a cool motherf–ker."

The appeal of La La Land: "I think it's a cynical time and this movie has nothing to do with that."

His two daughters: "Your whole life, you hear what it's like to have kids, and all the clichés are true. I felt I knew that everything would be different, but until you experience that, there's no way to really know what people mean. I only know what it's like to have my kids. And in my situation, Eva's the dream mother, and they're dream babies, and it's like a dream that I'm having right now. I'm dreaming it all. So I feel so lucky…It's not something I really thought about, or even thought I wanted. I didn't have a romanticized idea of it.… It came about in a very surprising and kind of organic way. There was nothing kind of premeditated about it, you know. It just suddenly was: My life had changed. And thank God it did. There's a kind of chaos in it that I love. Maybe in my life I sort of put myself in situations that were chaotic, outside of my life. And now I have it at home, and I don't have to go looking for it."

Whether Esmeralda understands what daddy does: "I don't know. She was on set the other day and I was doing a fight scene with Harrison and she just yelled out in the middle of the take, 'You're winning!' Well, first she said, 'You're doing great,' and then Harrison stopped in the middle of the take and said, 'What about me?' "

What he thinks of his Hey-Girl appeal: "I think it's part of…um…America just finally realizing that there's a place called Canada. That it's nearby. And the people there are, you know, different but the same. And not just America's hat. We have free health care, education." So you're saying that what people see as perfect boyfriend material is actually…? "My Canadianness. It's the only thing that makes any g–damn sense. I mean, look at Trudeau. He's doing a lot of things, but things that are kind of natural parts of being Canadian. I don't think Canada is as shocked by what Trudeau is doing as the rest of the world is."
I'll admit it, I did go "aw" with what he said about his daughters. He does seem more centered now, and I think that's fatherhood for him. Like, he seems more comfortable in his own skin. As for his Canadianness being his biggest appeal… there might be something to that, honestly. And his Canadianness is looking even better these days because of the bloated orange monster.
He also talks about how much he loves to dance and he always loved to "dance like a showgirl" as a kid, which is charming. He dances a lot in La La Land, so he had to take dance lessons and learn how to hoof it, old-school. It's a good read!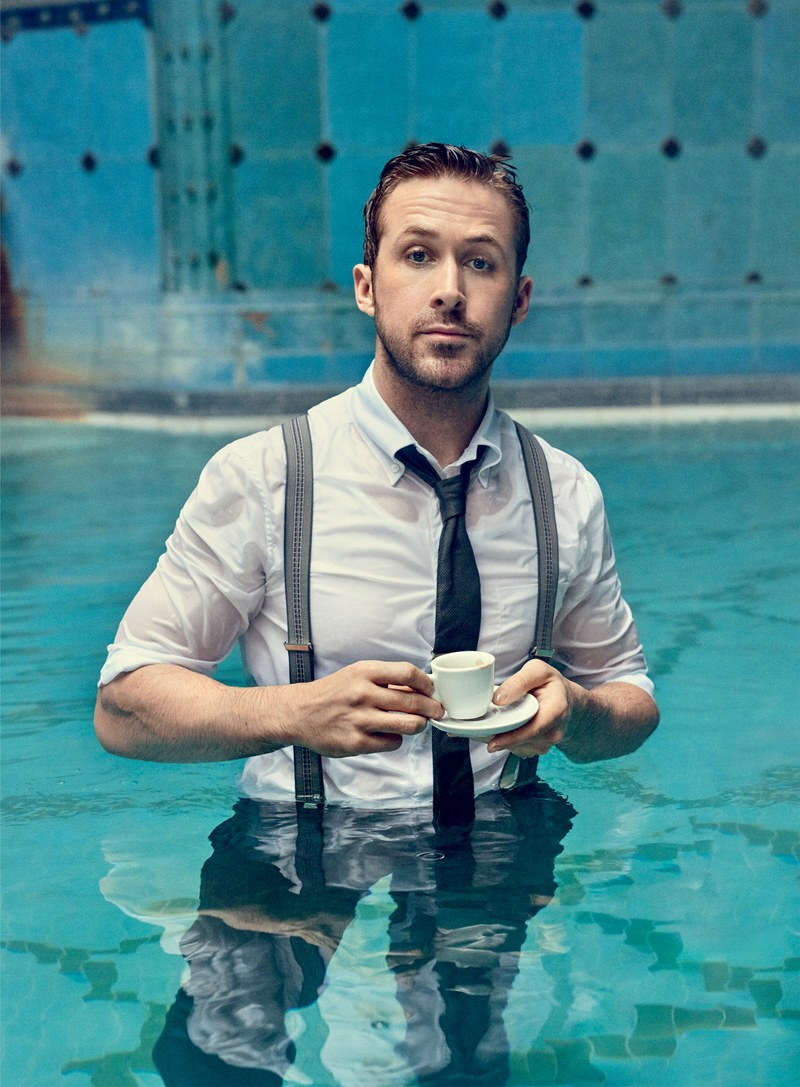 Photos courtesy of Craig McDean/GQ.