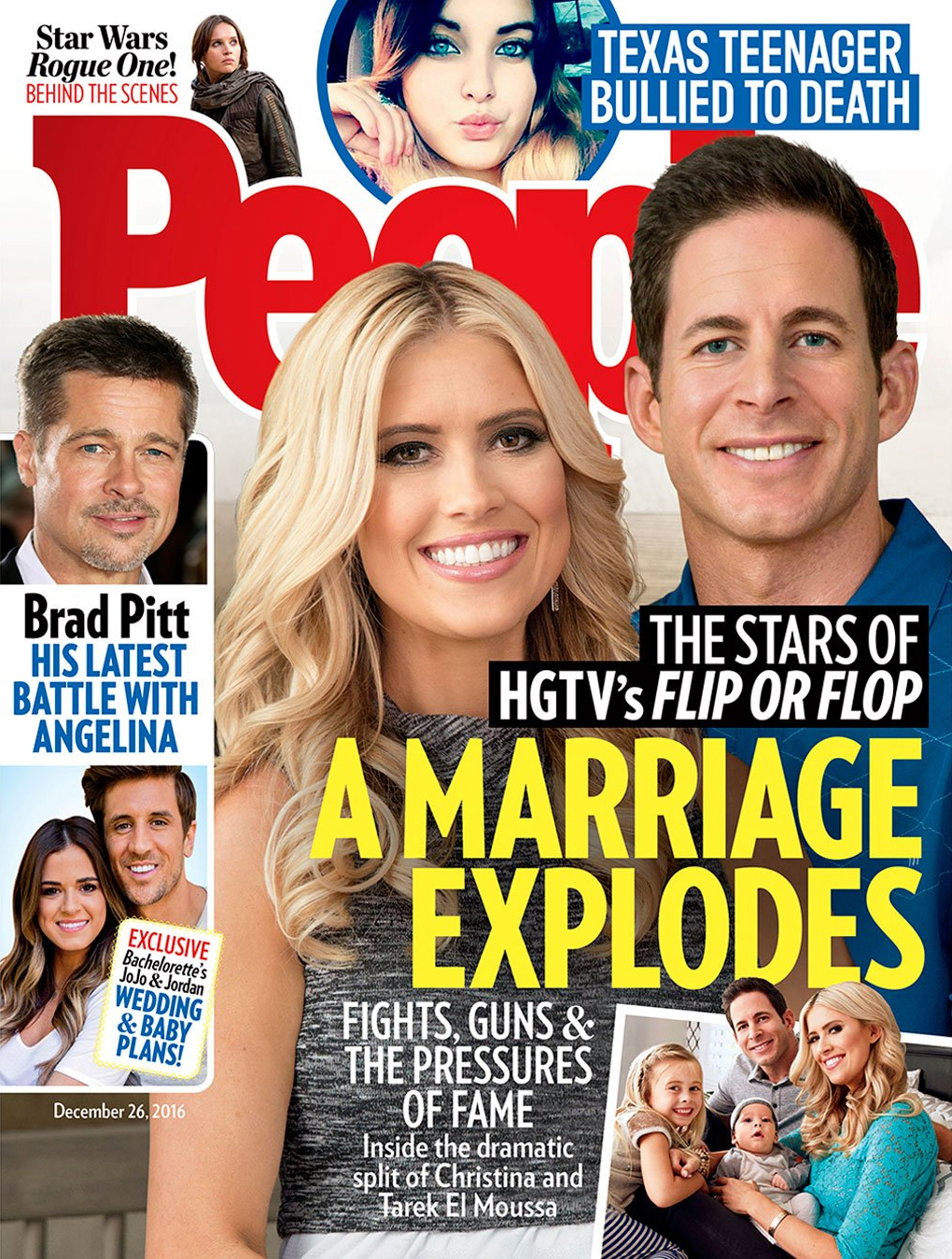 Earlier this week, the news broke that Tarek and Christina El Moussa had separated after some kind of explosive fight that involved firearms. The fight was back in May, and they've apparently been quietly separated ever since, although they have still been filming episodes of their popular HGTV show, Flip or Flop. I hate Flip or Flop and I dislike Christina and Tarek, but I'm more on Christina's side with this separation. If you told me that Tarek is a sweaty, creepy gambling addict who should not have access to guns, I would be with you 100%. Well, somehow Tarek and Christina have become this week's big scandal or something, because they got the cover of People Magazine. They gave an interview too.
Nearly eight months after they secretly split, Tarek and Christina El Moussa are opening up about their shocking separation and the bizarre incident involving a gun.

"We decided to separate while we reevaluated the next steps in our married life," the couple tells PEOPLE in this week's issue. "We believed this was in the best interests of the children and the best way to determine a path forward."

Though they announced their split on Monday, the Flip or Flop stars hadn't been together since May 23, when a "crying and shaking" Christina called police after Tarek fled their California home with a gun in his backpack following an altercation. He then hopped the fence in their back yard and took off into the Chino Hills State Park as 11 police cars and a helicopter were dispatched. Once he was spotted, the reality star complied with police orders and now the couple say his "intentions were misread."

"Tarek was going on a hike and took a gun for protection from mountain lions, bobcats, coyotes and rattlesnakes," they add. As for his weapon collection (which includes five firearms kept "unloaded and in a locked gun safe") Tarek agreed to turn them over to police for 30 days. Since then, both 35-year-old Tarek and 33-year-old Christina have been living apart and are trying to move on.

"We have both dated other people following the separation, but neither of us is ready to announce anything in terms of another relationship," they say.

Despite their separate lives Tarek and Christina have no plans to split up their many businesses.

"We plan to continue our professional life together by being professional, by doing our jobs well, by being prepared and by working hard," the couple explains. Currently filming for HGTV, they're also releasing a book, Flip Your Life, in March.

For now, the couple says they has no plans to official file for divorce and their two children Taylor, 6, and Brayden, 16 months, are their No. 1 priority. "The most difficult part of the decision to separate was the kids. We want the best for them, and we're doing everything we can to ensure that."
His intentions were misread? Yeah, I'm sure that's why Christina got the hell away from him immediately following the fight, right? I mean, I'll cut her some slack – best case scenario, she's trying to ensure that her kids have a good relationship with their father, and she's trying to dial down the drama. Worst case scenario? Um, she's only thinking about the money. It would not surprise me at all if they're in debt up to their eyeballs, and the only consistent money they have coming in is through their HGTV deal. They're worth more together than apart and they're putting their brand before anything else. Maybe. Possibly. Who knows?
Christina got pap'd on Tuesday night, having dinner with a girlfriend. That's her daughter Taylor.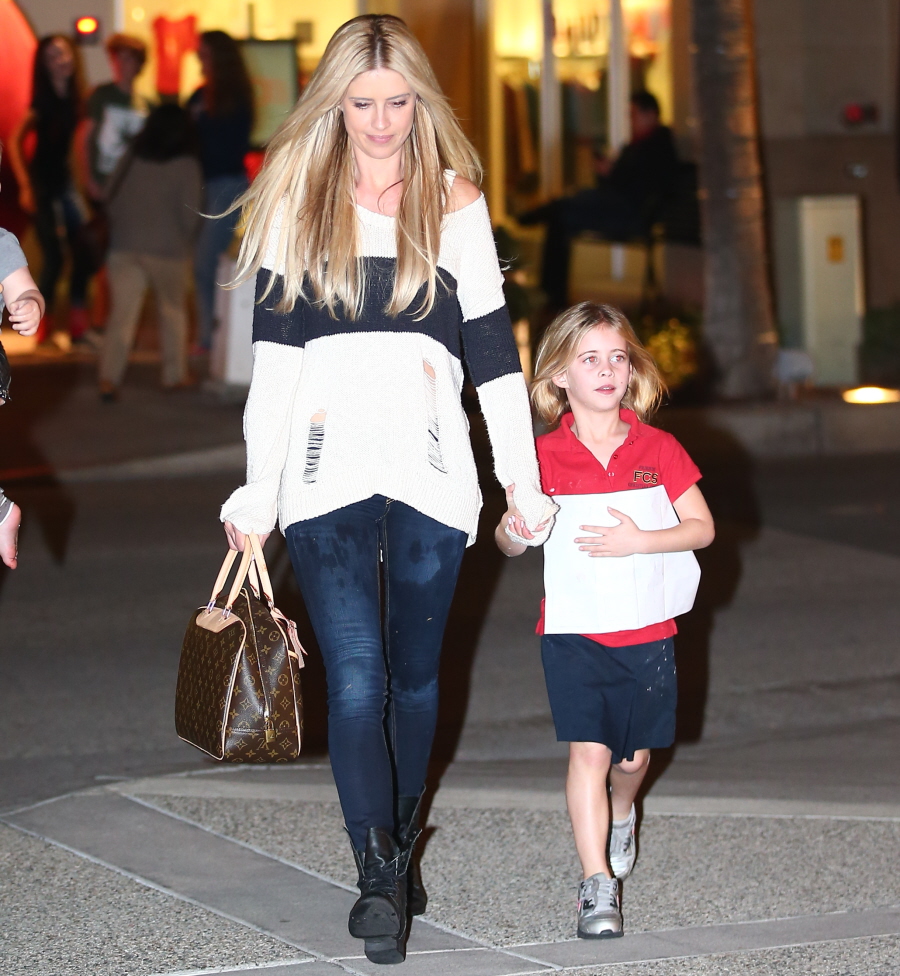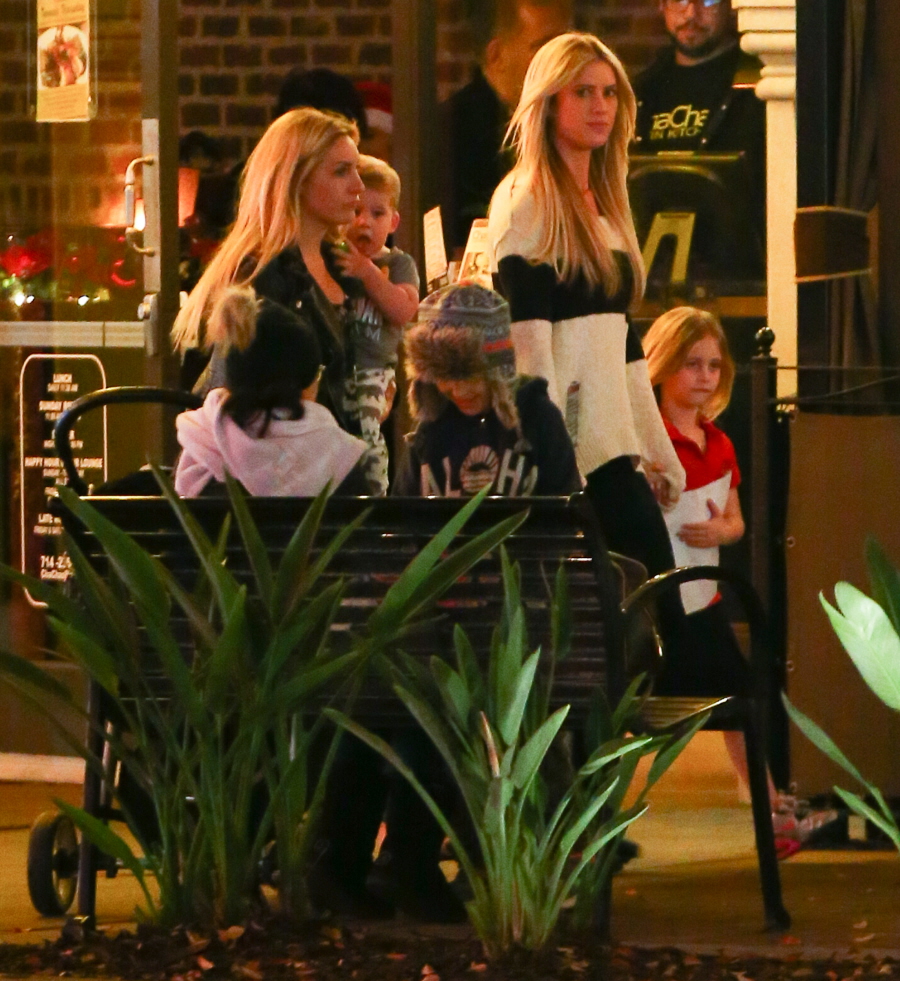 Photos courtesy of Fame/Flynet, cover courtesy of People.