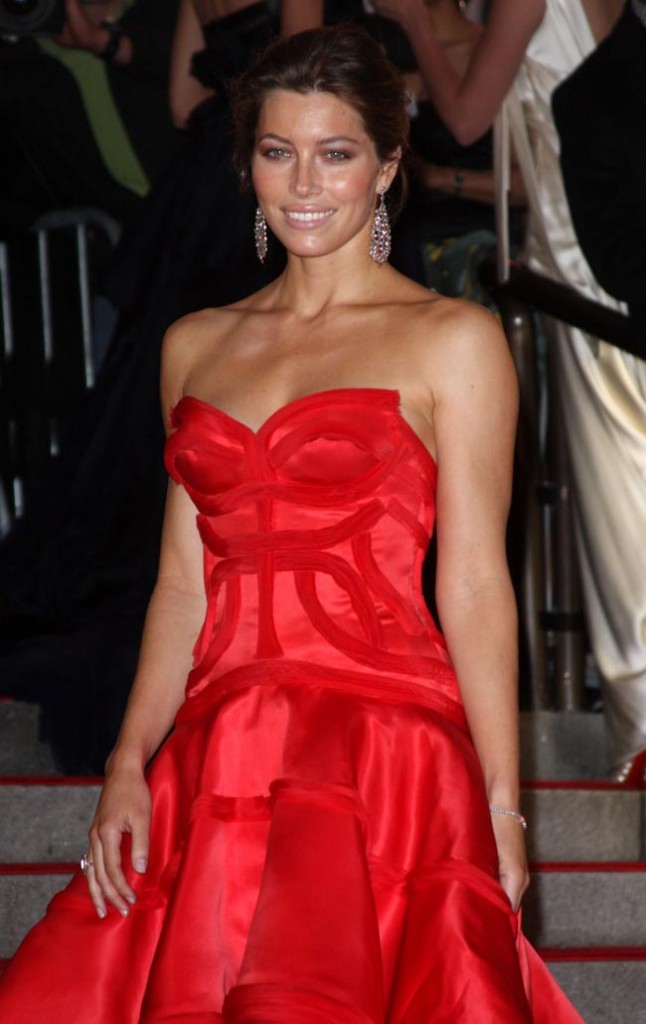 Jessica Biel has a lot to say about the state of career in next month's cover interview in Allure (story via US Weekly). When asked if her "good looks" hurt her career, Biel says "Yeah, it really is a problem. I have to be blunt." Oh, no. So it's because of Jessica's radiant beauty that her stripper role in Powder Blue went straight to video? And it's because she's just so gorgeous that her biggest job this year is doing musical theater in Los Angeles? Biel tells the magazine that she just wants "an opportunity" but doesn't understand why casting directors won't even meet with her – "But if you don't want to even see me — that's hurtful. And why? You know nothing about me!"
Jessica Biel says her good looks are hurting her career.

"Yeah, it really is a problem," Biel tells the June issue of Allure magazine. "I have to be blunt."

The actress — whose latest film, Powder Blue, (in which she plays a stripper) is going to straight to DVD — isn't handed plum roles.

"I'm in there with everybody else, fighting for the good parts. Yes, The Illusionist has made a difference — but a huge, massive difference, so I can pick and choose what I want? No."

Biel, 27, covets the careers of Scarlett Johansson and Natalie Portman.

"I just want an opportunity. If you don't like the audition, don't hire me!" she says. "But if you don't want to even see me — that's hurtful. And why? You know nothing about me!"

Biel also opens up about dating the more-famous Justin Timberlake — and the attention that's brought her.

"I mean, you love who you love! It's not like you meet somebody one day and say, 'OK, I'm not going to put up with his fame!' or 'Yes, I am going to put up with his celebrity,'" she says. "You can't choose that. It just happens to you."

Biel says she hasn't "moved out to New York City full-time" with Timberlake. "I'm here because I'm interested in theater," she insists.

She's not sure they'll ever wed. "I have no idea if I want to get married," she says. "I have a lot to do careerwise."

As for that emerald ring that was reportedly a gift from Timberlake? "I bought that ring for myself," Biel affirms.
[From US Weekly]
Was this "too beautiful" talking point issued to all of the young Hollywood actresses? Because what Jessica's saying seems very similar to Megan Fox's obscene tirade about how people tell her she's "too beautiful" for certain parts. What is with these girls?
I'll give them the benefit of the doubt for a moment, and accept their premise. So Jessica Biel is so gorgeous that directors look at her and say to themselves "There's no way a girl that stunning could play the girl-next-door in this romantic comedy I've got." That's the problem I have accepting Biel and Fox's premise, though. Hollywood consistently miscasts actresses in those standard girl-next-door roles, or vixen roles, or best friend roles. All of the young Hollywood girls are probably auditioning for the same parts of "The Girl" in whatever interchangeable film. Whoever gets the part probably came cheapest or had the least professional drama. And if Biel is talking about the heavier acting challenges in dramas and Oscar-bait, well that has nothing to do with beauty and everything to do with talent.
Jessica Biel and Justin Timberlake are shown at the Costume Institute Gala on 5/4/09. Credit: Fame Pictures