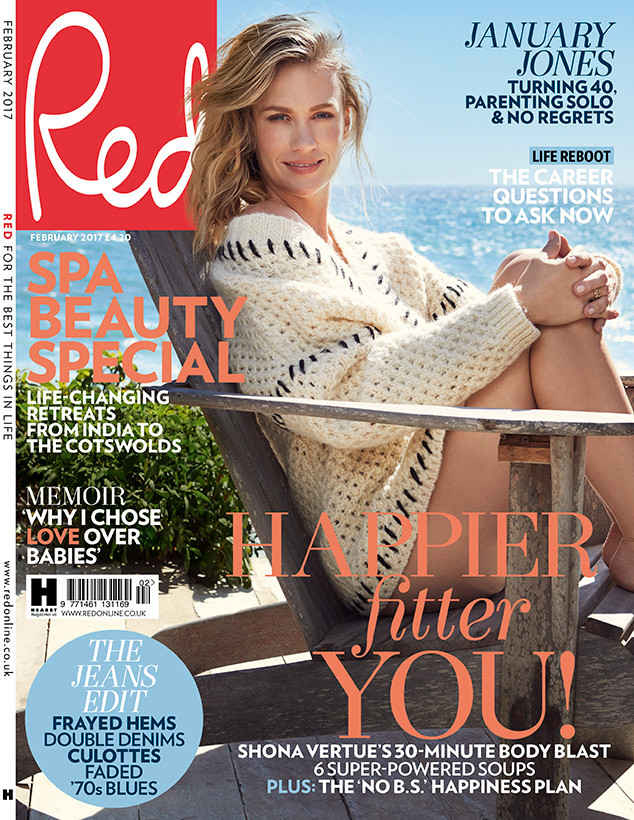 January Jones covers the latest issue of Red to promote her TV show, The Last Man on Earth. She stars with ex-boyfriend Will Forte – they dated for something like a year, but I'm pretty sure they're over now. It's been a while since I've read a January Jones interview, and I was surprised to discover that she's chilled out a bit. Maybe she grew out of her icy-bitch-realness phase, or maybe motherhood has chilled her out a bit, but she comes across as very down-to-earth and relatable in this piece. She seems to live a quiet, hipster life in Topanga Canyon with her son Xander and her Yorkipoo, Max. You can read the full Red piece here. Some highlights:
Moving to a gated community in Topanga Canyon three years ago: "It's like in a Spielberg movie. The adults have more drinks and the kids are dirtier… but it's safe. Photographers don't follow us up there, so Xander has a pretty normal life now."

Giving birth to Xander as a single mother: "My younger sisters [Jacey and Jina] and my mum and my doula were in the room. My brother-in-law and my dad were next door. I only wanted women with me. Female energy. And I was embarrassed – your body does all these crazy things. It was a 30-hour process but it was awesome. I'd love to do it again."

Xander is surrounded by female energy: "Maybe I should get a manny soon. But Xander has a lot of bro time with the neighbour dads and my dad, who is super young. It's good to have strong women around a man. To teach him to respect women. He doesn't have a male person in his life saying 'don't cry' or 'you throw like a girl'. All those sh-tty things dads accidentally do." Her male friends "want to be around him because he's such a fun kid", but she's candid about the fact that she doesn't have a partner. "People want to set me up all the time and I'm like, 'No way.' If I meet someone and we go out, then fine, but I'm not going to go look…" She makes a puke noise and grins.

She belongs to a Fantasy Football League with the Mad Men boys: "We don't play for money. If we win, we just get to gloat. It's how we keep in touch."

Turning 39: "I've done so much more than I ever would have hoped for. I don't have a 40 by 40 list. I have no New Year's resolutions. Everything I've done is everything I would have dreamed of. I have had the most wonderful, unexpected, joyous life. Bizarre to me. Maybe because I never asked for it."

Her average weekday: "It's just me and a nanny. No one lives in the house with us. I go to work, always leave at 5pm, come home, let the nanny go and then I'm mum. I put Xander to bed. Watch two hours of reality TV, then go to bed myself. It's escapism. The Bachelor, Bachelorette, The Housewives of Whatever – all of them."

The men she likes: "The moment I see someone who I think is cute, I google him and, oh, he's 25, and I'm thinking, what is my problem?! My sister, too. She lives in LA and we both like tattoos, guitar, kinda dirty…" I say, what's wrong with younger rocker men, surely the sex would be great? And she says, "Is the sex great though? Do they know what they are doing? I guess you can teach them. I guess they are mouldable. But I want a manly man in flannel, with a beard and an axe. But then there's always something wrong with him. Like he's a Republican."

She doesn't need a partner: "Something else would suffer if a relationship came along. Yes, I'm willing to make that sacrifice for the right relationship – I just don't feel I need a partner. Do I want one? Maybe. But I don't feel unhappy or lonely. It would have to be someone so amazing that I would want to make room. Someone who would contribute to my happiness and not take away from it. I realise I have very high expectations and will probably have to compromise – but my life is so full. It's not like, 'Aww, I wish I had a man.' After I had Xander, I went on a couple of dates and I was like, 'I'd rather be at home sleeping, or watching TV or hanging out with my kid.'"
I think getting away from the paparazzi has been good for her. Even though I miss gossiping about January – God, she used to be so much fun! – she does sound happier and more stable these days. I like what she says about not needing a partner – some women actually do feel that way, and some single moms feel that way too. That being said, I could totally see her with some 20-something beardy hipster-rocker.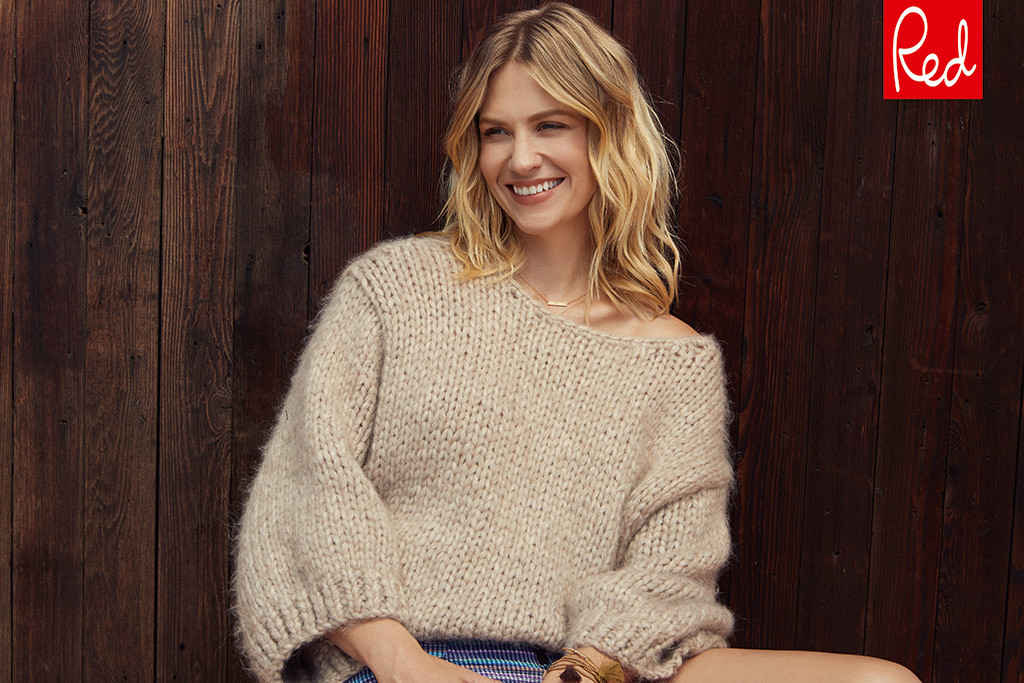 Photos courtesy of Paul Empson/Red.