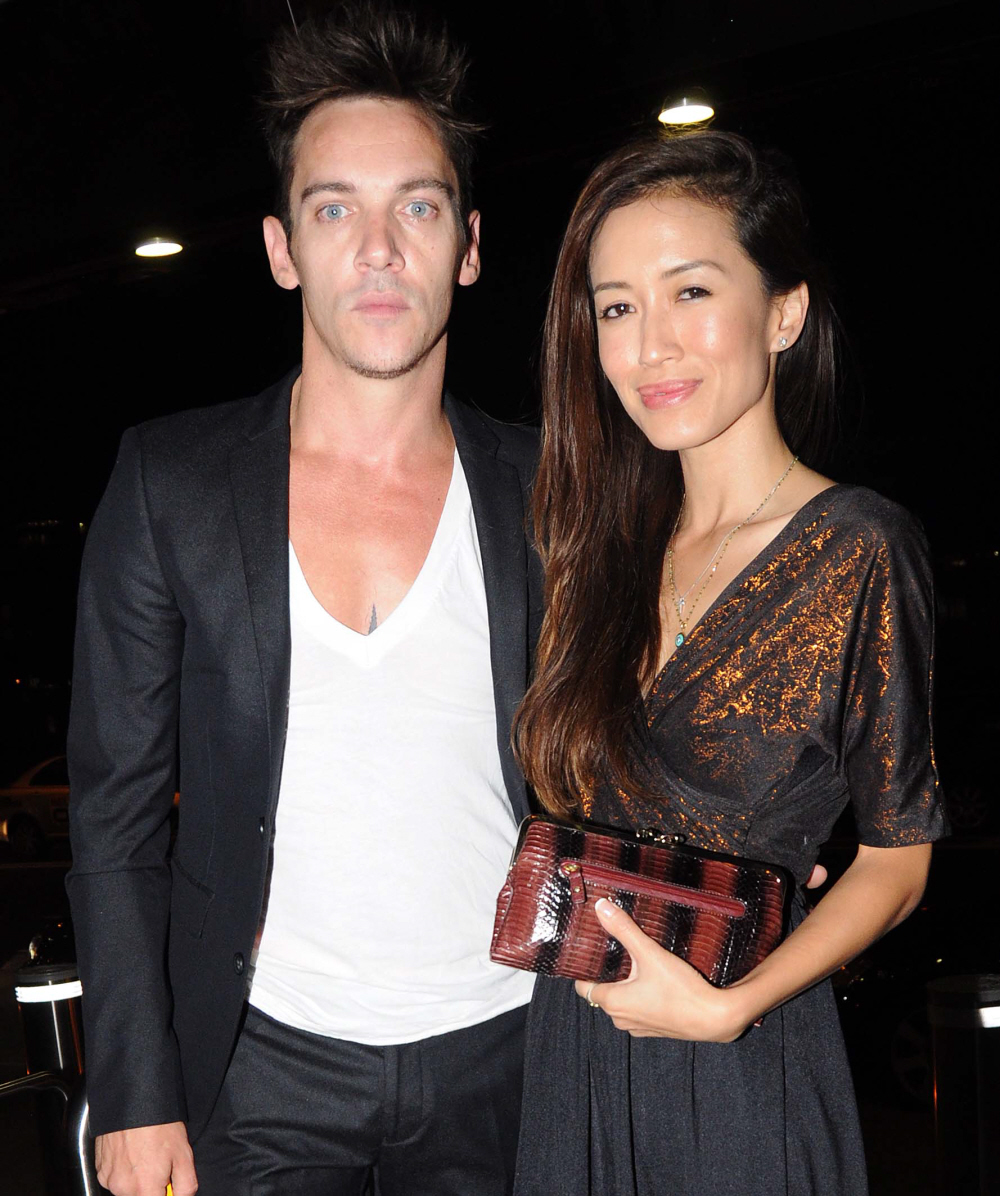 I have not covered anything related to Jonathan Rhys Meyers in more than four years. How does that even happen? I think I stopped covering him and paying attention to him when it was clear that he was totally off the rails, abusing drugs and alcohol and self-harming. He ended up getting clean again, then I remember when he seemed to have a bad relapse a few years back. Since I haven't been paying attention to him, I was pleasantly surprised to discover that he's currently sober and clean and in a functional relationship with a woman named Mara Lane (great name). They've been together since 2014 (around the time he started to get his life together) and they got engaged in December 2014. And here's something interesting: they welcomed their first baby together a few weeks ago!
Congratulations to Jonathan Rhys Meyers! E! News can exclusively confirm the hunky Irish actor and his fiancée Mara Lane welcomed their first child into the world, a bouncing baby boy named Wolf Rhys Meyers, on December 15, 2016. We learned Lane gave birth to her son in the comfort of the couple's home, and he was delivered by a midwife. News of the couple's pregnancy was first reported in September, and since then, Mara has been busy sharing adorable pregnancy photos on social media.

For example, over the holidays, the film producer posted a photo holding her baby bump while posing in front of a Christmas tree. "Our other official prego wego dress. Found in #Amsterdam #Noordermarkt for 15 euros," she wrote. "Every other day I dunno as I have other dresses but Baby likes these ones. [He] is super conscious, connected & aware. Has not let me eat much meat entire pregnancy either … has me thinking about things I'd rather live in ignorance to. Angel alien baby about to rock my world I already know #thankful for my soon to be best teacher and friend."
She gave birth to a Wolf at home. I think that's like Peak Hipster. Or would Peak Hipster be giving birth underneath a willow tree in a butterfly sanctuary to a baby named Scarf Echo McBeardson? In all honesty, Wolf Rhys Meyers isn't that bad. It's a mouthful and there's no "flow" to the name, but it's okay. As for the rest of it… well, I'm glad that Jonathan seems to be doing a lot better. I hope fatherhood agrees with him.
Photos courtesy of WENN, Instagram.