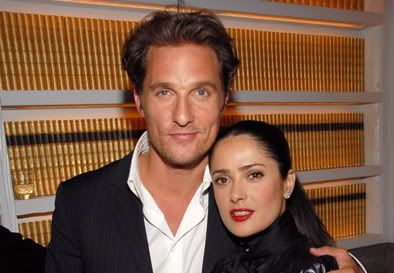 Matthew McConaughey was said to be wearing a gold band on his left ring finger in his Wednesday morning appearance on "Live with Regis and Kelly." This comes after speculation that his girlfriend of a year, Penelope Cruz, is pregnant. McConaughey wore a ring on his right hand to the "Failure to Launch" premiere. Life and Style reported that McConaughy was sporting a wedding ring a week ago, but they used a horizontally flipped photo to prove it.
Salma Hayek showed up at the "Failure to Launch" after party in New York last night. She looks gorgeous as always. We just wish Penelope could have made it.
Three more after the jump.