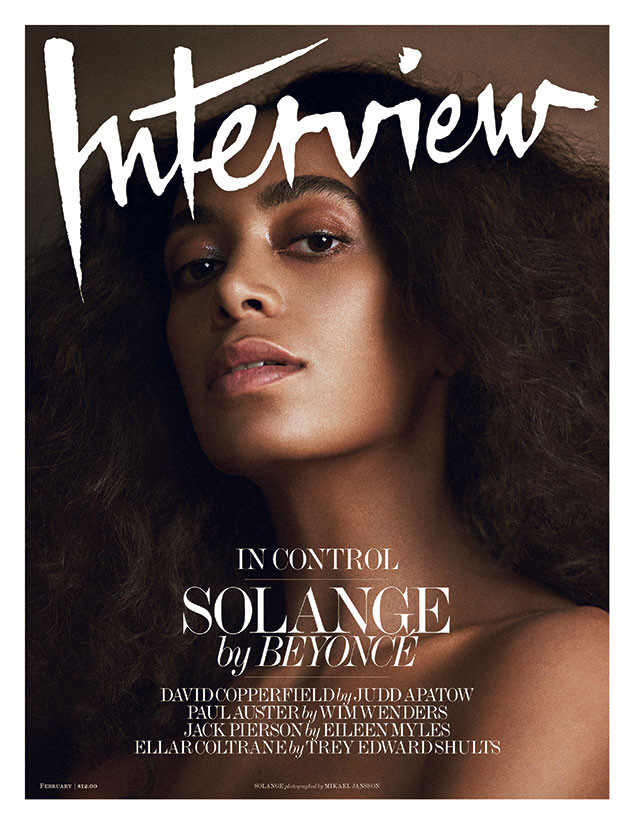 I didn't talk much about Solange Knowles' album, A Seat at the Table, last year because I wasn't really into it? I feel mean for saying that. I listened to some tracks and determined that I wasn't into it so I just kept my mouth shut. "Cranes in the Sky" is an okay song and the music video is beautiful, so I'll say this: I think Solange is underrated as a visual artist and as a fashion icon. She has a better eye for aesthetics than her big sister Beyonce. U MAD? Whatever. Anyway, Solange covers the new issue of Interview, and wouldn't you know? Beyonce conducted the interview. Beyonce barely speaks to the press anymore, but Bey will show up for her little sister in a print interview. Their dynamic is fascinating and I won't be able to really capture the little nuances of their sisterly bond (and one-upmanship) in these excerpts, so I would just suggest you read the full piece if you're fascinated by the dynamics of the Knowles sisters. Here are some highlights from Solange:
Writing her music, doing everything by herself: "I think it's been an interesting thing to navigate, especially watching you do the same in all aspects of your work: Society labels that a control freak, an obsessive woman, or someone who has an inability to trust her team or to empower other people to do the work, which is completely untrue. There's no way to succeed without having a team and all of the moving parts that help bring it into life. But I do have—and I'm unafraid to say it—a very distinctive, clear vision of how I want to present myself and my body and my voice and my perspective. And who better to really tell that story than yourself?

Producing her album, being involved at every level: "One of my biggest inspirations in terms of female producers is Missy. I remember seeing her when you guys worked together and being enamored with the idea that I could use myself as more than a voice and the words.

Singing falsetto, speaking in a controlled, calm voice on her album: "It was very intentional that I sang as a woman who was very in control, a woman who could have this conversation without yelling and screaming, because I still often feel that when black women try to have these conversations, we are not portrayed as in control, emotionally intact women, capable of having the hard conversations without losing that control.

Growing up in Texas, being a womanist: "People were warm. People were friendly. But the biggest thing that I took from it is the storytelling. I feel like, in the South in general, but specifically in our world growing up, people were expressive and vivid storytellers. In the hair salon or in the line at the grocery store; there was never a dull moment. I feel so happy that I got to grow up in a place where you could be the pastor's wife, you could be a lawyer, you could be a stripper on the side, you could be a schoolteacher—we saw every kind of woman connect on one common experience, which was that everyone wanted to be great and everyone wanted to do better. And we really became womanist because of that. And that's the thing that I carry with me the most, being able to go out into the world and connect with women of all kinds. I was just having a conversation with someone about The Real Housewives of Atlanta, and I was saying how I love that show and think it's so brilliant because it's the woman that was represented in my childhood in Houston. It makes me feel so at home.

Misconceptions about strong-womanhood: "Oh my God, they're endless! One thing that I constantly have to fight against is not feeling arrogant when I say I wrote every lyric on this album. I still have not been able to say that. That's the first time I've actually ever said it, because of the challenges that we go through when we celebrate our work and our achievements. I remember Björk saying that she felt like, no matter what stage in her career, if a man is credited on something that she's done, he's going to get the credit for it. And, unfortunately, that still rings true. It's something I've learned so much about from you, getting to be in control of your own narrative. And, at this point, it should be an expectation, not something that you're asking permission for. I feel like I'm getting closer to that, not taking on all the baggage when I have to just stand up for myself and say, "No, I'm uncomfortable with that." And I really appreciate you and mom being examples of that, being able to speak about our achievements, these things that deserve to be celebrated, without feeling bashful about it.
Throughout the interview, you can feel that Beyonce is super-proud of Solange and very interested in her thoughts on everything. They are obviously very close. I like what Solange has to say about being a "womanist" and her fears of coming across as arrogant or a control freak, both labels often given to Beyonce for the control she's exercised over her career. That being said, Beyonce screamed and yelled on Lemonade, black-woman-stereotypes be damned. And I think that's because Beyonce was and is in a different place in her career and life. And after all, what's wrong with being angry?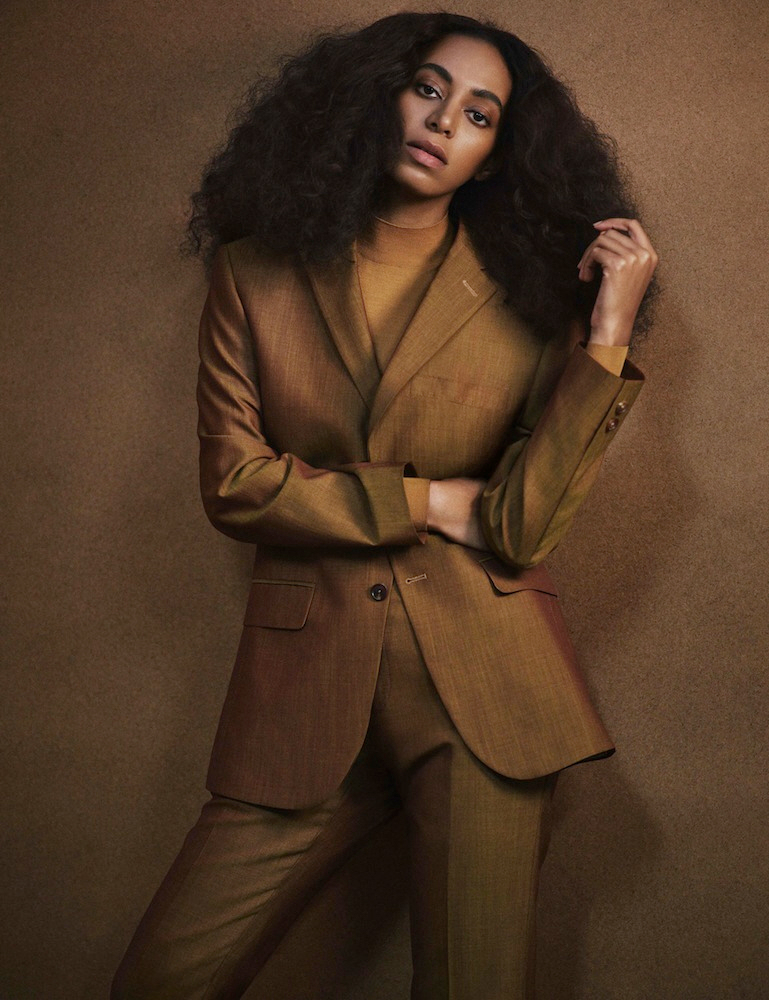 Photos courtesy of Interview.