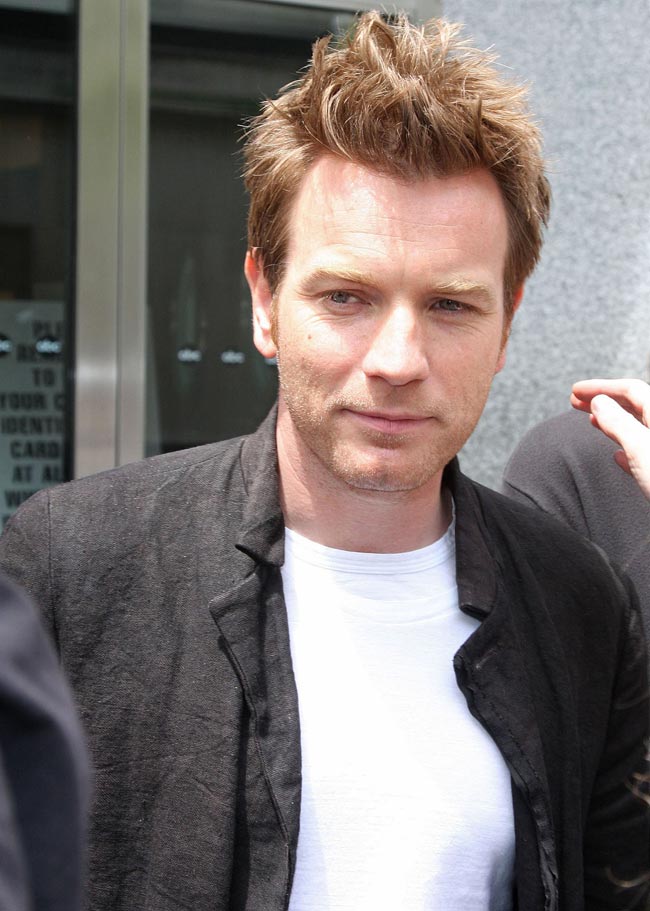 We can't expect all of Ewan McGregor's interviews to have the simple beauty of "Who's Megan Fox?" But Ewan still gives a great interview, and his cover piece for June's Men's Health magazine (story via People) is pretty decent. Famously private about his marriage, Ewan even opens up about his wife of fourteen years, Eve. He's a little smug about his marriage, actually, kind of giving the impression of "We don't have to work at our marriage, it just comes naturally." But I forgive him – if I was married to him, I wouldn't be complaining, so well done Eve. He also talks a lot about all of the bad habits that his given up over the years, including smoking and drinking. Apparently, he had problems with doing either in moderation, and he says that visualizing the worst the could happen helped him quit.
Angels & Demons costar Ewan McGregor has demons – and angels – of his own.

"It's interesting that people used to think that smoking was glamorous," the Scotsman, 38, speaking to Men's Health for its June issue (on sale next Tuesday), said of one of his demons, that of his addiction to lighting up. "I used to think it was pretty cool."

Then he realized that smoking is lethal, and he kicked the habit. As he did drinking. How? "What matters most with any regimen, whether it's to lose weight or stop drinking or smoking, is your willingness to seek help and your desire to say no more. The voice in your head that says 'I chose not to' is what ultimately makes the difference between not changing and making changes that last."

He admits breaking the habit wasn't easy. "I wasn't someone who could smoke or drink in moderation, and I recognized that those things would kill me. I started visualizing the doctor telling me that I had cancer from smoking or that I was extremely ill because of how much I'd been drinking. What kind of regret would I have if I had to tell my children or my wife that I was dying because of something I could have done something about? I didn't want to be that kind of man."

Enter the angels. Of his happy, 14-year marriage to the former Eve Mavrakis, a French production designer with whom he has three daughters (ages 13, 8 and 7), McGregor says, "From the moment Eve and I met it was right, and I hesitate to explain the reasons behind that."

Pressed for pointers, he responds, "If you spend too much time 'working' on your relationship, I don't think it's a relationship worth being in. With Eve, I've never had to work. We just have it. I'm in it, she's in it, and that's that … If you're attracted to someone, you're comfortable with them and have mutual respect, the rest will take care of itself."
[From People]
Sometimes I think everything must be magical around him. He just seems so effortlessly cool, like he's always the best place to be. I know I sound like a total fangirl (and I am), but perhaps the reason his marriage is so easy is because his wife looks over every morning and thinks "Hell yes!"
As for the drinking and smoking part, I'd read before that Ewan had stopped drinking many years ago. He's one of those people who don't like to use the word "alcoholic", but instead describes his drinking problems as something like "it was getting out of hand". Gerard Butler is the same way in the few interviews where he describes his drinking problems.
Ewan McGregor is shown outside the studios at ABC on 5/13/09. Credit: DISCIULLO/bauergriffinonline.com