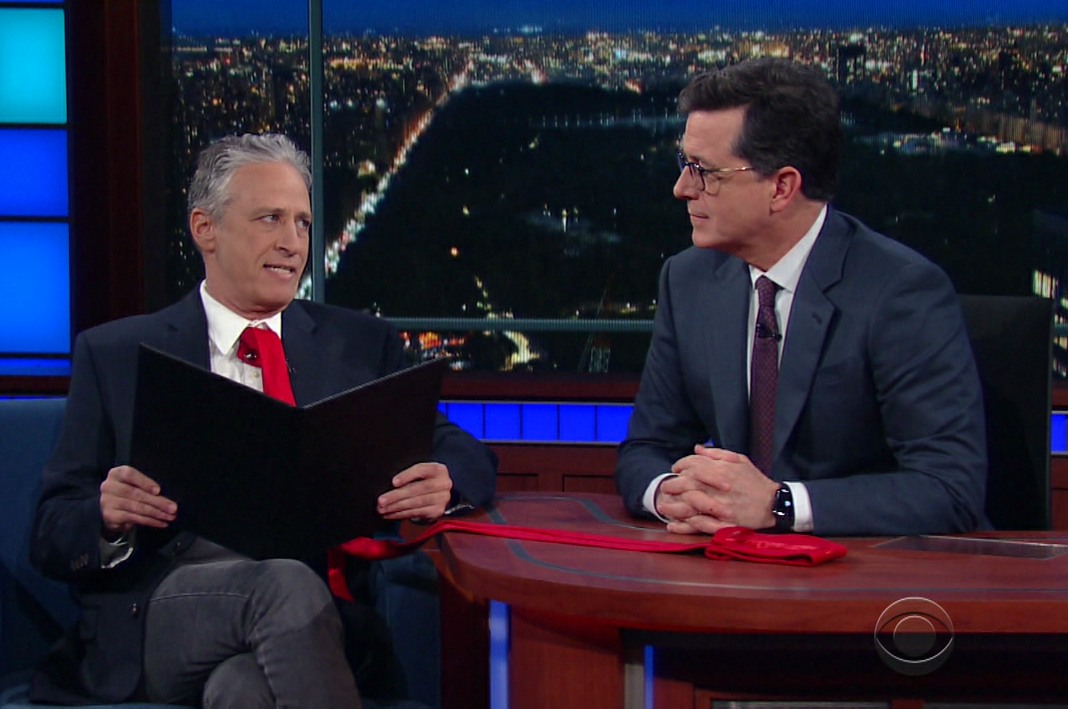 Are you still mad at Jon Stewart? I am. Immediately following the election, Jon Stewart was out and about, giving interviews about how pro-Trump voters shouldn't be defined by their support of Trump or their support of his unhinged, racist, misogynistic rhetoric. Jon claimed that it's perfectly possible that millions of (white) people were not giving a de facto vote for white supremacy and white privilege, that they were just really into Trump's tax proposals or something. The nicest thing I can think to say about Jon Stewart is that he was aiming for optimism, but he came across as naive and privileged.
So now that we're not even two weeks into the Apocalypse Administration, Jon Stewart is suddenly disgusted. He's shocked, you guys. You mean Emperor Baby Fists' racist rhetoric is actually going to be reflected in a series of lunatic executive orders? You mean that the Nazi Deplorables will be cheering for every racist, white nationalist, cruel, unconstitutional decree Trump makes? Well, that never occurred to Jon Stewart. So he decided to go on The Late Show and make fun of Trump and his executive orders.
Is this funny? Can we laugh at a time like this? Like, I'm fully prepared to laugh at Donald Trump and his tiny little baby fingers, his giant ass and his very, very bigly vocabulary. But do we need Jon Stewart at this point, especially given his comments in the past few months? Personally, as we're not even two weeks into it, I'm even angrier at the Trump supporters and their apologists than I was immediately following the election. You know why? Because Baby Fists is actually doing everything he said. His supporters and their apologists were always like "you can't take him literally, it's just bigly words." And that's what got us to this place. Believe the autocrat when he tells you something.
Trump's ass is larger than the size of his inauguration crowd. pic.twitter.com/reesqEIK8j

— Trump's Giant Ass (@TrumpsGiantAss) January 28, 2017
Photos courtesy of WENN/The Late Show.