Beyonce is an enigma wrapped in mystery and dusted in intrigue. I seriously doubt Bey will say anything one way or the other about Lemonade being snubbed for the biggest and most prestigious Grammys. While she's won the most Grammys out of any female artist (of any race), she's never won Album of the Year. Some people even doubt if she really cares one way or the other – Beyonce might even be too good for the Grammys and every other awards show at this point. Who even knows if she will boycott?
As much as people wanted to make the Grammys into "Beyonce versus Adele," I seriously doubt Beyonce was mad AT Adele. Adele and Bey are friends, and Adele used her platform to honor Beyonce over and over. My general feeling is that Adele winning the big awards probably took some of the sting away for Beyonce – if it had been anyone else, Bey might have felt anger or disgust (who knows?) but because it was Adele, Bey's mostly fine. Bey keeps on winning at life. But that doesn't mean Beyonce's little sister can't disrupt on her behalf:
Solange is speaking out. Less than 24 hour after fans and critics slammed the Recording Academy for awarding Adele's 25 the album of the year title over her sister Beyoncé's Lemonade, the R&B singer took to Twitter seemingly to address the controversy — and the Grammys' history with race.

"There have only been two black winners in the last 20 years for album of the year," she tweeted Monday afternoon. "There have been over 200 black artist who have performed."

Shortly after, she offered her social media followers a call to action, tweeting: "Create your own committees, build your own institutions, give your friends awards, award yourself, and be the gold you wanna hold my g's."

The posts aren't the first time Solange — who won the best R&B performance Grammy for "Cranes in the Sky" — has appeared to weigh in on her sister's snub. After the show, she tweeted "wuddup frank," sharing a link to Grammy boycotter Frank Ocean's open letter to the show's producers saying the annual awards suffer "cultural bias and general nerve damage."

Solange later deleted all three of these posts on Monday evening, but she isn't the only star to speak out against Adele's win. The "Hello" singer herself — who won all five of the awards for which she was nominated Sunday night — said Queen Bey deserved the gold.
Do you think Beyonce told/asked Solange to pull the tweets? We'll never know because Beyonce is such an enigma, obviously. But it sounds like Solange was more upset about the Grammys than Beyonce. Or maybe Bey just wanted to make sure that she and her family stayed radio f–king silent on the snubs. Who knows?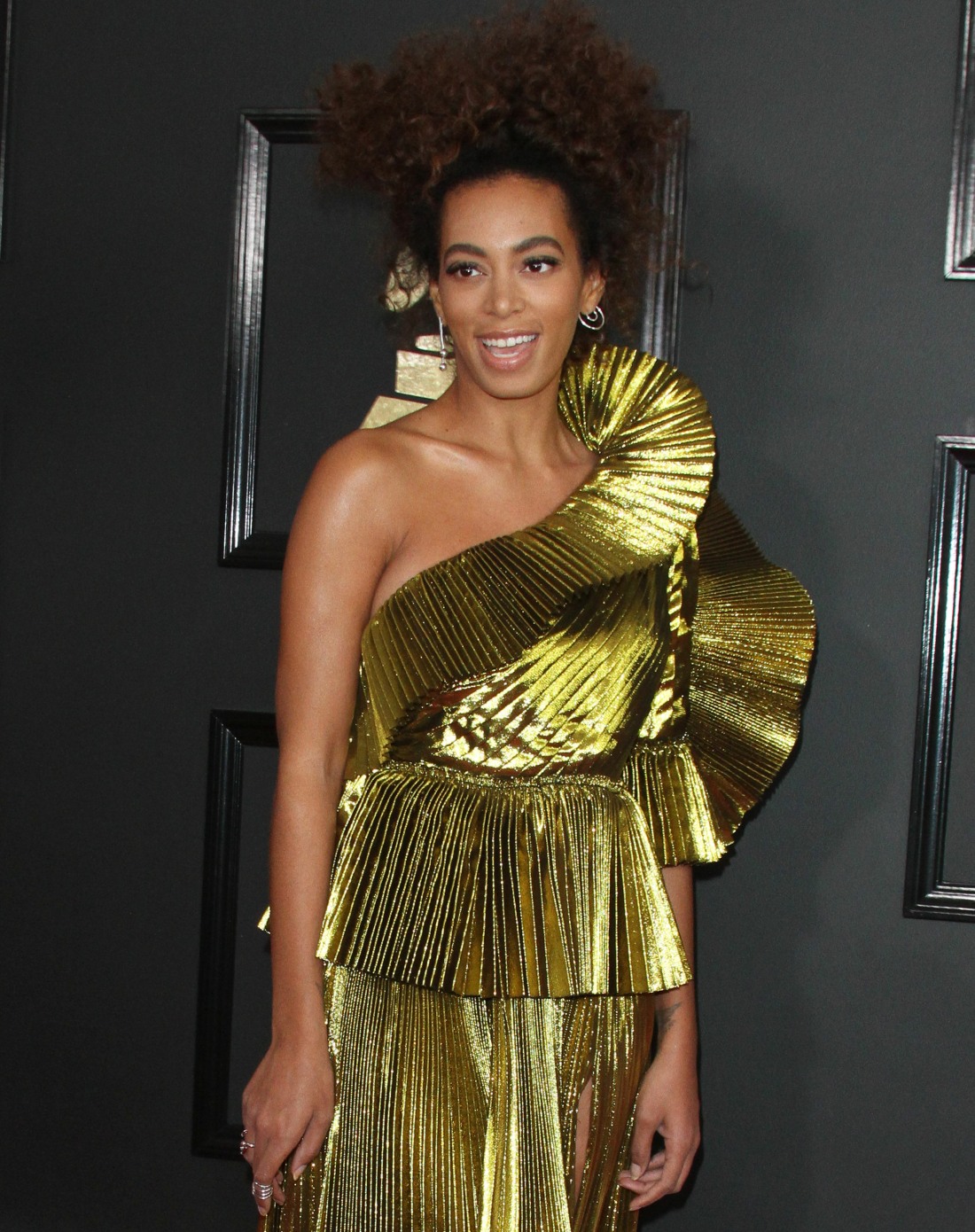 Photos courtesy of WENN, Instagram.