Chrissy Teigen's liver must be working overtime, if the past few weeks are any indication. The 31-year-old model has already partied quite heartily in 2017, sharing drunk tweets from the Super Bowl on social media and chronicling her equally drunken adventures from Sunday's Grammy Awards. The saga actually began on Saturday, with Chrissy posting a picture of her discolored hand, to ask for advice about getting green Fun Dip dye off of her skin. Side note: your kids eat that stuff. I'm hardly the queen of nutrition, but that can't be good for you, right? Second side note, how the HELL does this woman eat Fun Dip? They give you a candy dipping stick for a reason, although Chrissy told Ryan Seacrest she used it as an "appetizer."
At the Awards, Chrissy's social media posting went into overdrive. Chrissy was definitely in full fangirl mode, gushing about chatting with Jennifer Lopez, dancing to Bruno Mars and worshiping at the altar of Beyonce. And, being the proud wife she is, she posted a picture of hubby John Legend on stage during the "Carpool Karaoke" sketch.
— christine teigen (@chrissyteigen) February 13, 2017
After the Grammys, Chrissy, John and his brother, Ron Stephens, kept the party going with a rousing game of Toilet Trouble. (It is safe to Google this, it's a kids game with the tagline "Which flush will cause the gush?") It's the grosser cousin to the Pie Face game. Chrissy documented the grody game night on Snapchat – from the technical difficulties she experienced trying to put the toy commode together to John making the flush that caused the gush. I am a grown adult, but I want to party with these guys.
By the end of the night, Chrissy was definitely feeling the effects of the adult beverages she consumed. Not only did she inhale some ramen, a/k/a everyone's favorite drunk cuisine, but she was so hammered that John had to help her take off her necklace. Haven't we all been there before? Hell, I can't get some of my necklaces off when I'm sober. Of course, Chrissy once again documented the entire thing on Snapchat. After she was freed from her chain prison, she asked John, "Are you mad at me?" John's response, "Why would I be mad at you? You're perfect." Chrissy immediately shot back with "I dunno, 'cause I got drunk." Exchanges like this never happen when I've had a shot of Fireball too many. Just saying.
John helping a drunk @chrissyteigen take off her jewellery is my new favourite thing. Goals pic.twitter.com/PLnPxtu1Hb

— Nicole McCabe (@elocinbitch) February 13, 2017
I know I've said before that John and Chrissy are the epitome of the cute couple, and more than one person has agreed with me, but apparently going so far as to liken their acts of kindness towards each other as #RelationshipGoals is a bit too much for Chrissy. After her fans and followers apparently blew up the aforementioned hashtag in response to the "great necklace removing caper," Chrissy tweeted back, "How is John taking off my jewelry 'relationship goals' like your f—kin' boyfriend won't take your necklace off jfc leave him."
How is John taking off my jewelry "relationship goals" like your fuckin boyfriend won't take your necklace off jfc leave him

— christine teigen (@chrissyteigen) February 14, 2017
Wow, that's a little harsh, isn't it? True, perhaps, but harsh nonetheless. But hey, if you're looking to celebrities for relationship advice, you probably deserve some tough love, like what Chrissy's dishing. I would take relationship tips from Chrissy with a grain of salt, but when it comes to food, I'm all ears as to anything she has to say, especially when she posts deliciousness like this breakfast burrito from LA's Cofax Coffee that she and John recently enjoyed. O.M.G. Keep the food posts coming, Chrissy. #NomNomNomGoals
— christine teigen (@chrissyteigen) February 14, 2017
Equally as awesome is a video of Chrissy's beautiful daughter Luna (who just got hooked up with a pair of teeny Yeezys from Kim and Kayne West) blowing her first kiss, just in time for Valentine's Day. Even those who don't have that special someone to spend the holiday with can get lost in this adorableness. Single or taken, hope you all had a happy overpriced greeting card day!
after 3 months of trying to get her to blow kisses, she finally does it for the valentine's snap 💕💕💕💕 ahhhh pic.twitter.com/hR21tOOPfQ

— christine teigen (@chrissyteigen) February 13, 2017
Bonus Valentine's Day stuff from John and Chrissy, if you're into love and romance. Check out their special V-Day video for John's song, "Ordinary People." Damn, they do make a cute couple.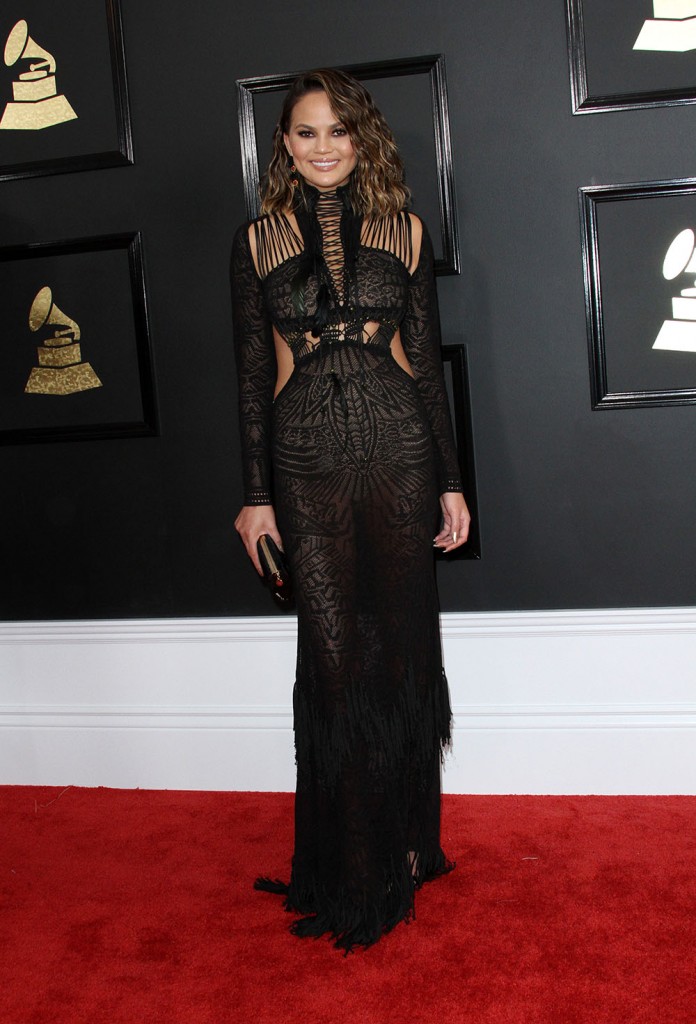 Photo credit: Getty Images, WENN.com