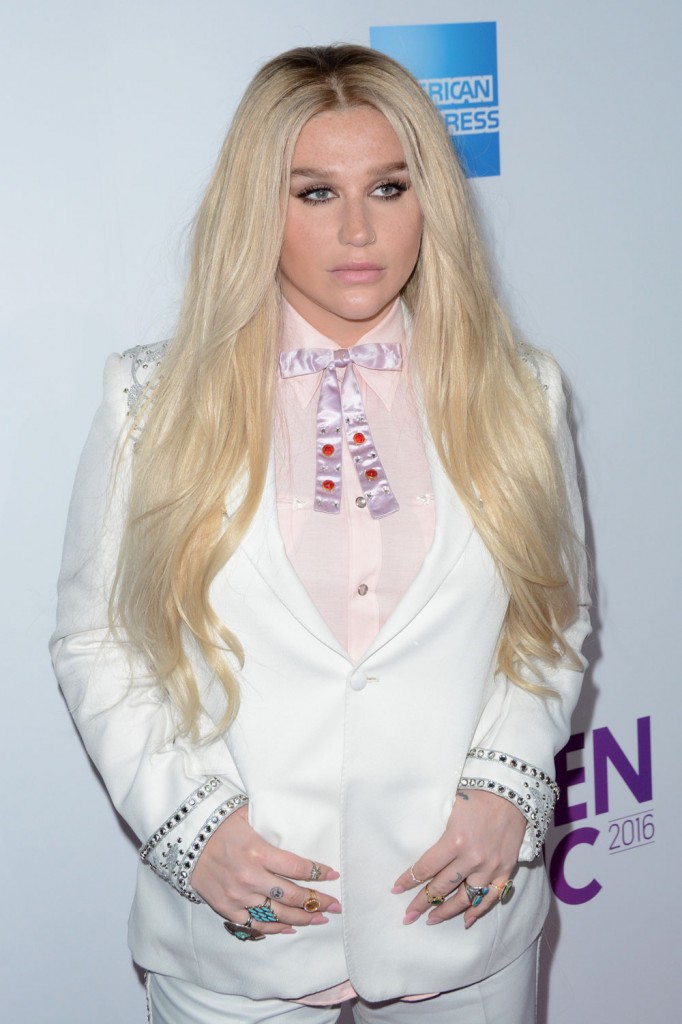 Last year, Kesha suffered a series of legal setbacks while trying to escape from her contract with Sony under producer Dr. Luke. Kesha alleged that Dr. Luke mentally and physically abused her, drugged her and sexually assaulted her. Under the terms of her ongoing contract, Kesha was being made to continue working for Sony and her abuser, Dr. Luke. She's continuing her court case in New York and has issued an appeal, although she has dropped a civil case in California against Dr. Luke. In new court papers, Kesha's lawyer includes emails from Dr. Luke to Kesha's manager in which Dr. Luke claims Kesha's weight is a liability for her career, tries to complain about her breaking a juice fast, and is extremely petty about some lyric changes she suggests. Kesha has continued her career, but she's had to make major changes to her music to avoid violating her contract with Sony.
A year after a Manhattan judge ruled that Kesha couldn't walk away from her exclusive recording contract with Sony and Dr. Luke despite claims that he'd raped her and called her a "fat f–king refrigerator," she's asking the jurist to reconsider.

Kesha wants to "be free from her abuser and rebuild her physical, emotional, and mental health," her attorney writes in court papers filed this week.

Dr. Luke has denied the claims.

But newly released emails between Dr. Luke and Kesha's manager Monica Cornia give credence to the performer's claims that the producer was heartless about her eating disorder.

"Nobody was calling anybody out," Dr. Luke writes to Cornia at 2:11 a.m. on June 28, 2012, according to a copy of the email.

"We were having a discussion on how she can be more disciplined with her diet. there have been many times we have all witnessed her breaking her diet plan. this perticular [sic] time — it happened to be diet coke and turkey while on an all juice fast," the producer gripes.

Cornia asks him to be more supportive because she's "a human and not a machine," then adds, "if she were a machine that would be way cool and we could do whatever we want."

Dr. Luke also reveals in an earlier message that "A list songwriters and producers are reluctant to give Kesha their songs because of her weight."

In a May 2012 email exchange between Cornia, Kesha and other managers, Cornia discusses a fight between the singer and her producer over lyrics for what would become her hot single "Crazy Kids."

In one email, Cornia says Dr. Luke wanted the phrase, "You see us in the club sip sippin bub," while Kesha preferred, "You see us in the streets we da we da freaks," because she doesn't go to clubs.

"I don't give a s–t what you want. If you were smart you would go in and sing it," Dr. Luke allegedly told Kesha, according to Cornia.

Cornia adds that Kesha tried to settle the spat with Dr. Luke, but "didn't feel comfortable talking to him" in the studio.

"He refused to come downstairs ("she wears the pants in MY house?") so we left," Cornia writes, again quoting Dr. Luke.
So Dr. Luke is so controlling that he's complaining to Kesha's manager that she dared eat a little turkey and drink some diet Coke while she was on a juice fast. He's so controlling that he considers it emasculating to let her change one single line in a song. He's so controlling that he claims that Kesha isn't getting work because of her weight. (Which is doubtful, he's likely using that as an excuse.) Keep in mind that this isn't just sh-t talk in the studio (which would be bad enough) he's actually writing these things to Kesha's manager. Last year it came out that the judge assigned to Kesha's case, who threw out Kesha's suit against Sony, is married to a lawyer for Sony. I hope that this appeal is successful for her and/or that another judge is put on the case. She's gone through so much.
Update: Dr. Luke's team has responded to these emails, and they claim that they're taken out of context, are misleading and that Kesha was the one concerned about her weight. This is exactly how I would expect an abuser to respond.
Kesha and her attorneys continue to mislead by refusing to disclose the larger record of evidence showing the bad faith of Kesha Sebert and her representatives which is greatly damaging to them. It also shows the tremendous support that Dr. Luke provided Kesha regarding artistic and personal issues, including Kesha's own concerns over her weight.

Rather than agree to a thorough disclosure, Kesha and her representatives improperly publicized, without Court permission, three out-of-context emails which do not present the full picture regarding the events they concern. For example, these emails do not show that the lyrics of "Crazy Kids" were, in fact, rewritten at Kesha's request. Any claim by Kesha to the contrary is deceiving the public — just like her other meritless claims of wrongdoing by Dr. Luke.

Dr. Luke looks forward to full vindication in Court.