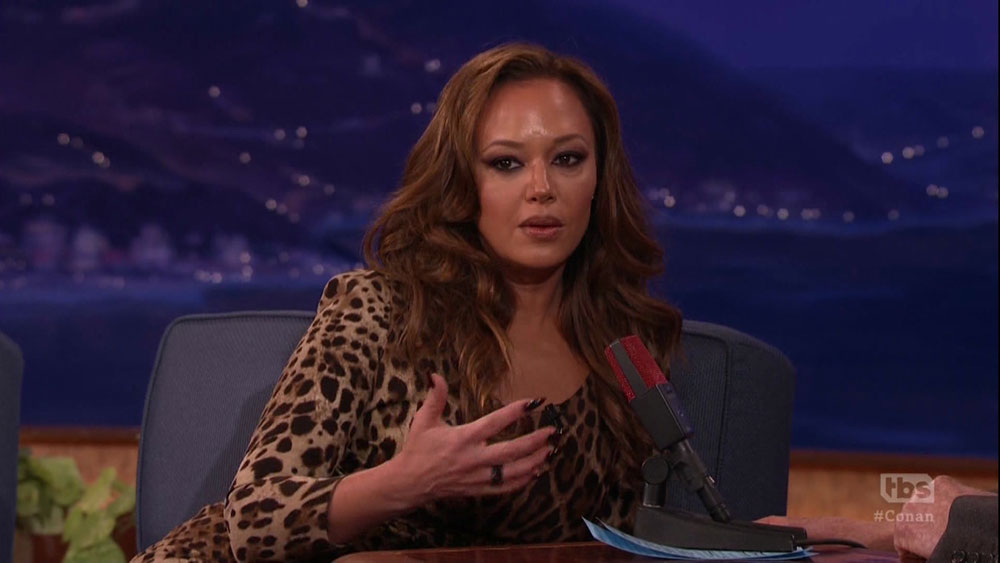 Leah Remini was a guest on Real Time with Bill Maher over the weekend, on the episode where Maher gave so much friendly airtime to racist fascist doxxer Milo Yiannopoulos. Leah came on right after the panel where Larry Wilmore owned that little Nazi twerp. To her credit she was very professional and well spoken. I'm torn on whether to mention this but her left cheekbone was swollen as if she'd had an accident or just gotten an injection. It was covered well with makeup but you could still tell.
Leah was promoting Scientology and The Aftermath, the first season of which wrapped last month. She said that Bill's 2008 documentary, Religulous, was one of the first times she was exposed to an outsider's view of Scientology. (In his documentary he explained concepts from a Scientology level she hadn't reached yet, which sounded crazy to her at the time, but which she later learned was mostly accurate.) She also talked about how expensive Scientology is for members, how much personal time investment it requires, 2.5 hours a day minimum in study, and how it breaks families apart. When they started talking about Tom Cruise's involvement in the cult, that's when it got interesting to me. I mostly knew that Tom is the celebrity figurehead of Scientology, but I didn't realize how revered he is:
Maher: "He [Cruise] could end this singlehandedly."

Remini: "He could end this. Correct. Because they are saying he singlehandedly is clearing the planet, is changing the planet, so most Scientologists believe."

[In Scientology, "clearing the planet" is the process by which "body thetans," or aliens that members believe inhabit the planet, are eliminated. The actress has previously stressed how highly Scientology members regard the "Mission Impossible" actor, whom she called their "messiah."]

Maher: "Clearing the planet. He couldn't even make Jack Reacher a hit."

Remini: "Scientologists believe that if he didn't make it ['Reacher'] a hit, it was because there were suppressive, evil people working against him, because he's winning in life and clearing the planet."
[From Huffington Post, text edited for clarity]
That's hilarious about the mental gymnastics Scientologists do to explain their little defacto leader's career slumps. We've seen a lot of that happening on a massive scale. Toward the end of the interview Bill asked Leah where Scientology would be in ten years she said "it's not something to make fun of because actually people are being hurt." She said she wanted to celebrate the Scientology "survivors," which she's doing with her show. I think she knows that Scientology isn't going to be wiped out in ten years but that she can severely weaken it, and Cruise's influence, by continuing to reveal their secrets.
On a side note, Bill joked with Milo Y off screen during this segment, saying that the Scientologists were even crazier than Milo. He really needs to stop giving these horrible people a platform and acting like it's funny to joke around with them. That's the point that Remini was making, that by making it into a joke we're discounting how dangerous this cult is.
Here's Leah's interview.

Photos credit: WENN, Getty