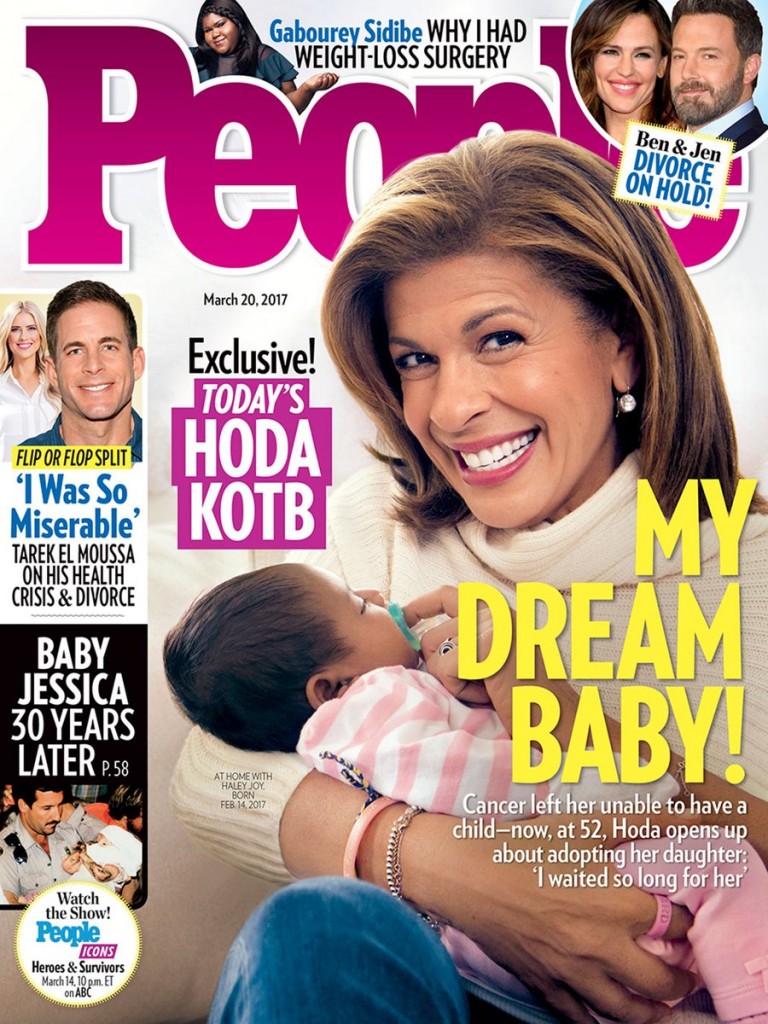 Two weeks ago, beloved Today Show host Hoda Kotb, 52, called into her show to announce that she'd adopted a baby girl named Haley Joy. Hoda got choked up over the phone talking about little Haley, her first child, who was born on Valentine's day and weighed six pounds. Hoda lives with her boyfriend, Joel Schiffman, in New York and she took some time off work to care for Haley. She now covers the new issue of People Magazine with her baby and has a photospread with the magazine, you can see another photo here. It made me so happy to see Hoda land the cover of People. Part of me had schadenfreude for Tori Spelling, because you know she's angling for a magazine cover with her fifth baby, but more than that I just like Hoda. There's something so infectious about her enthusiasm and just reading this and seeing her photos is making me happy.
On caring for her baby when she first came home
We just stayed in the apartment and ate and slept and burped and took naps, and that's it. That's all. But it's fun! It's one of those things where you think you've done it all, you think you've felt it all. But I just didn't know that this kind of love existed.

Breast cancer treatment 10 years ago left her unable to conceive
One of the things in my life I've always wanted was to be a mom. Sometimes in your life, things just don't work out for whatever reason, so you say, 'Well, I wasn't meant to have that.' But it was really hard to come to terms with it.

She's wanted children for a long time
There was a hole. People would say, 'Oh, do you have kids?' And I'd feel like, 'Ouch.' I knew inside it was supposed to be for me.

On telling her boyfriend she wanted to adopt
I was afraid to even say it out loud, because then it felt so real. I said, 'Think about it for a day or a week or whatever.' And he said, 'I don't need a day. Let's get this journey going.' At that point I blubbered like a baby. It was like the dam burst.

On being a new mom
I wake up sometimes and go, 'Oh my God, I have a baby!' " But it feels totally real. I guess if you've been waiting this long for something, and you wish for it, pray for it, hope for it, wonder if it will ever be, and then it happens, nothing's more real. Nothing.
Hoda worked with a NY-based adoption agency to find Haley and People writes that she left her boyfriend's name off the paperwork "to simplify the process." I always assumed it was harder for a single person to adopt than for a married couple, but when the couple isn't married it probably gets more complicated. From what I could find, in many cases the birth mother selects the adoptive parent(s) so Hoda would have an advantage in that she's famous and super nice. I am so happy for her and you can tell that she's a great mom and is devoted to her daughter.
Uncle matt!! ❤️❤️❤️@TODAYshow @MLauer #babylove pic.twitter.com/r0XzIumIXD

— Hoda Kotb (@hodakotb) March 8, 2017
photos credit: People, Getty and FameFlynet