If you follow Chrissy Teigen on social media, you know she's into sharing. A LOT of sharing. Not only does she share photos from family vacations and drunken Super Bowl escapades, she also gives followers a look at her home life with husband John Legend and their beautiful daughter Luna, who celebrated her first birthday Friday. What you may not have seen amidst the smiling faces and laughter is the fact that Chrissy battled with postpartum depression after giving birth to Luna. She wrote a powerful essay for Glamour discussing her struggle with PPD, admitting to crying bouts, depression and difficultly even leaving the house.
Chrissy sought treatment and was put on antidepressant. In a new interview with Refinery29, she says she still has some "bad days," but that she's not letting those small setbacks get her down. Also in the interview, the Vita Coco spokesperson called coconut water "delicious" (I am SO not buying that) and discussed some of the highs and lows she's experienced as a mom. Here are some highlights:
Chrissy's advice for Moms suffering from PPD: Just know that there's a light on the other side. When I was in the midst of everything, I could never imagine myself on the other side of it. Now, I'm able to look at September, October, November, December, and shake my head at how dark and crazy of a period it was. Unfortunately you can only really do that when you're out of it. There's no other way to explain it. And there's no better feeling than being out of it. Of course, you have your good and bad days. I just had a bad day a couple days ago. But the bad days do not outweigh the good days anymore. Just when you think it's really really bad, it's going to get better. So hopefully, if you're going through something tough you can find some peace in knowing that.

On changing who you are after motherhood: You definitely do have to change. You just have to. But a lot of my friends and I joke whenever I go out, like 'Oh, here goes cool mom,' or if I ask for a braid in my hair, they're like 'Oh, you want to be cool mom again!' You naturally change because there's something else that consumes your mind at all times and I don't think you can help that, but you can still be cool! But, some people are lucky enough to have people around them who are able to help. Like, my mom lives with us. It's an incredible experience that I'm able to have, because I can maintain this balance of still having a life, and being a mother, and being a mother with a life, and my life being a mother. And even if you don't have a live-in mom, if you aren't afraid to lean on other people when you need it, I don't think you have to feel like you have to give everything up. But it does change you, and that's why I think you have to be completely ready.

On the (gross) joys of motherhood: Maybe like five minutes ago, I took my nail up Luna's nose and scraped the most epic booger out you can ever imagine. And I put it in a paper towel and I kind of stared at it for a while, and I was like, 'Oh my gosh, this is like a really amazing booger I got.' Like you get very excited for being able to clear out your kid's nose. I have this obsession with digging out her boogers with my pinky. I try to be as gentle as possible, but once I see it, I can't go to bed knowing it's in there. I need to get it out. I've honestly thought about putting my mouth around her nose and just sucking it out.
Chrissy wasn't the only one that PPD took a toll on. Hubby John recently revealed to The Sun that he didn't see his wife's battle with PPD coming. He went on to say,
You're not emotionally prepared for someone that's going through a dark time as you're welcoming this new life. When you don't understand what's happening, it's a bit challenging to figure it out and you don't know if it's something you've done or some other ­reason why she's not feeling well. Once you understand what the reasons are then it makes perfect sense and you can adjust accordingly. It's a chemical thing that happens to a lot of people after giving birth and there are ways to treat it and deal with it. So many people go through this — they say one in nine but there's probably more than that. I think it was good for [Chrissy] to talk about it.
Not only is Chrissy triumphing over PPD, she's also getting back into the kitchen to work on the follow-up cookbook to Cravings. She had put the project on pause during her bout with PPD, but felt that she was now "back into the mode of cooking." Even though the book probably won't hit shelves until next year, I can only hope this results in more "food porn" on social media. Chrissy has already taken to Twitter to ask fans for advice on what recipes to feature.
back to working on the cookbook! which sounds better to your belly? butternut squash spoonbread or pumpkin spoonbread? also, before u ask: pic.twitter.com/Ul9oC83Gxp

— christine teigen (@chrissyteigen) April 10, 2017
(Butternut squash spoon bread. Please.) Since I've gotten to "know" Chrissy, I continue to like her more and more. I am not a mom, never have been, never will, so I will never know what PPD feels like, but I'm glad that Chrissy shared her story. I'm sure it provided some comfort to other suffering moms out there. I can, however, relate to Chrissy's recent wardrobe issues. On Tuesday, Chrissy shared a video on Snapchat of her run-in with a jumpsuit with a mind of its own. In the video, she jumped, tugged and squeezed, but the outfit, which fit great on the bottom, couldn't contain her chest region. (I have the opposite problem.)
One final note, happy birthday to you, Luna! Can't wait to see the photos, as I'm sure smash cake will be involved.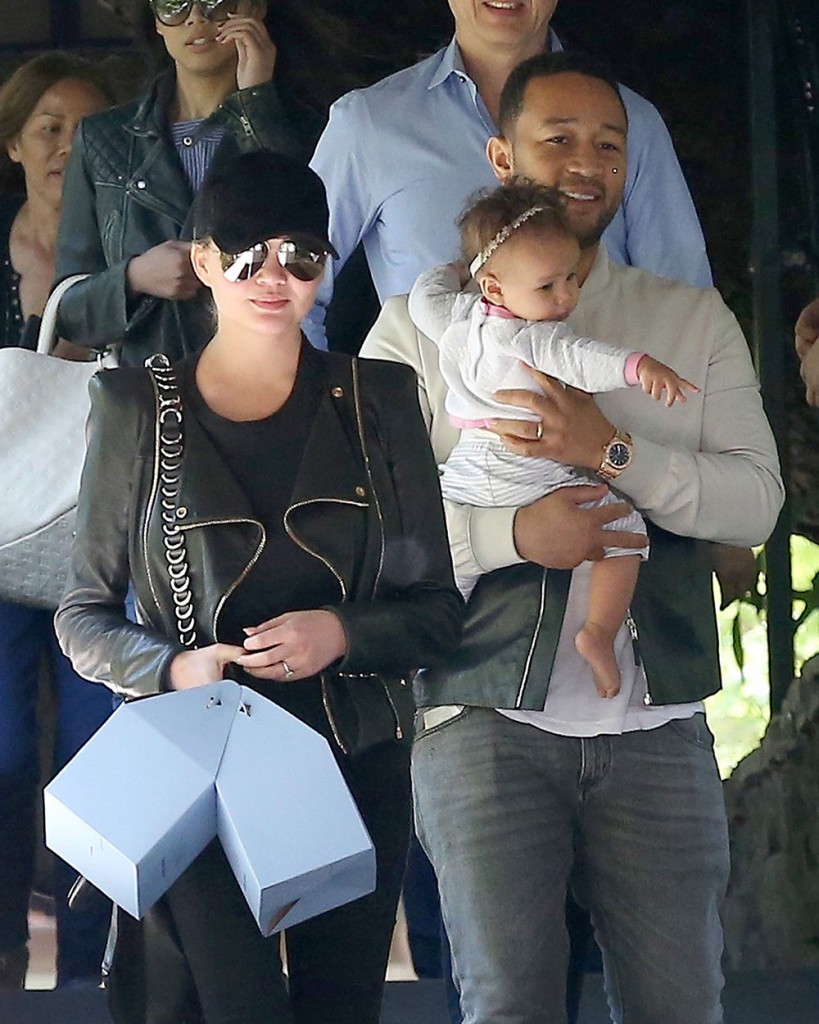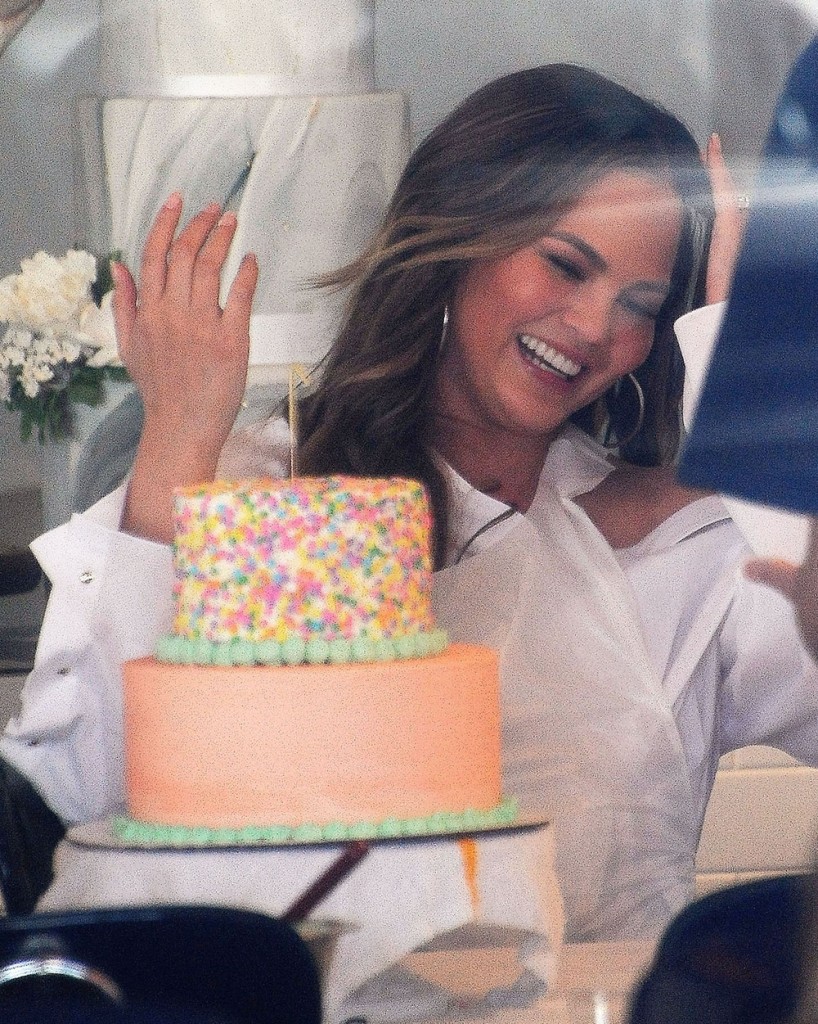 Photos: Getty Images, Fame Flynet, PRPhotos, WENN.com