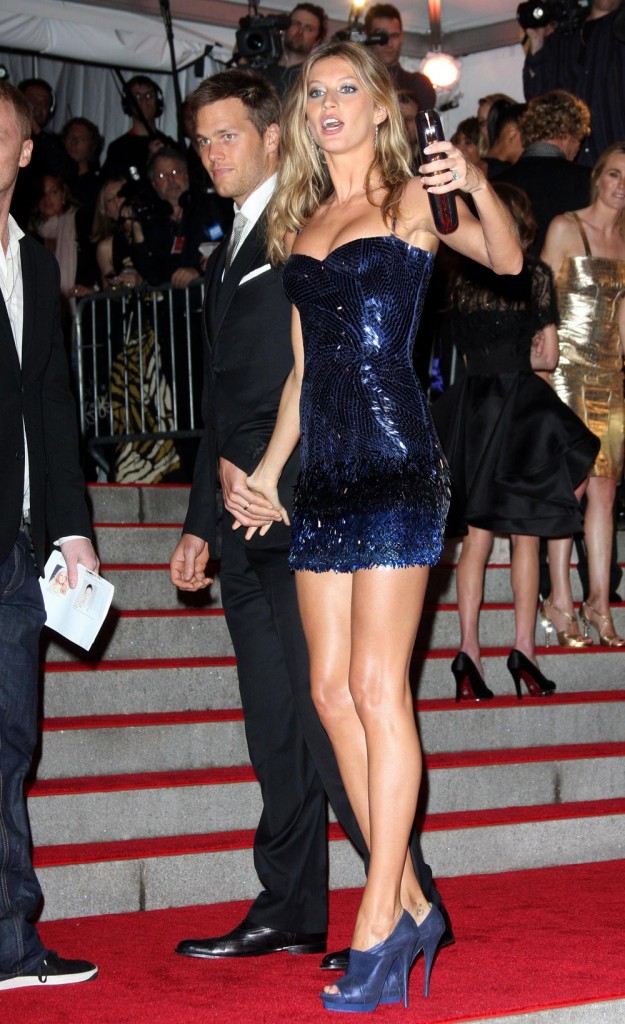 I was really looking forward to reporting on the rumors of Gisele Bundchen's pregnancy, but alas, Gisele's husband Tom Brady denied the pregnancy rumors Thursday night after a practice session with the New England Patriots. Apparently an Associated Press journalist waltzed right up to Tom and was all "So, dude, is your wife knocked up?" And Tom was all "No." And then Tom added, "One is enough." Ouch. Take that Gisele, with your biological clock and stuff.
Unfortunately for Tom "One Is Enough" Brady, many gossipy sources have Gisele coming to the end of her first trimester. Which would have meant that she was already pregnant before she and Tom Brady married in April… which I don't buy. I think Gisele is traditional in the way that she would wait to get pregnant until after she gets married Just my opinion. So, by my rationale, Gisele is at most two months pregnant, if that. In which case it would be silly for Gisele or Tom to confirm the pregnancy – traditionally, you don't announce until the end of third month, or into the fourth.
So let's play the game – say Tom was just denying the pregnancy for the hell of it, but Gisele really was less than two months pregnant. If that was/is the case, then this report from In Touch is really juicy. Not only do they have Gisele's pregnancy cravings (pizza), they have a really bitchy quote from an unnamed friend of Bridget Moynahan. Apparently, it's totally a catfight over everything between Bridget and Gisele – ever since Gisele called Bridget's son "my child" and Bridget sent all of her friends out to bash Gisele. Now Bridget's getting nasty about how Tom isn't man enough to tell her about Gisele's pregnancy face-to-face or something:
Gisele Bundchen has gotten plenty of practice with her husband Tom Brady's son, John, but she'll soon become a mom for real!

The supermodel and the New England quarterback told their families that they are expecting their first child together.

"Gisele is about three months along and over the moon about it because this is all she's ever wanted," says a family insider.

"Tom is equally happy and making sure she has anything she needs. She's been craving pizza and eating it like crazy. They haven't decided if they're going to find out the sex but don't care either way. Everyone is so happy about it."

But they didn't exactly break the news the right way to Bridget Moynahan, Tom's ex-girlfriend and the mother of his 21-month-old son.

"Bridget found out about Gisele's pregnancy through someone else," says a friend of the actress'. "Any man not willing to make a call to tell an ex that his current wife is pregnant is not right."

But no one is going to take away the 28-year-old Brazilian beauty's happiness.

"I would like a big family. I love children," Gisele, who wed Tom in February, has said. "This is why you get married – you want to create those roots together. You want to give that to your kids."
[From In Touch, print edition, June 9 2009]
"Any man not willing to make a call to tell an ex that his current wife is pregnant is not right." Uh… maybe that didn't come straight from Bridget, maybe it did. But am I alone in thinking that if and when Gisele does get pregnant, it's none of Bridget's business? Yes, it will affect Bridget in as much as she lets her son spend time with his father and his father's wife, but Bridget doesn't get a say or any kind of first notification on the state of Gisele's womb.
Tom and Gisele are shown at the Costume Institute Gala on 5/3/09 and outside an OB/GYN on 5/4/09. Credit: Fame Pictures and WENN.com