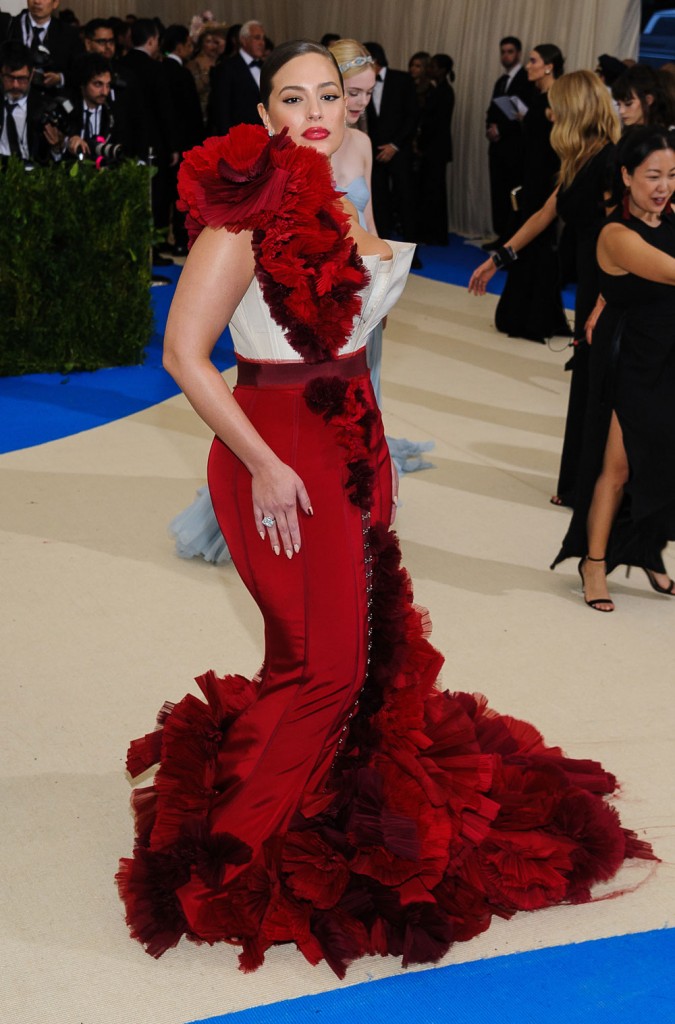 Out of all the H&M dresses at the Met Gala, Jourdan Dunn's was my favorite but I'm leading with Ashley here because we don't have enlargeable photos of Jourdan yet. According to H&M's press release Ashley was in "a corset dress influenced by Kawakubo's interest in revealing the inner workings of garments." Her corset is described as "subtly deconstructed" and her "long red silk skirt was boned and fastened by hook-and-eyes, both decorated with exuberant ruffles of dark red silk organza." I would not be so exuberant in describing this gown, which has a simple formula – corset dress with ruffled poofs along the side and down the skirt. It's not bad though and at least they tried to go with the theme. Plus she looks hot in it, although it seems like we see her everywhere lately, doesn't it? Also, really great makeup and understated hair, which is what this dress called for.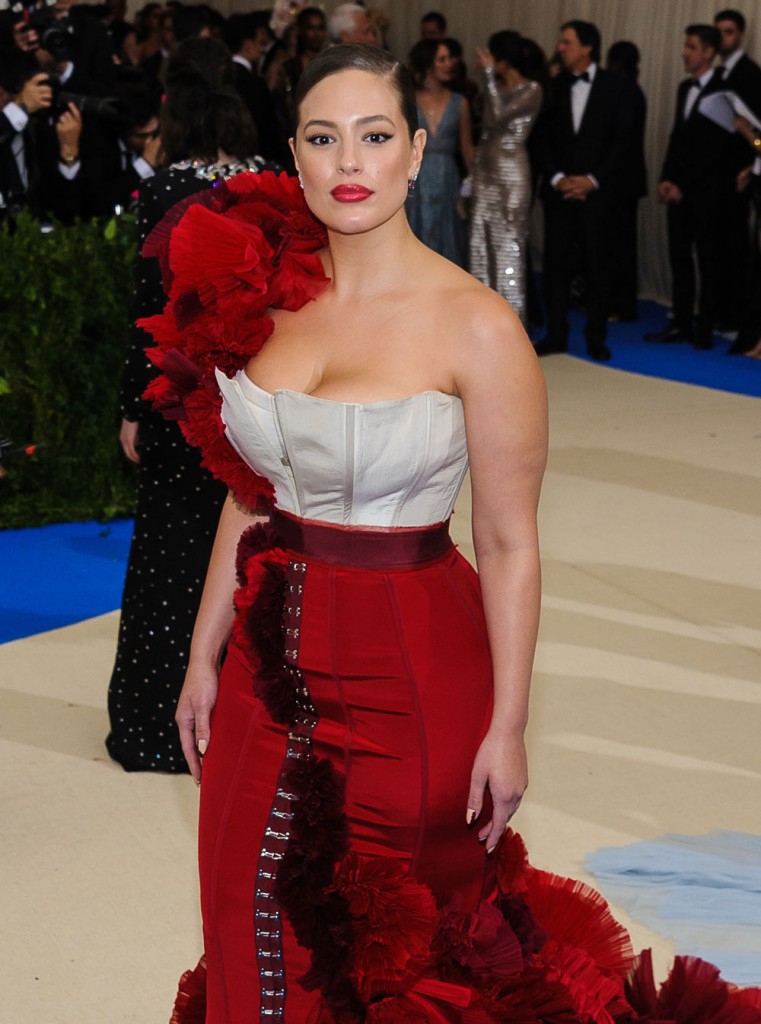 Here's Jourdan Dunn, absolutely slaying it in what looks like a dress shirt and pinstripe pants turned into a Kawakubo homage with ruffles, straps, cutouts, straps and layers of fabric. I love this. They posed her with Future on the red carpet as he's also in H&M but I don't think they're dating from what I could find in three minutes of google research. We heard earlier this year that he might be with Nicki Minaj, but that was just a rumor.
Look at it in motion!
Speaking of Nicki Minaj, I saw some disappointment at her outfit last night because it's basically a bodice with a long train, but I actually like it. H&M says that the train is "decorated with rays of black and red, with one red Swarovski crystal ray extending to the front" and it has floral ruffles underneath. There are several interesting features to this gown which work together without being predictable or overwhelming. It's got a superhero vibe too. Remember that theme in 2008?
Here's Stella Maxwell in white H&M silk chiffon with pearls. This just looks like a fancy flapper dress although I like that the pearls aren't arranged in perfectly straight lines. Maybe that's just the way they fall on the body and it wasn't intentional. The result is cool though.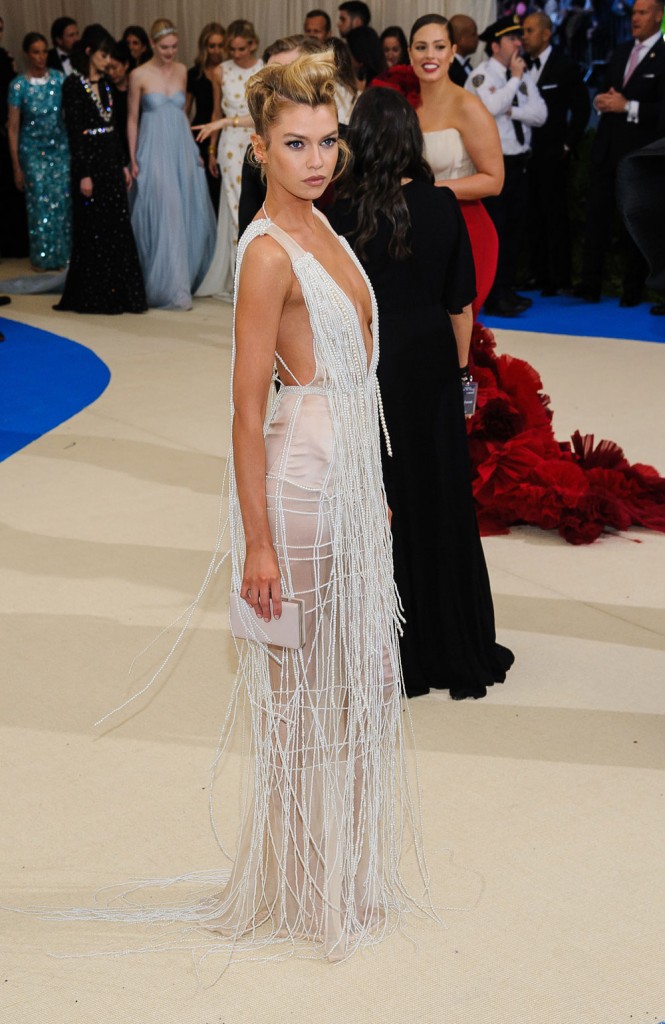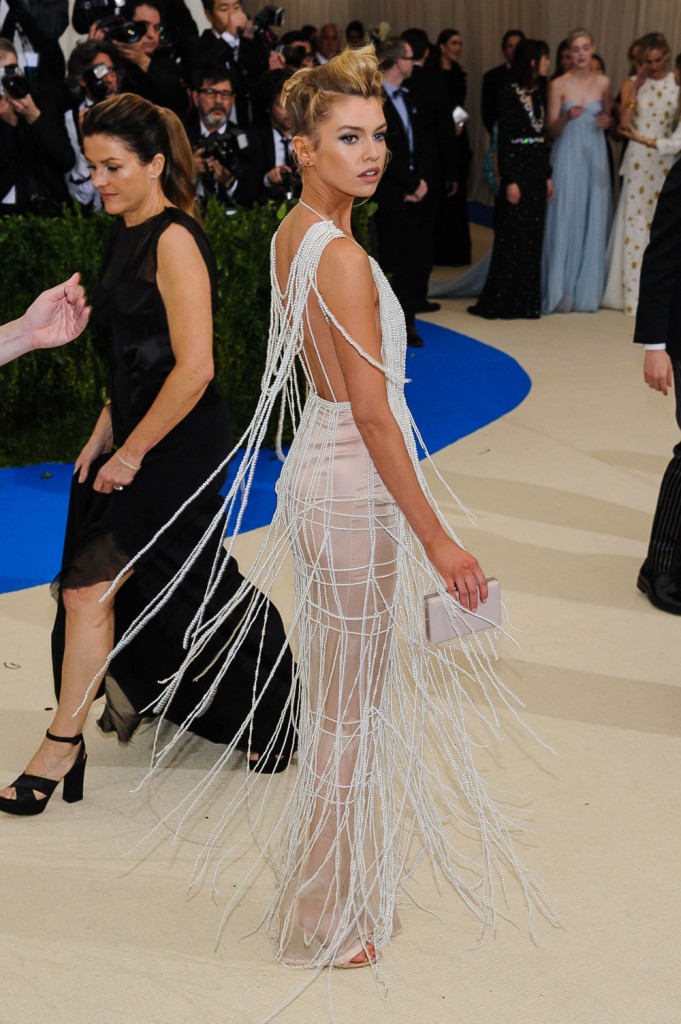 Photos credit: WENN and Getty