As I've heard Kaiser say, Debra Messing isn't my favorite person but I do like her politics. She can grate at times, but she's also very outspoken and matter-of-fact and there's something admirable about that. She pulls no punches with a-holes like Susan Sarandon and I like that she stands up for herself and her beliefs. Messing was honored by GLAAD with the Excellence in Media Award over the weekend and she gave a long acceptance speech calling out Ivanka Trump for blindly defending her dad. I think it's very futile to try and reach Ivanka at this point. Many people considered it possible to appeal to Ivanka a few weeks ago but have since given up now that it's clear that Ivanka is the chipmunk-veneered and Botoxed face of fascism. Debra called out Ivanka though and I can't tell if she's being funny and pointing out what a hypocrite Ivanka is or if she's serious and thinks we can still reach her. Maybe a little of both.
Here's some of what she said and you can watch the video below. There are so many good, funny lines it's worth watching in its entirety.
Things are getting dire. To paraphrase Charles Dickens, this year has sucked. Our democracy and humanity have been under attack. Unless you are an unenlightened straight CIS gender white male you are a target. That makes us all a target.

Right now there is a very bad and very orange man in our White House. At least a few days a month.

The person we shall not name came this close to signing an executive order that legally allows for discrimination against the LGBT community under the banner of religious freedom. Raise your voice, call the White House, call your representatives, call your Senators.

Don't get discouraged, the resistance has accomplished more in the first 100 days than the President has in his. And we got pussy hats out of it so there.

Make no mistake, when we make noise, they pay attention…

There is someone I would like to make a direct appeal to this evening. It is the Secretary of State Ivanka Trump. Ivanka, girlfriend, what are you doing? Come on, it's me Deb. Let's talk for a second one Jewish mother to another. It is not enough to simply say that women's issues are important to you. It's time to do something.

Ivanka, you can change the lives of millions of women and children just by telling your dad stories about real people who are suffering. Don't let him separate immigrant mothers from their American-born children. Don't let him take healthcare from women who need it…

Ivanka please stop blindly defending your father and start defending what you say you believe in. You can't just write #womenwhowork and think you're advancing feminism. You need to be a woman who does good work #saywhatyoumeanandmeanwhatyousay.

Ivanka we know you love the guy who does your hair color. It's good by the way. So do right by your colorist and by all of us. Imagine how you'll feel sitting at Passover Seder if you can tell your children that you fought for justice and freedom.
I guess I understand why Debra is trying. Ivanka told her dad about the gas attacks in Syria and he did something, albeit something completely ineffective, but he did something. He waffles so much on basic issues, like when he praised Australia's healthcare system, that it's clear he's easily influenced. Ivanka has his ear for a bit, but so do so many other people, and his default setting is "racist, elitist idiot who wants everyone but rich white men to suffer." Ivanka can deter him for a little while, if she even tries, but he has more of those rich white men around him and those are the ones taking away our basic rights. Precious Ivanka is talking out of both sides of her messed-up mouth and she's completely loyal to her father and his extremism while giving superficial lip service to more liberal causes. She's just like her dad, she's just better at lying about it.
I want to end on a better note, so I'll just quote one of Debra's last lines, which was pretty good. She said to Ivanka "As a bonus, if you get Steve Bannon out of your dad's office I bet we'll put you back in Nordstroms." If there's anything that Ivanka values, it's her brand and it's definitely in the sh-tter lately.
Here's Debra's speech: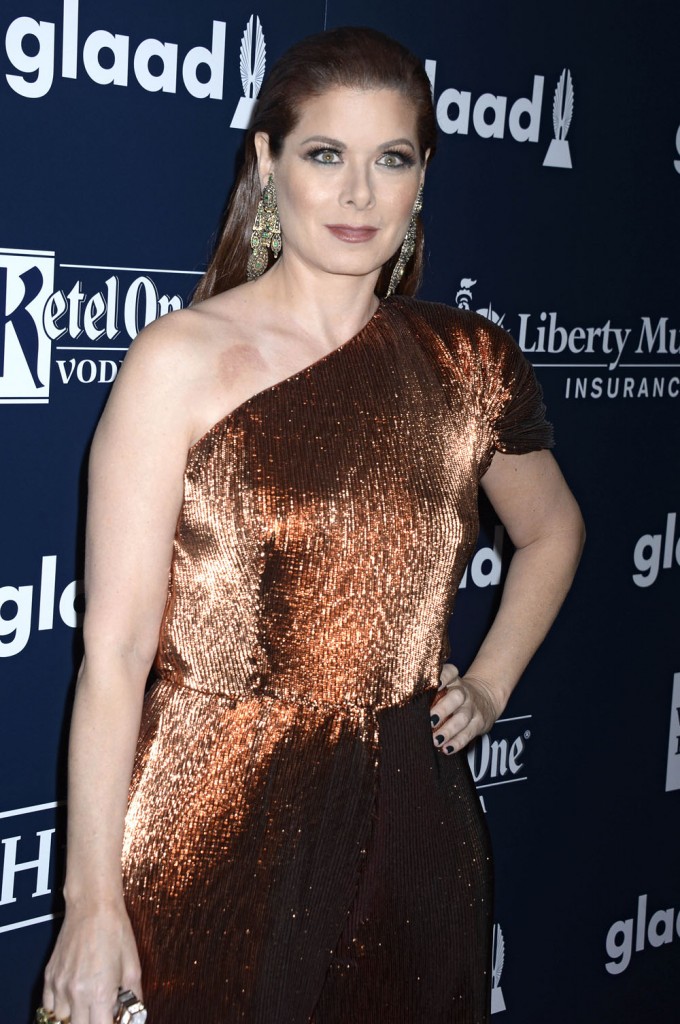 I thought this bronze one shoulder thing was bad enough as a dress, but it's pants!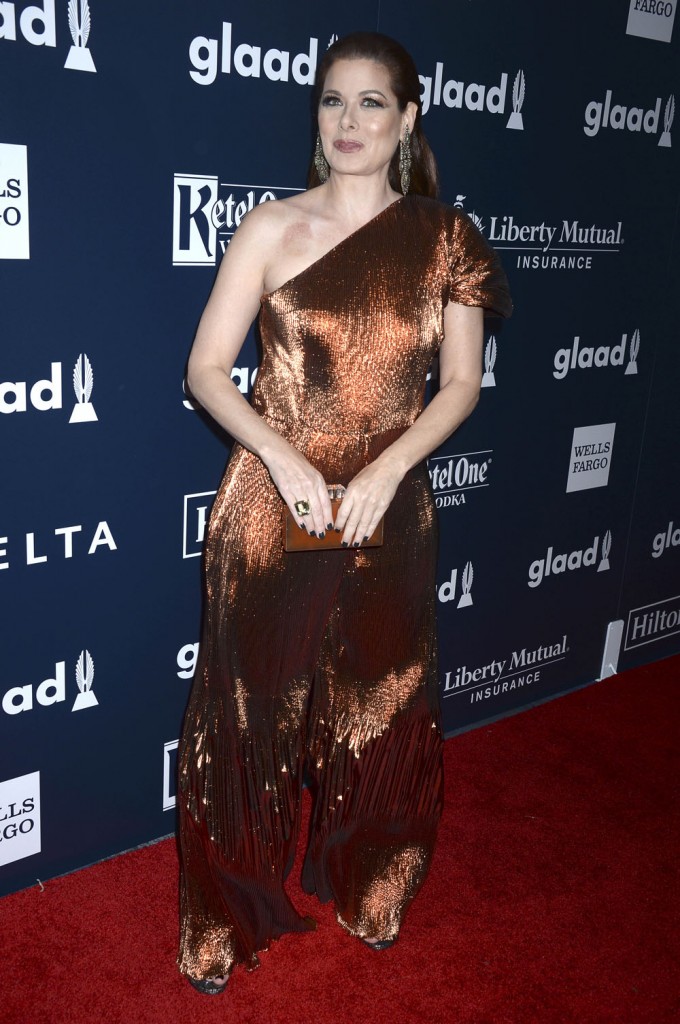 Photos credit: WENN and Getty